I've recently embarked on a Zespri®'s 14-Day Daily Scoop of Amazing Challenge. During this 14 days, I am required to eat one Zespri Kiwi and see how different I feel after 14 days.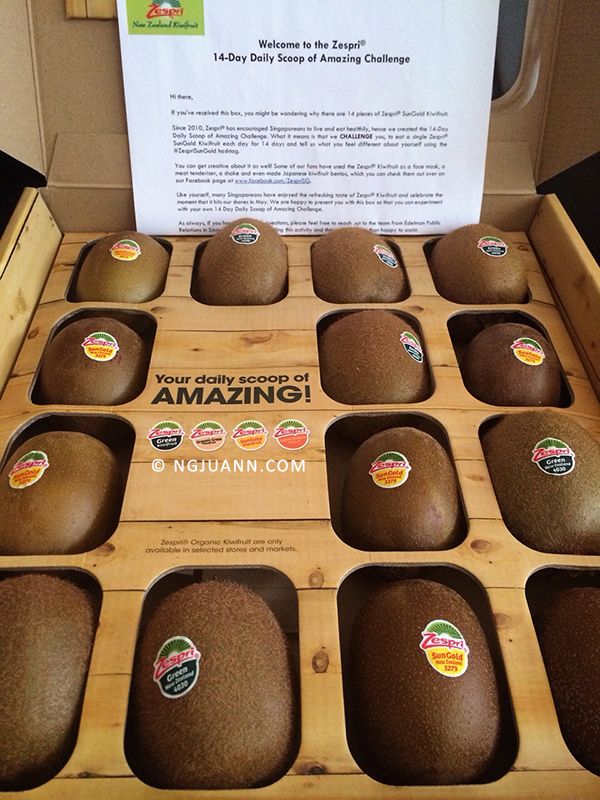 Personally I really love kiwi especially the yellow ones. The green ones are sometimes sour if you don't get them in the good season but when they are good, they are sweet and tangy. The yellow ones are however sweet most all the time. :)
Check out the top 10 amazing healthy facts about Kiwi.
Kiwifruits are amazing super fruits – small in size and huge in goodness! They are packed with more than 20 essential vitamins and minerals that directly benefit your body and maintain body function. They also contain a wide variety of other phytonutrients, carotenoids and enzymes with known digestive benefits. Plus, they have a low glycaemic index (GI) and are low in fat – perfect to eat everyday!
Check out 14 reasons why you should have yourself 1 kiwifruit a day too!
There is also a growing body of scientifically proven evidence to support the regular consumption of Zespri® Kiwifruit, as part of a balanced diet, to positively impact your health.
Besides consuming it the normal way (cut and eat!), I am also going to try my hand at baking a Fruit Tart (that has kiwis in it!)! Stay tuned to my instagram (@ngjuann) to see how my tart turns out okay! :)
After 14 days of a kiwi a day for about 10 days, the most significant change was improved bowel movement! :) <3 I didn't get to finish all 14 days because I shared some of my kiwis with my husband :)
Well, we are what we eat. Eat well and be well! :) To start you off, Zespri has some very good recipes you can try with Kiwi!
**
Get more information on Zespri Kiwi on their website and Facebook!