I have several brands that I often use and Vichy is one of them. I've previously reviewed the Normaderm range before but that was quite a while back so I'm really excited to finally review the newly formulated range.
Vichy Normadern Skincare Range is formulated to treat imperfections (i.e.: pimples, redness, pores, shininess, dull complexion and scarring), even on sensitive skin. I'll reviewing 4 products under this range today – Vichy calls this the 4 key steps in the skincare routine to battle against oily and acne prone skin.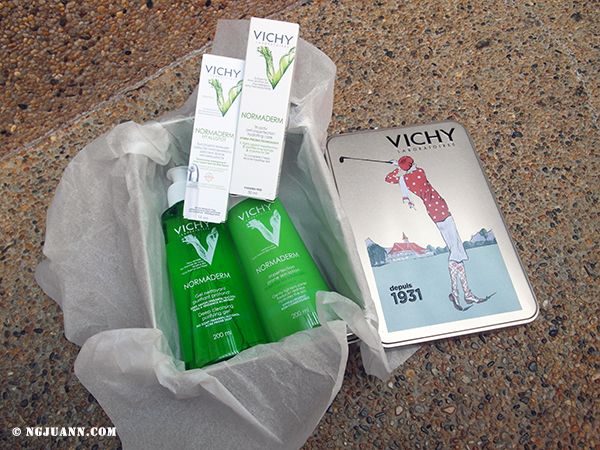 Here's what we have:
♥ Step #1: CLEANSE with Normaderm Deep Purifying Cleansing Gel
Deep Cleansing Gel for clearer skin with Salicylic Acid + Totarol + Eperuline. Purifies without drying and gently eliminates impurities.
Review: This cleanses sebum and impurities. It's an ultra fresh gel and has a creamy foam texture when you lather it up with water. Ever since I got back from Greece, I think my skin took a nosedive and became really oily and imbalanced. The change in the weather must have been too much for my skin. I have been masking and exfoliating to no avail.
I like that when I used this, it wasn't too drying and it made my face feel fresh and clean. The real test on how good it is at cleaning will be when I try step 2, toning.
♥ Step #2: TONE with Normaderm Imperfection Prone Skin Lotion
Helps eliminate impurities and tighten pores. Prepares the skin for next steps of skincare.
Review: I love that this is alcohol free. It doesn't sting my skin and has this superb fragrance you'll find in all Vichy products. I can't tell what it smells like except it smells like apple? It's very pleasant. So I used a cotton pad with this after Step 1 above and found the cotton pad a little brownish after using.
Now ladies, that's why you need this step to help further remove any impurities that you may have missed out on during cleansing! :)
♥ Step #3: TREAT with Normaderm Tri-Active Anti-Imperfection Hydrating Care
A light, oil-free daily hydrating moisturizer that target 6 signs of skin imperfections for visibly clearer skin. It contains Salicylic Acid, Glycolic Acid and LHA also suitable for sensitive skin.
Review: I love this for the absolutely matt feeling after applying. It's like I put a primer on my skin. In the mornings, this makes for such a great base for makeup! At night, my face stayed matt throughout the night. No shine at all. Now that's what I call an effective moisturiser. Totally recommend this. Wish it came in a bigger container though cos I had to use 3 X of what you see above to cover my entire face (not including the neck area yet).
♥ Step #4: TARGET with Normaderm Hyaluspot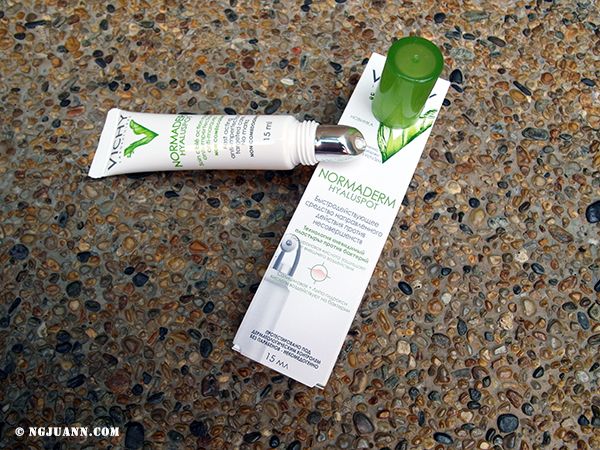 Hyaluspot is a great targeted treatment for spots and pimples. This product promises to see pimples disappear withi 2 days!
Review: Ok I haven't used this much cos I am waiting for a pimple to appear now to test this! I only have some old pimple scar that I am praying will disappear. Great reviews for this product on Vichy's Facebook Page though! So I have high expectations of this :)
The applicator is a squeeze and the product comes out from the silver end of it. I use this silver end and apply directly onto my face. The product is a clear and gel texture and goes on easily.
**
For more information on the full Vichy Normaderm range, visit http://tinyurl.com/VichyNormaderm! Join Vichy Singapore on Facebook for the latest news! :)