Hello Hello! I'm back again with more updates on my hair! :) After my last lovely hair colour update at Shunji Matsuo @ 313 Somerset with Caely, I really wanted to add a little more outstanding colour to my hair. Since I have tried many colours before, I decided to go a little wild and go for a colour I have never tried before – TURQUOISE! :)
People always comment that it's damaging to do so much chemical work to my hair all the time but really, I have a roadmap for my hair. YES! A roadmap, much like a marketing plan. Haha! Every trip I make to Caely, we'll review my hair condition and adapt the plans accordingly as required.
Since I curled my hair not too long before, she has been advising that I do full head colour to minimise the damage and to keep my hair healthy. It came to a point where I wanted a burst of colour on my hair and Caely said that's fine if I do only the hair ends and I can keep changing the colour till once the hair ends gets too dry, we can just snip it off. Sounds like a great plan! :) Meanwhile, I won't be able to do any rebounding or perming.
With that settled, we proceeded to do an ombre dip dye on my hair ends.
To achieve a brighter shade of turquoise, we needed to bleach my hair ends once. The brighter you want, the more times you have to bleach (and more damage to your hair). And I was blond for a little while.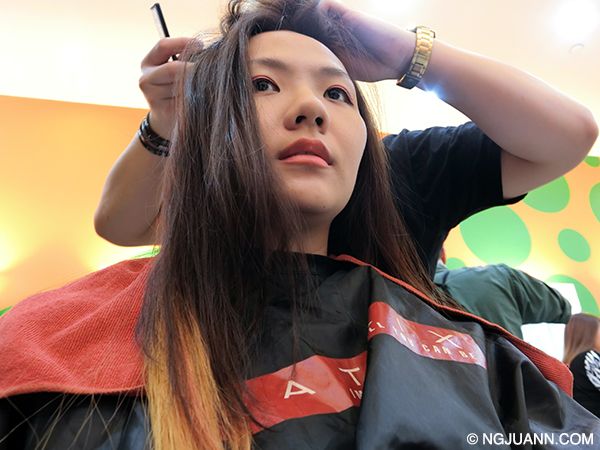 I always wonder if I can carry blond hair well… probably not. :P
Caely mixed blue and green and the outcome was a lovely customised shade of turquoise. The hair dye used is ammonia free which is less damaging on hair. As any good hair stylist would advise you to, when you do any chemical treatments to your hair, it is highly advised that you allocate time to do a little treatment as well. This time around, I did the
The end result?
Beautiful as always! I don't know how Caely always manages to make my hair look so good!! I love how everything isn't in one shade but the blues and the greens are all somehow well weaved together. :)
Taken during my recent OSIM TVC shoot for OSIM uShape as a mummy blogger. :) I love how it looks like when it's all braided up.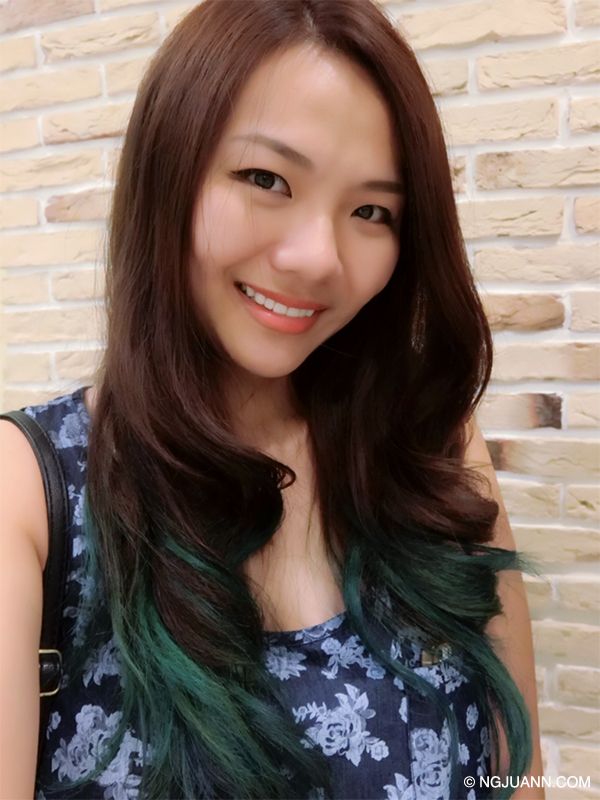 Taken during my recent trip to Taipei. :>
Do check out all the other hair styles Caely has done for me in the past year! :)
**
Specially for my readers: Get 10% off all color, treatment, perm, straightening services Shunji Matsuo Hair Salon at 313 when you quote "Ju Ann Blogger". Haircut excluded! :) My stylist is Caely, and she's very good at what she does.
Shunji Matsuo Hair Salon @ 313 Somerset
313@Somerset, #03-26, just beside Starbucks and Uniqlo.
Open from 10.30am – 10pm daily
Call for appointments at 62380226 / 62380227 (they're very packed on Saturdays!)
Website | Facebook Page