Tiong Bahru Bakery started in collaboration with celebrity baker, Gontran Cherrier. There's been a lot of hype about their Croissant, with some even going to the extent of calling it the BEST CROISSANT in Singapore. I've been wanting to try it myself and last weekend, after our lovely massage at Estheva Spa (Raffles Hotel), we hopped on over to Raffles City to check out Tiong Bahru Bakery.
I was on a mission to see if Tiong Bahru Bakery's croissant really lives up to the hype. We ordered that and the Chocolate Almond Croissant ($3.50). I wasn't sure if I could finish both myself (and the husband wasn't hungry much) but I couldn't resist. All their pastries and sandwiches looked sooooo good.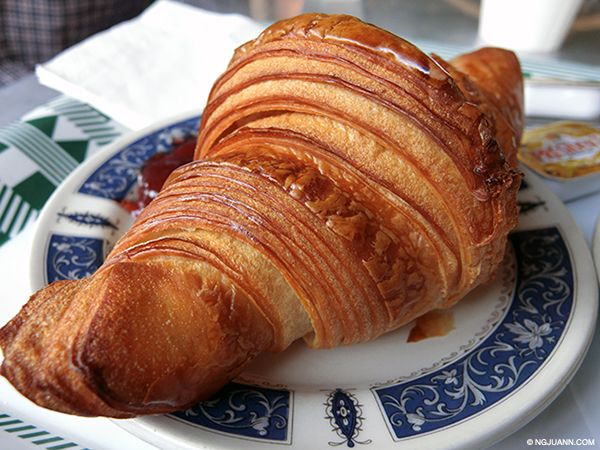 At $3.20 per pc, it is not cheap but it sure as hell looks amazing. Look at the delicate layers that were cripsy to the touch.
One light bite into it and it was orgasmic. These croissants are repared right – just enough butter but not greasy.
It was cripsy and flakey even though it wasn't warm! I requested for my croissant to be heated up but the waiter told me not to because it wouldn't be as nice. I am glad I didn't. I would TOTALLY come back again for more!
Next, let's look at the Chocolate Almond Croissant that we ordered.
Truth to be told, it looks (once again) AMAZING. This was one of the reasons why I ordered it on a whim! The layers folding over each other looked like it's very crispy and I really cannot resist anything chocolate.
Unfortunately, this was disappointing imho. I didn't taste much chocolate in it and I really didn't like the cake-like texture of it. I wouldn't order this again. I was expecting something lighter, flakier and with more chocolate in it.
If you're not in the mood for croissants, the other items on their menu looked equally tempting. I'll definitely be back for more.
Oh and the cafe were generous with their supply of free drinking water. Such a plus point. I'm easy to please like that.
**
Tiong Bahru Bakery
56 Eng Hoon Street
#01-70 Singapore 160056
Tel: +65 6220 3430
Daily: 8am – 8pm (closed on Tue)
252 North Bridge Road
#B1-11/12 Raffles City Shopping Centre
Singapore 179103
Tel: +65 6333 4160
Daily: 9am – 10pm