Give your skin an extra energy boost with Lovemore Electric Ore Peptide Duo Lifting mask. Not only does it moisturize your skin, this perk also gives your skin a spa-like pampering!
This is a 360° Ultra Lifting and Firming 3D Mask. Why 360°? You'll see.
This is a special sheet mask that comes with hooks that allow you to hook the mask to your face tightly (around the ears) and comes with an extra flap for the chin – CARE for your neck and chin all with 1 mask.
It has 2 main ingredients:
1) Nanopeptide -1
– Protect and visibly reduce wrinkles and efficiently prevent premature signs of aging
– Maintain your skin's natural moisture level
2) Syn-Ake
– Erase wrinkles , relaxes your face muscles and reduces muscle concentration making your skin smooth and even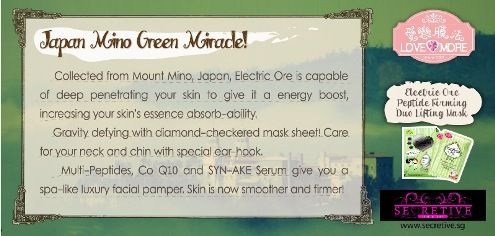 Benefits:
– Tightening and Firming, Anti-aging, Supple feel
Features and effects:
The latest "turning back time lifting" mask fits your face and neck perfectly! It fights against gravity, lifting the skin at your neck, mouth area, cheek, eye area.
How to use:
Step 1: Fit the mask onto your face
Step 2: Pull the hook at the two sides to your ear
Step 3: Pull the hook at the chin up to your ear
Step 4: You can massage your face while waiting for your mask for 15-20 minute to maximize absorption (but I put it on before sleep and take it off in the morning! :P)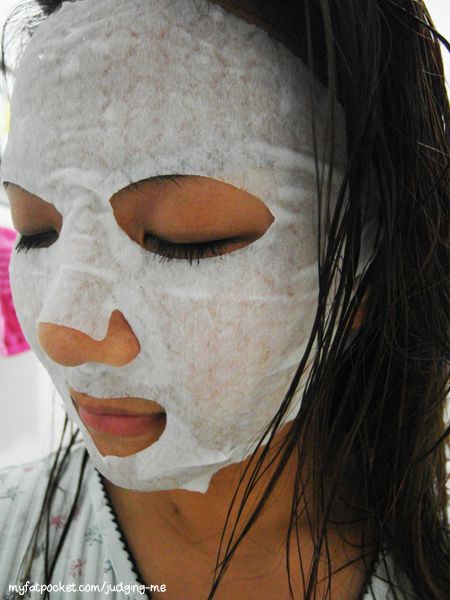 Sexylook Masks are exclusively distributed in Singapore by Secretive.Sg. You may buy these masks in any Watsons islandwide in Singapore. Do also join Secretive.Sg on Facebook to keep updated on the latest launches!