The Quintessential Facial. If you didn't already know, I frequent Porcelain Face Spa regularly to keep my pores clean and skin in tip top condition. Ever since I was introduced to Porcelain Face Spa, they've given me the courage to go foundation free (#fffriday) simply because my skin is really so much better after going for regular treatments at Porcelain Face Spa.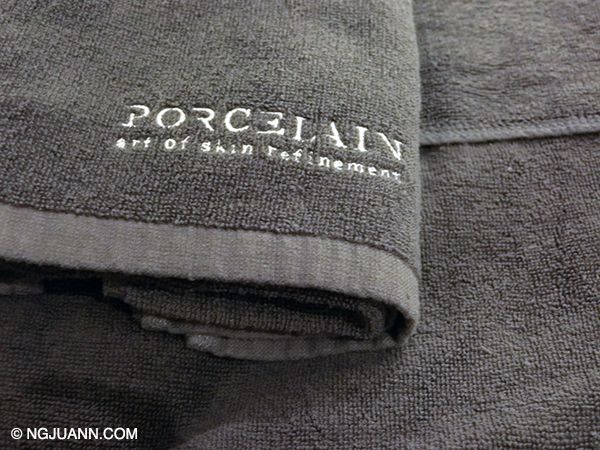 Last weekend I went back for a session of Quintessential Facial after quite awhile and I thought I'll share how it went :)
I think I gave my therapist of the day, June, quite a hard time because I came for my facial right after an event whereby I had quite a lot of eye makeup on. She was very very patient and double cleansed my face. They used the same Porcelain Milky Cleanser and Sooth Hydro Cleanser that I use daily at home. The texture and fragrance were all very comfortingly familiar.
Next up was 1 hour worth of extraction over my entire face. June was meticulous and very very thorough. It was a little painful here and there but nothing that made me cry out.
Here's the result of 1 hour's worth of extraction!
Next, she applied a soothing ampoule onto my face and put on the LED light therapy. The red LED light you see here stimulates the fibroblasts that produce collagen and repairs skin damage. At a 5 min interval, June came back in and sprayed oxygenated water onto my face to enhance absorption of the ampoule and light therapy into my skin.
Next step was a customised camomile and rose mask which helps to soothe and calm my skin. During the mask, she gave me a VERY good shoulder and upper back massage that lulled me to sleep.
After all that I thought my skin would be red because of the extractions but it wasn't at all. My skin was VERY smooth to touch, baby soft and really radiant. :) The whole facial took a total of 2 hours to complete. I had some milia seeds that were really hard and painful to remove around my eyes and those were gone too. <3
Although Porcelain, The Face Spa now has two outlets (Cantonment Road & Orchard Gateway), the Quintessential Facial treatment is currently only available at the Cantonment Road branch. :)
Read all my other posts on Porcelain, The Face Spa here.
****
[Updated: Aug 2016] You now get to enjoy 3 facials for the price of 1. Just mention my blog and ask for "The Classic Collection" – it consists of an OxyRevive treatment, Quintessential Facial and a Pick Me Up all bundled up in the original $374.50 price.
Porcelain, The Face Spa
Contact: Call 6227 9692 for an appointment
Address:
15 Cantonment Road S089739 (3 mins walk from Outram MRT exit H)
277 Orchard Road, Orchard Gateway #03-13, Singapore 238858
Website | Facebook | Twitter | Tumblr | Instagram: @porcelainfacespa