Did you know lately hair dryers are no longer just hair dryers that when you buy, you make sure it has hot and cold hair and speeds 1, 2 and 3?
And then there's the saying that frequent blow drying will increase damage to your hair as well?
Panasonic damn power. They have this new Panasonic Hair Dryer (EH-NA30) that has a special technology called nanoe which are nano-sized ion particles that are coated with water particles. Costing SGD139.00, it's nano-sized moisture ions help to smoothen out hair cuticles and balance the pH of your hair.
Ready to see the product?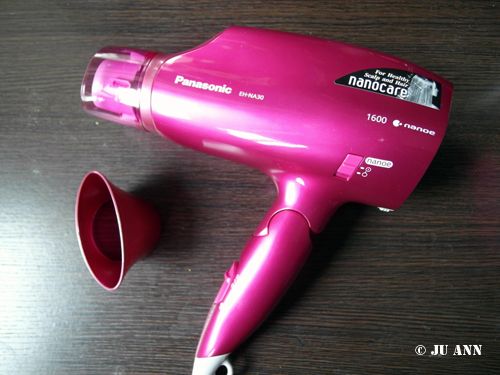 The ions reduce oiliness on the scalp and deeply moisturises hair, resulting in healthy and silky hair all the time. With the healthy and set mode that allows temperature to be set at 50 degrees Celsius, the Panasonic Nanocare Hair Dryer helps to not only dry your hair quickly, but also protects it from excessive heat damage – that means being able to use the hair dryer more often! :)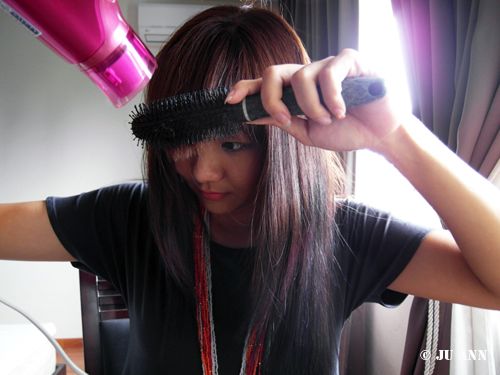 So fuss-free to use! Especially since I hardly use hair dryers before cos it was just too much trouble for me to blow and then worry about damaging my hair. Now with my whole head wet, I just need 5 mins on cold air setting to dry it all! Previously I took 5 mins on hot air and even longer on cold air.
I am happy with this new hair dryer! I am using it everyday now to fast track the drying process and sleep earlier (with dry hair) at night! I also find myself a new addict to blow-drying my hair in the morning to achieve a more sleek look to my hair. See below after 10 mins of quick blow drying.
Here are some hair drying tips as well from Panasonic!
Panasonic so considerate too. In their press kit to me, they also gave me a little Joico travel kit for hair.
Here's a closer look. Haven't tried it but can't wait to bring it with me on my next travel!
THANK YOU PANASONIC & their agency ONENINENINTY! :D
(Although I am sponsored this hair dryer, this post reflects my genuine satisfaction with the product. :))
**
Panasonic Singapore's on Facebook. Join them! :)