Week #5 / Dec 29 2012: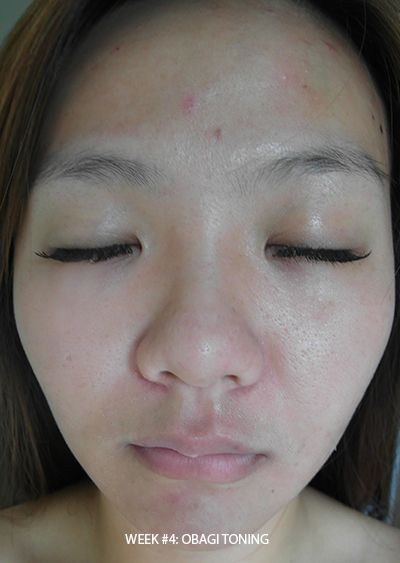 Breakouts has gone away and my skin feels smoother and more "stable". :)
Week #6 / Jan 5 2013: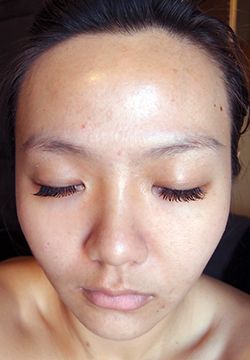 It's been a wonderful 6 weeks journey with Obagi. My skin feels like it's reborn. There were a lot of peeling in between, thereby promoting the growth of new skin and a healthier glow overall. At first, my skin had to get used to the new product but after that, I can see visible improvements to my skin everyday. It is DEFINITELY much smoother and clearer.
My mom is also on the Obagi Toning Treatment to get rid of her severe facial pigmentation. Her results are astounding. Check it out here.
♥ Obagi Nuderm System Set Product Feature: Blender + Renti A ♥
Obagi Nu-Derm Blender®Fx:
A topical prescription treatment that contains Arbutin to target hyperpigmented (discolored) areas of the skin and increase the penetration of the active ingredients of the system. I am to use this mixed with Renti-A Gel on alternate days.
My review: I have heard of people saying that they have tried the Obagi Nu-Derm care system and said it smells odd and all. At the first application, it was definitely not all rose-smelling but I have gotten so used to it that I don't even smell anything now. The texture of this is thick but get absorbs quickly.
Here's how I use it:
1) I squeeze an equal amount of Blender + Renti A
2) I mix it and spread it evenly on my face and neck
If you want to know more about the other 5 products I was given to use during this 6 weeks Obagi Toning program then be sure to keep coming back for my weekly updates! :)
**
For more information about Obagi, check out their informative website! If you have heaps of questions about this, you can either comment here, ask me on Facebook here, or check out Obagi's FAQ! This is also a great read I found written by my doctor, Dr KJ Wong on Obagi Toning.