Here's updating with a food review today! :) You'll be pleased to know that the newest French-Japanese Cafe called Miam Miam serves up some yummy food and is located at level 2 just outside BHG Bugis Junction!
Marrying French techniques with Japanese inspired flavours, food preparation at Miam Miam follows a disciplined approach (for example, 110g of raw pasta to be cooked in boiling water for exactly 7.5 mins for that perfect al dente texture) to deliver a consistently excellent tasting food.
The wait for food is long because they make every order from scratch and do not prepare in advance. Here's what I tasted! :)
#1: Miam Miam Spaghetti – $15.80
An all-time favourite (and I can see why) pasta that's sautéed with frankfurters, tomatoes, baby spinach and bacon. Tossed with french butter, their secret broth and shoyu.
Review: I love this. It's like and the portion is ginormous! I can totally finish one whole plate myself but I'll feel soooo guilty after that! When I come back to Miam Miam, I'll be sure to order this! :) I mixed the egg right in together with the pasta and it was really gooey and yummy.
Pasta was indeed al dente please. Two thumbs up!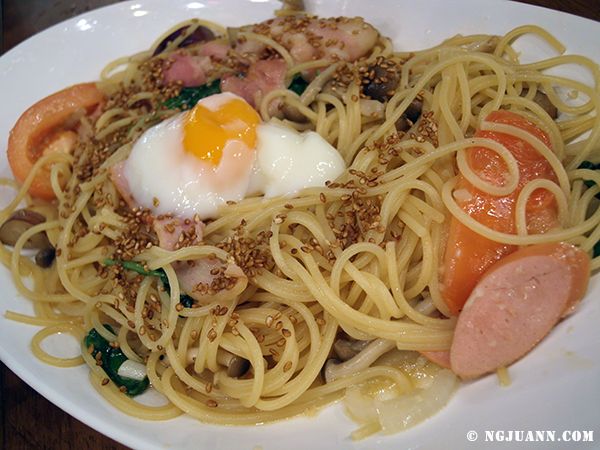 #2: Riz Noir Squid Ink Pasta – $16.80
Pasta tossed in Extra Virgin olive oil, ikasumi and squid rings, finished with a wasabi infused oil.
Review: I don't always order squid ink pasta because they are usually without much ingredients and rely a lot on the squid ink taste. This has excellent taste and texture but personally, I'd love it with more ingredients. I am quite sure my husband would love this dish for what it is now though. Hugeeeee portion too! :)
#3: Souffle De Nuage – $15.50
Home-style fresh tomato sautéed rice topped with fluffy clouds of egg and cheese.
Review: I found the cloud of egg and cheese a little too fluffy tasting – kinda like eating air – but the tomato sautéed rice was very tasty. I found that the best way to eat this (IMHO) is to mix the egg and cheese together with the rice. It makes this whole dish so much more delicious. Go for this if you want something different.
#4: Riz Au Curry – $15.50
Baked rice with homemade Japanese curry, pork frankfurters, broccoli cheese and egg.
Review: This portion is relatively smaller than the others in comparison but don't underestimate this dish. If I were to finish this alone, I would be very very full. I love how tasty the curry is. It goes very well with all the ingredients and makes the rice very savoury. If I were in the mood for some rice, I would order this in a heartbeat.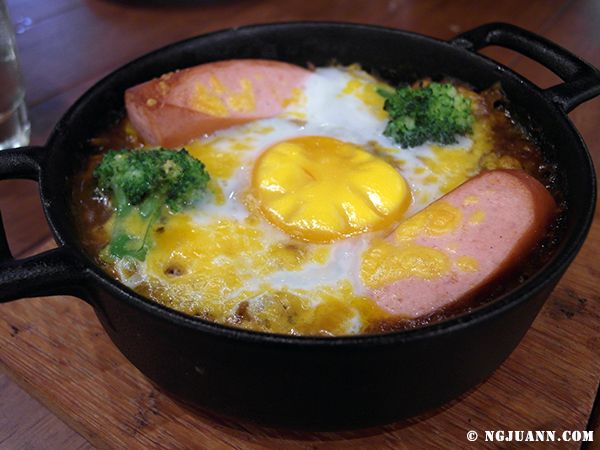 #5: Chocolate Molleaux – $9.80
Sinful dark chocolate cake with a molten center.
Review: The chocolate was moist and went perfectly with the soft serve. I would prefer if the texture of the cake wasn't consistent and had a lava spilling centre! Haha But then again, I am a crazy chocolate fan. :)
#6: Caramelised Banana Pancake – $12.80
Topped with premium gelato vanilla soft serve, served with bananas cooked in a deep golden caramel sauce, garnished with toasted almond nuts.
Review: Beware! This has to be eaten quickly or else it will be soggy! The soft serve seems to be the same as the previous dessert (yum yum) and the toasted almond nuts went super well with it. I'm not a fan of caramelised fruits so I'll give this a miss. The others at my table LOVED this dish though! :) So try it for yourself and see!
#7: Our drinks!  L: Iced Matcha Latte with Matcha Softee – $8.80 & R: Peanut Butter & Banana Milkshake – $8.20
Review: My brother had the Peanut Butter drink and he said it tastes like Peanut Butter. -.- I am not a fan of anything peanut butter so I wouldn't order this. I love Matcha though and enjoyed my Iced Matcha Latte with Matcha Softee thoroughly! :)
**
Miam Miam Outlets:
Miam Miam @ Bugis Junction (Outside BHG)
#02-14 Bugis Junction,
200 Victoria Street,
Singapore 188021
Telephone number: (65) 6837-0301
Miam Miam @ Westgate
#01-21/22 Westgate
3 Gateway Drive
Singapore 608532
Opening Hours
Monday – Friday
11:30 am to 10:00 pm
Saturday – Sunday
11:30 am to 10:00 pm