MEDZS is quite like Marche, except it offers Mediterranean food. Located at the Basement 2 level of Orchard Central, it makes for a great place to meet  & chillwith friends.
I was here once before on a Friday evening at 7.30pm and the queue was long. 🙁 I waited for about 30 mins before we were showed into the waiting area and another 15 mins before we got our table. It didn't feel that long though cos thankfully we were busy catching up.
The queues were divided into 2 queues. One for 1-4pax, and the other is 5 and above pax. So I could have gotten seats so much faster if I had just 1 more pax!! Haha! Ok ignore my unreasonable ranting here.
I like that the interior decor was really cozy and nice. It had a nice mediterranean feel to it. There are about 7 food stalls, 2 drinks and 1 dessert stall.
This evening, I was invited down to check out their Mother's Day Dinner Menu. I hope you haven't forgotten 12th May is Mother's Day!!
For this special occasion, MEDZ (at Orchard Central & Millenia Walk) has created a THREE very delicious platters for the whole family to share!
1) French Family Meat Platter (S$49.80)
Definitely for meat lovers. I am not a big fan of meat since 4 months ago and today I had more meat than I had in months! This meat platter is positively HUGE. Super VALUE FOR MONEY! For S$49.80, you get pan-fried duck confit (the whole leg!), crispy pork belly, AUS Wagyu beef rump (good stuff), roasted pork ribs with roasted wild mushrooms, roasted potatoes and a small side of green salad.
I have to say, I am very surprised at the quality of the food. Usually for big platters like these, you don't really get quality stuff but on this platter, I had so many to love.
I liked the AUS Wagyu Beef Rump a lot. It was cooked to perfection (IMHO) and I really like the strong taste of good beef. They were also very generous to include an entire Pan-Fried Duck Confit. It had a lot of meat to it and I like that it isn't too dry.
The cherry tomatoes are so sweet! ♥♥♥
If I could improve on this dish, I would ask them to serve more vegetables cos the portion for the three sides seemed a little too small.
2) Greek XXL Seafood Platter (S$48,80+)
At S$48,80+, this is quite another steal. Expect a wide range of seasfood such as butter grilled king crab, salmon head, sea bass, sea bream, snapper, blue mussels, and fresh live prawns.
I LOVE THE SALMON. The salmon is cooked to perfection. It was moist and melted in my mouth. I love the spices they use to cook with the salmon. Gave it enough flavour to enhance the natural taste of Salmon.
I don't know what those green leaves scattered on top are but they sure are tasty!
3) Desserts Platter S$21.90+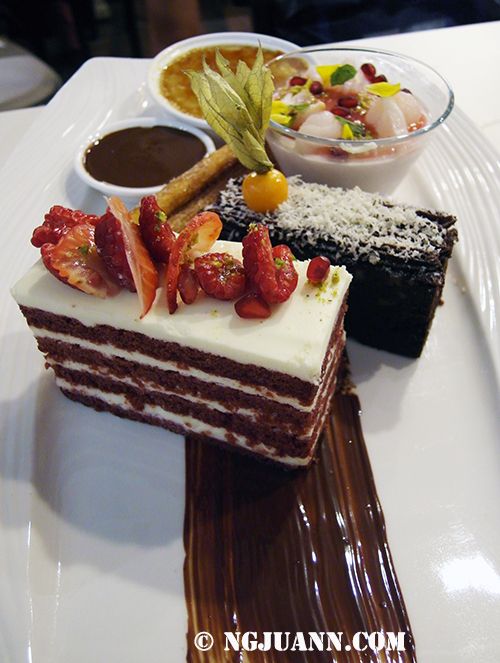 By this time, I was kinda grateful to have neighbours to share the food with. It's truly a platter of sweet indulgence.
The Desserts Platter (S$21.90+) is no small fry. It comes with everything full sized – Lychee Rose Panna Cotta, Churros with Chocolate Sauce, Red Velvet Cake and Earl Grey Creme Brulee and Chocolate Brownie.
So much right! I didn't eat much of their desserts but the BF loved the Earl Grey Creme Brulee so much, he finished it all!!! And the Lychee Rose Panna Cotta too! OMG!
If you are a fan of red velvet cupcakes, the red velvet cake on this platter will wow you. It's texture is very soft and it's not overly sweet too!
There are Churros with chocolate sauce too if you love Churros. :>
All of the above Mother's Day specials are only available on 12 May 2013!
**
I've been here once before and have been wanting to review them but guess what, I lost the photos. Coming back here on Brand Cellar and MEDZ's invitation means I get a chance to take photos again! The menu is extensive at MEDZ! Here's what I've tried:
1) Waffles with Strawberry Ice Cream (S$11.50)
A HIT! Very cripsy waffles and cold cold creamy ice cream. What's not to love? 🙂 I totally forgot to order this again!
2) Salmon & Snapper Skewers (S$18.00)
A HIT! We ordered this at the very last moment! Should have ordered this earlier! This was very very nice. The salmon and snapper were both nicely cooked and salted.
3) Beef Strip Loin (S$24.90)
A HIT! Great taste, nice thick slice and quite good value. They could have put more effort on the sides though. Having some slaw or chips would be good.
4) Wild Mushroom Pizza (S$14.90)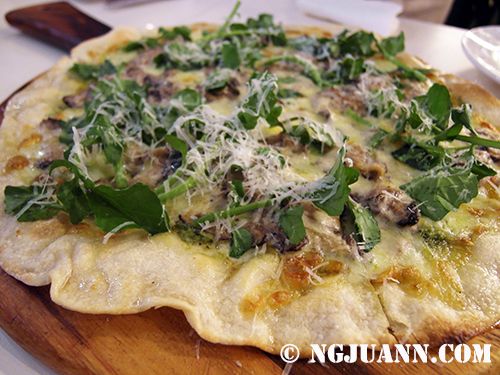 A HIT! The crust was thin as thin could be (my favourite) and the mushrooms were tasty! Added together, this dish is fabulous! I would come back again for this! I love that they added bits of watercress on top to give it texture.

5) Hot Plate Chicken Cheese with Burgul Rice (S$20.90)
A MISS! The chicken was tasteless… so was the rice… don't order this.
6) Kebab Chicken S($13.90)
A MISS! This chicken was the same chicken as #5 above. Just without cheese. Really a miss.
7) Mushroom Soup (S$6.50)
Everyone orders Mushroom Soup at Marche so I decided to give this a try here too. And… it's a miss. The soup texture was quite thin… The one at Marche is mad love! It has super chunks of mushroom and a very thick soup texture. This one at Medzs didn't match up.
8) Rosti with Veal Sausage (S$11.00)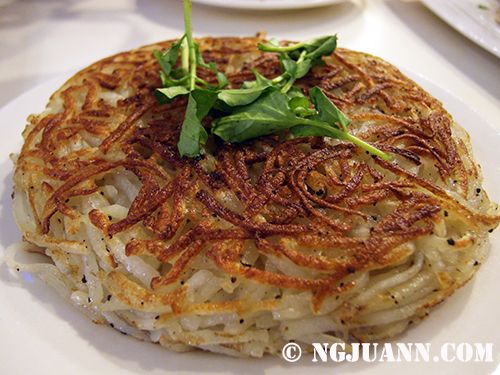 I love Rosti. If possible I would eat it everyday! I saw Rosti and I cannot resist Rosti and so, I ordered Rosti. I don't know if I am biased here but it's NOT that bad. Marche is slightly better though only cos I like my Rosti crispy!
This is overall a nice place to catch up with friends over. Make sure you check out all the fruity beers they have! I love:
♥ LINDERMAN's Peach – this taste grows on you. At first sample it tastes a little strong. Give it time and you'll soon be like me, loving it
♥ BADGER's Apple Wood – very woody. Not my favourite
♥ KOPPARBERG Elderflower & Lime – This is very very good!! It tastes like grape juice!
Check other hungrygowhere reviews for MEDZS here.
**
MEDZS @ Orchard Central (B2-01)
Tel: 6238 9028
Opening Hours:
Mon-Sun: 11.00am – 11pm
MEDZS @ Millenia Walk (#01-46)
Tel: 6337 7507
Opening Hours:
Fri-Sun: 11.30am – 1.00am
Sun-Thur: 11.30am – 12am