ENOUGH of uneven skin tone which I can never get rid of even as I use great skincare products. I recently tried this Laser White Face Therapy facial which is a super advanced treatment (AND VERY EFFECTIVE) that is designed to correct yellowish, dull and uneven skin tones.
I've been to Privé Clinic many times before and am fond of their service, so I'm happy to be back to check out Privé Aesthetics for their facial.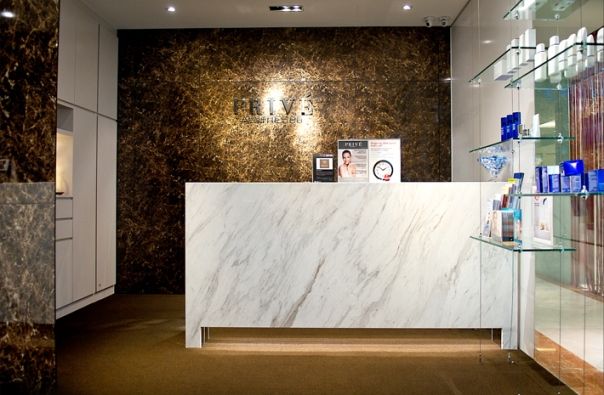 The Laser White Face Therapy takes on a 360 degrees approach to whitening. It targets the upper skin layers where discolouration and damage is visible and simultaneously on the inner dermal layers where pigmentation is produced and cellular levels sun-damage occurs.
At the heart of the powerful treatment is a Nobel Prize discovery with 100 times stronger antioxidant activity than Vitamin C.
I thought this powerful-sounding facial would have a lot of steps with machines involved but to my surprise, I got extremely good results and no machines were used at all. It must just be VERY VERY GOOD ingredients because I can see the effects of it immediately!
There was 5 steps to this treatment:
Maxi-Fruit Peel: The brightening fruit exfoliate will activate the bio-renewal of the epidermis to disperse existing pigment spots.
Alpha-Litamin C Powder and Alpha-Litamin Brightening Complex: This duo-combination delivers immediate anti-oxidant benefits and neutralises age-accelerating free radicals. In addition, it highly illuminates skin and treats uneven pigmentation, photo-damaged skin and prevents formulation of age spots and regulates skin tone
Soothing NeuroEssence: This aids in rebalancing, calming and hydrates deep into the skin
Lumi Enzyme Mask: This is designed to penetrate deep into skin to lighten and balance skin tone for highly refined, delicate skin.
White Cream Mousse Mask: A rich formula that provides concentrated nourishment, hydration and lightening agents for a completely revitalized complexion.
There was no thick gooey masks, no high end machines, no hard selling, no unnecessary small chat… a facial that is simple but packed with great products to give it such excellent results.
Here's a bare face right after the facial to show you! My skin is soooooo bright, sooooo radiant and my skin tone is completely even overall! LOVE IT!
#nomakeup!
My therapist (I didn't get her name) was very professional. Before the treatment started, she made me inhale the lavender essential oil on her hands 3 times to relax. In between the whole treatment, she also delivered a very good shoulder and neck massage.
In fact, this makes a great gift for Mother's Day! Don't forget ok!! There is now a promotion for those of you reading this now!
2015 Mother's Day Special: Bring your mom and enjoy Laser White Face Therapy at $168 for 2 (UP $300 per session). Valid till 16 May 2015. Call 6737 6639 to book a slot now. Quote "Juann Mother's Day Special Laser White Face Therapy".
**
Privé Aesthetics
Blk 390 Orchard Road #03-02
Palais Renaissance
Singapore 238871
Opening Hours
Mon to Fri: 10am to 8pm
Sat: 10am to 6pm
Sun and PH: Closed
Contact:
+65 6737 0755
+65 9773 2677 (24 hours)
For bookings & general enquiries:
contact@priveaesthetics.com
Website: Privé Aesthetics