It's the CNY season and I'm going to be doing a lot of home cooking for my family, especially so when I'm going back to Kuala Lumper to spend time with them.
When my grandma used to be younger, she used to cook up a big feast on the eve of every chinese new year. I always looked forward to that. But now that she is older and we don't want her to tire herself out, I personally am not going to let the tradition stop. I'll be taking over the cooking!
This year's reunion dinner will be muted and we won't be celebrating Chinese New Year. My grandfather left us to be with God last week so in the respect that he deserves, no ang pow, no red decor, no need for red clothes this year.
We're just going to gather as a family for a meal. Someone suggested steamboat because it'll be easy to prepare and all. What a great idea. It is quite popular to have steamboat reunion dinners in Singapore.
I quickly dug out the press kit that Dancing Chef sent me a couple weeks back and used the Dancing Chef™ Suki Dipping Sauce to try first before introducing to my family. Steamboat should always go with good sauces, whether it's sweet or spicy.
Suki Sauce is a delicious ready-to-serve spicy dipping sauce that will enhance almost any meal and is the perfect condiment for steamboat. Complements well with seafood, meats, and tofu. It is important to mix in chopped coriander and roasted sesame seeds.
We loved it! It goes well with meat and seafood. It's sweet but not spicy enough! But that's ok, just add chilli padi in to it too if you love your sauce spicy like me.
I like that it has no MSG, no preservatives and no artificial colouring! Apparently, this is very popular because it tastes a lot like the dip at Coca Restaurant (or most thai steamboat places), especially when you add chopped coriander and roasted sesame seeds in there.
**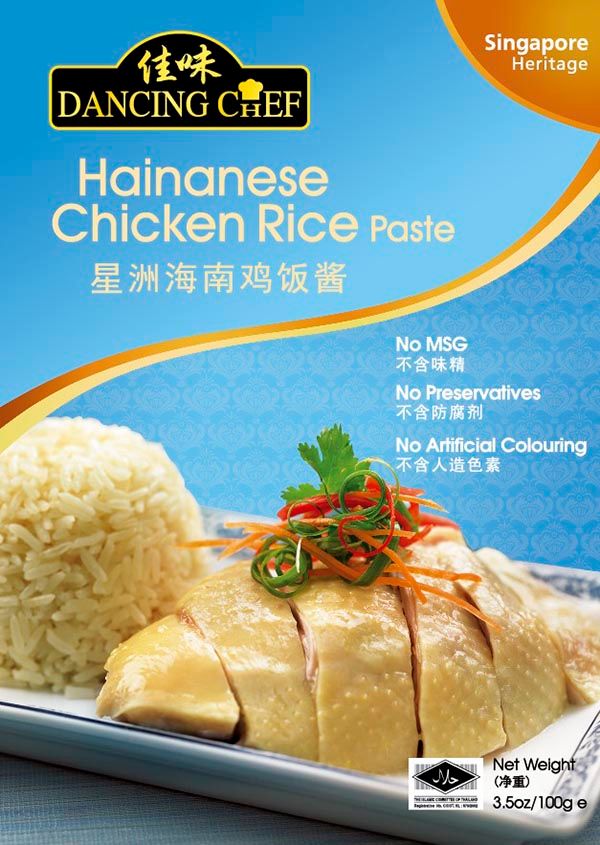 I also have the Dancing Chef Hainanese Chicken Rice Cooking Paste so I thought I'll just use this to whip up a quick plate of steamed chicken with this paste instead of following the packet's instructions. It is very easy to use. Just rub the paste all over the chicken and marinate for 2 hours in the fridge, after that, take out and steam with ginger slices & wolf berries!
The taste was good, not as good as my grandma's but good enough! I used just normal chicken but if you use kampung chicken (buy from wet market), it'll taste even nicer.
I also have the Dancing Chef Stir Fried Soy Bean Paste which I am really excited to use next because I can use hat to steam with fish or even to fry some dishes with it! That will be up next.
Just remember, you don't have to follow the instructions exactly as per the package. You can be creative! :)
Dancing Chef has a whole lot more of other cooking paste to help anyone whip up a great dish at home. There's no better time to check them out cos they have a promotion now at all major supermarkets:
Buy three bottles of Dancing Chef™ Suki Dipping Sauce at $6.95 (Usual Price: $2.85 each. Save $1.60!)
Buy any three packets of Dancing Chef™ cooking pastes at $6.95 (Usual Price: $2.85 each. Save $1.60!)
For more inspirations on what to cook, check out Dancing Chef's Facebook page!