Gaia Ristorante @ Goodwood Park Hotel is one of our picks for Restaurant Week 2014 for some Italian Food! We have decided to pick all of the places we have never been to before to check out what's awesome. I am quite sure there are many hidden gem of a restaurant which we aren't aware of yet. :)
So last Saturday, we went to Gaia for lunch. :) It is a 4 course set costing $40++ per person.
The interior is beautiful as you can see from this picture above.
First course was grilled hokkaido scallops, saffron cream and coffee powder.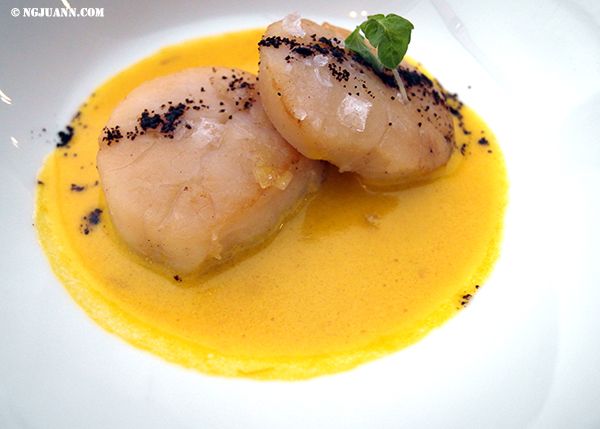 Super love the scallops. The coffee powder really complemented this dish in a lovely and unique way. The saffron cream had us liking our forks! Finished this quickly and wanted moreeee haha! Next up was a serving of button-shaped ravioli stuffed with ricotta cheese. I didn't really like this much but I finished it anyway. The cheese felt a little filling.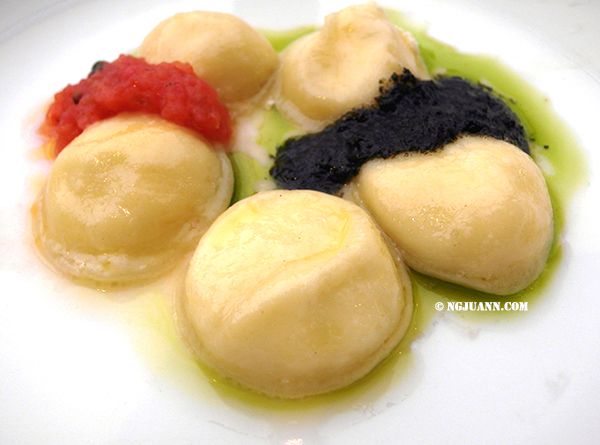 Next were the main courses. We could choose between a black cod or a lamb rack. We each chose one.
This is the roasted black cod with sundried tomatoes, sicilian capers, taggiasche olives sauce and potato puree.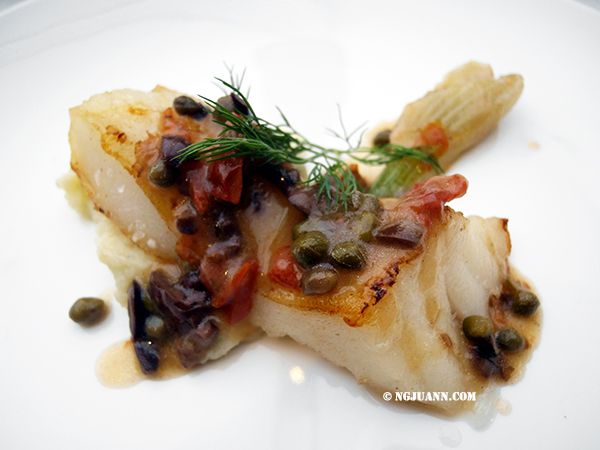 The fish was well cooked and fresh. The freshness of the cod really made this a delight to consume. Too bad the portion's a little too small. :)
Next up is the slow cooked lamb rack, celeriac puree and sautéed boo-choy.
The husband had this and said it's gamey. I am usually okay with gamey because I associate the gamey taste to the taste of lamb. The potato puree and boo-choy were great complements to the lamb, each balancing the taste of lamb and giving it the crunchy texture to this course respectively. The lamb meat was so soft that I could use just my fork to eat this. :) I was a little dismayed at how much fat there was in this piece of lamb.
Last course was desserts and while we could choose between poached pear and tiramisu, we chose the latter. Here's the tiramisu cloud.
This is very tasty! The tiramisu was very light and airy. It was like spooning cloud after cloud of sweetness. ♥
For $40++ per pax, the bill came up to be less than $100 for the both of us. Another great deal! I wasn't a fan of the ravioli but the others were all very nicely done. Will I be back? Yes but to be honest, I'm more likely to go to Wooloomooloo Steakhouse if I craved for some western food and didn't mind whether it's Italian or Australian cuisine.
**
Gaia Ristorante & Bar
Address: Goodwood Park Hotel 22 Scotts Road, Singapore 228221
Tel: +65 6735 9937
Website