Tired of going through jars and bottles of skin cream without seeing any improvement?
Well, now you can say goodbye to a cumbersome skin care routine with the newly reformulated, Olay Regenerist Micro-Sculpting Cream.
Revolutionizing anti-aging approach with Skin Energizing Technology
By assessing women's skin cell energy levels, together with Olay's consumer insight into women's product usage habits, Olay introduced the Skin Fatigue Theory which proposes that an improvement on our skin's cell energy can help to accelerate the journey to more youthful looking skin.
The Skin Fatigue Theory has changed the way Olay approached skin aging. It has inspired Olay to reformulate its Regenerist boutique with the revolutionary Skin Energizing Technology. The Skin Energizing Technology is designed to help accelerate skin's responsiveness to anti-aging ingredients, thereby fighting the look of skin fatigue.
Based on studies conducted with hundreds of women around the world, the New Generation Olay Regenerist Skin Energizing Technology helps to improve skin's responsiveness, and fights the look of skin fatigue by accelerating surface layer cell turnover, to increase brightness and decrease the appearance of fine lines and wrinkles. Olay Regenerist helps to:
❧ regenerates skin's surface layers up to two times faster by boosting natural surface skin renewal after five days
❧ reduces appearance of fine lines and wrinkles in just one jar
❧ hydrates better than leading 19 luxury creams in US, costing up to USD $500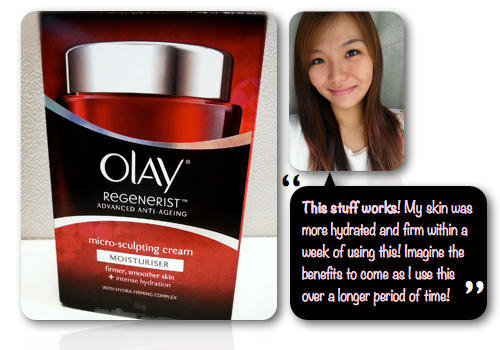 The only gripe I have with this is that it's a little too thick for my oily skin and I have switched to using this only as part of my night routine. Works just as well. :)
**
The New Generation Olay Regenerist Micro-Sculpting Cream 50g costs SGD$49.99.
Join Olay Singapore on their Facebook Page.