I just got my first moodboard inspiration for our wedding!! The fiance and I are super excited to be working with Rosette & Co Designs for the decor of our wedding venue!! :)
My brief to Hellen from Rosette was:
♥ I want my guests to go WOW when they walk in the ballroom!
♥ We want something different, something bold.
It is very vague I know. But Hellen totally stepped up! She showed us some design inspirations, some of the work she's done before and it was very quick that we settled on what Peter and I both love.
Check out this sneak peak of our wedding design moodboard!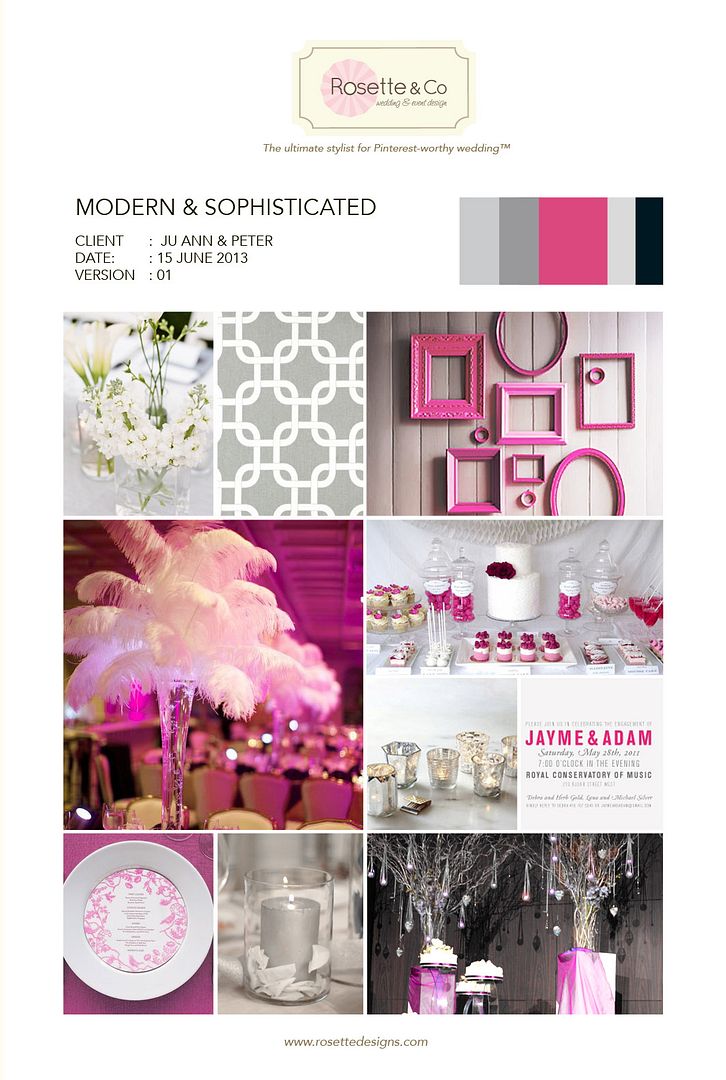 We love the chosen colour palette for our entire wedding. The domainant colour being Fushcia Pink and then supplemented by 50 shades of grey and black. I think having black in a wedding is totally sexy and will definitely help complete this look perfectly.
We're gonne have white flowers, tea lights, candle lights, big feathers, among other awesome little decor elements! Hellen is making me super excited about the wedding!!! Haha!
I can't wait to show you how the whole wedding looks like but you'll have to wait till after the wedding! :) Stay tuned!
**
Rosette Designs & Co Facebook Page | Website | Blog | Email Hellen for Ideas: hello@rosettedesigns.com