One of the best things I've gained since I started blogging about beauty many years ago is the accumulated knowledge I've gained from working with brands and trying all sorts of new treatments every now and then.
I knew nothing about haircare years before but today I can tell you all about why it's important to care for your scalp and even if you aren't experiencing severe hairloss/grey hair situations, you should go check out your scalp out every now and then. Your hair is the first thing people notice about you. Often, people seek treatment only when it's too late.
My therapist at Origin Luxe explained that the hair on our head has a lifetime of 25 cycles. Each cycle starts when the hair begins to grow and ends when it falls off, and this lasts an average of 6 years. Once the 25 cycles are used up, your hair follicle can no longer produce hair. So for those who always pluck your hair if it's white or curly, you are using 1 cycle. That's how precious our hair is.
I visited Origin Luxe to have my scalp analysed and cleaned. While I still have healthy hair, I do have a very oily scalp resulting in clogged pores which can stunt new hair growth over time.
Check it out:
Here's the 10 step treatment that is customised for me (read on to find out how you can enjoy the same treatment at only S$18):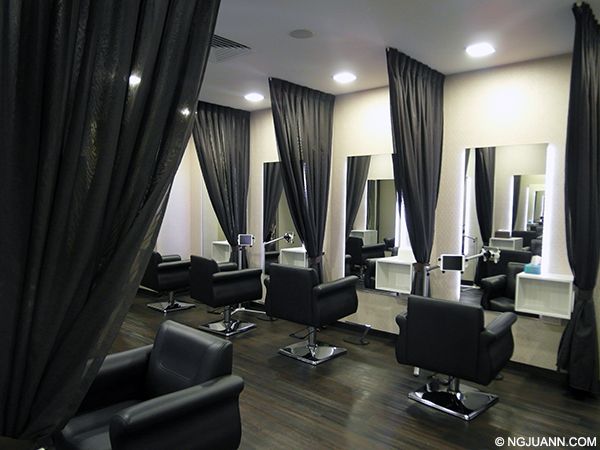 Origin Luxe has a really cozy area where all treatments are done.
Step #1: The Wooden Comb Massage
My hair therapist, Merrlyn, used 2 of these large wooden combs (and I got to bring one home too!) and combed through my hair from root to end. This step helps to build blood circulation, awake lethargic pores and loosen dead skin cells.
Step #2: Quick Wash
This is a quick step to ensure all hair products are thoroughly removed from your hair.
Step #3: Ginger Wine Spray
Next, Merlyn sprayed Ginger Wine onto my scalp to help open up pores and stimulate hair follicles. It was very refreshing to the scalp. A little tingy too.
Step #4: Lemongrass Essential Oil
I thoroughly enjoyed this step. The lemongrass smells soooo nice. She applied it all over my hair ends to soften them and also to prevent dry ends. :)
Step #5: Origin Luxe Herbal Mask
This is using Origin Luxe's very own formulated recipe specially concocted with premium herbs.
Herbs are slowly and carefully brewed for two hours to allow thorough extraction of essence and nutrients. The treatment masks are then immediately packed into individual sachets to ensure freshness and avoid contamination. Before use, they heated it up slightly before application.
This gives essential nutrients to your hair, promotes hair growth and makes hair follicles stronger. When applied, it feels warm and has a herbal scent to it.
Step #6: Steam for 30 mins
Next, my hair is steamed for 30mins to enhance absorption of the herbs. :) I super love that they provided iPad minis that you can use to surf the web to pass the time. :) How nice of them!
Step #7: Deep Hair Wash
It was a very enjoyable hair wash might I add. My hair & scalp felt soooo clean!
Step #8: Hair Growth Tonic
Origin Luxe carries their own brand of tonic for various hair concerns and I was given the Hair Loss Tonic to promote hair growth.
Step #9: Relaxing Head & Shoulder Massage
Step #10: Blow Dry
In addition, they did a special extra 2 steps for me:
Step #11: A High Frequency Laser Therapy which helps detoxify the scalp by killing germs and bacteria.
Step #12: Infrared Therapy – improve blood circulation and stimulate hair growth.
My scalp is happy! Check out the before & after condition of my scalp. Definitely a lot cleaner than what normal shampoo'ing can do.
See how clean my scalp is! My scalp feels super refreshed. And you get to try this treatment too for only S$18! :)
First timers to Origin Luxe will get to enjoy all of the above 1-10 steps at an introductory price of only S$18 instead of S$150! All you have to do is mention "Ju Ann/Blog" when you call +67 6702 0777 to make an appointment. :) Super good deal.
My scalp feels so much fresher and my hair feels super clean. :)
**
Origin Luxe – The Scalp Specialists
Facebook | Website
Tel: +67 6702 0777
133 New Bridge Road
02-28 Chinatown Point
Singapore 059418
(Beside link bridge)