This is a #throwback to my schooling days. Take a walk down memory lane with me.
My schooling days were way different than most of everyone else's in Singapore.
I went through this everyday.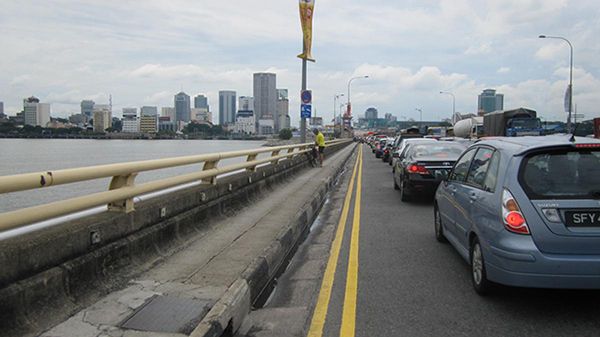 Yes. Hours and hours of human and traffic jam. I travelled a total of 4 hours everyday to and fro Malaysia and Singapore from Primary One all the way till 1 year after I graduated from Singapore Polytechnic. That totals 15 years.
It was pretty crazy. I had pretty much no life outside of school. Weekends were for tuition classes.
These are some things that makes me nostalgic about my school days.
I was always a self-driven student, pushing myself to always do better. My parents were pretty chillaxed about everything as long as I passed haha!
And then after Poly, I was the one who told my parents I wanted a degree. I know a Diploma can get you a job but a degree will get you further. Depending on the industry you are in, paper qualifications can mean a great deal. It could be the tipping point between a promotion or status quo.
Once I graduated with my Diploma, I started working and while working was hard, I didn't want to stop working. Being financially independent was pretty awesome. But I knew I needed a degree. My peers were all in agreement too. And so I went ahead and studied part time for 3 years at a local institution that offered Degrees from Australian Universities.
It was hard juggling work, leisure and studies. I don't know how I did it but I did and I am so glad I did. If I were at those crossroads of deciding whether to study part time or not, I would totally do it again. The degree has definitely made me feel more secure about my future.
I'm in advertising now. Most of what I learn in my degree was all about marketing.
Advertising may be a subset of marketing but getting a degree in marketing helped me understand my client's needs and objectives better.
Students undertaking this degree will enjoy an interactive and well designed curriculum that provides a total learning experience which includes a range of digital media production skills, and also how to use audiovisual equipment and editing software.
I really like that this course is fully taught by lecturers directly from UWA. You save so much by studying in Singapore, plus the degree is the same as on campus.
PSB Academy is one of the most reputable private education institutions which has many renowned universities partners with them. So if you're at a crossroad of deciding whether to take up a undergraduate degree, you should check out the UWA Communication Studies programme!
Do check it out if you are interested.
Btw PSB Academy has a fantastic location, just beside Tiong Bahru Plaza (at Tiong Bahru MRT)! PSB Academy is one of the best and most reputable independent institutions which has a good amount of great universities partnering with them. So if you're at crossroad of deciding whether to take up a undergraduate degree, you should check out PSB! :)
**
University: The University of Western Australia
Undergraduate Programme: Bachelor of Arts (Communication Studies)
Mode of study: Part-time (next intake in September 2014)
Read more about it here
✓ The only Western Australian university to belong to the Group of Eight Australia
✓ A World Top 100 University
(Shanghai Jiao Tong University Academic Ranking of World Universities, 2013 / Top 200 QS World University Rankings 2013)
✓ Ranked No. 7 among Australia universities
(Times Higher Education World University Ranking 2013-2014)
✓ Top 100 universities in the world for Social Sciences
(Times Higher Education World University Ranking 2013-2014)