The good people at Virgin Active Fitness Club Singapore invited the husband and I down for a gym tour last weekend and boy, those guys really know how to impress!
I get very excited when technology is put to great use and helps to make our everyday lives better. There's so much to shout about and love about Virgin Active that this is going to be quite a long read.
With 33,000 square feet of space over three floors, Virgin Active is really quite a gym to behold.
Here's a list of what's so impressive!
#1: All the latest state-of-the-art equipment
A first for Asia – The future of fitness clubs is here with the ARTIS line of Android powered fitness equipment from Technogym. Each piece of ARTIS equipment is designed for connectivity, allowing members access to his or her own world: training programmes, training data track record, web bookmarks, apps, and social networks. In addition, it employs cloud technology, so members can track their workouts wherever they are in the world – no more trying to remember how many reps you did on a certain machines now!
So amazing please!! I was trying to surf Facebook while running but couldn't really do it. Peter watched youtube videos and that was way more entertaining. I ran 10mins without knowing 10mins has passed by! And you can even Skype too!
On the personal screen of the stationery bikes, they have rolling images of scenery like mountains or rocky terrain, just so you won't be bored riding a bike that never moves! And their spin classes must be mind-blowing. Here's the view: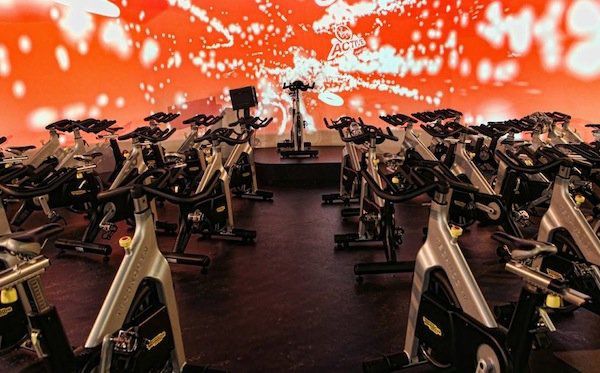 Never be bored again!
Check out how spacious this area is! You can try TRX or whatever you want. Just ask any uniformed staff to guide you along!
#2: Is this a gym or a spa?
Virgin Active offers a Relax and Recovery Zone featuring:
❥ A salt room, with ionised salts that aid in skin rejuvenation and purify one's respiratory system.
The salt room where I fell asleep (messing around in the Relax and Recovery Zone was super relaxing) was so conducive for sleeping. You are advised to stay in this room for 20 mins whereby breathing in salt ions helps to purify your respiratory tract and rejuvenate your skin.
In addition, there are steam rooms, ice rooms, experience showers and footbaths with complimentary use of bathrobes.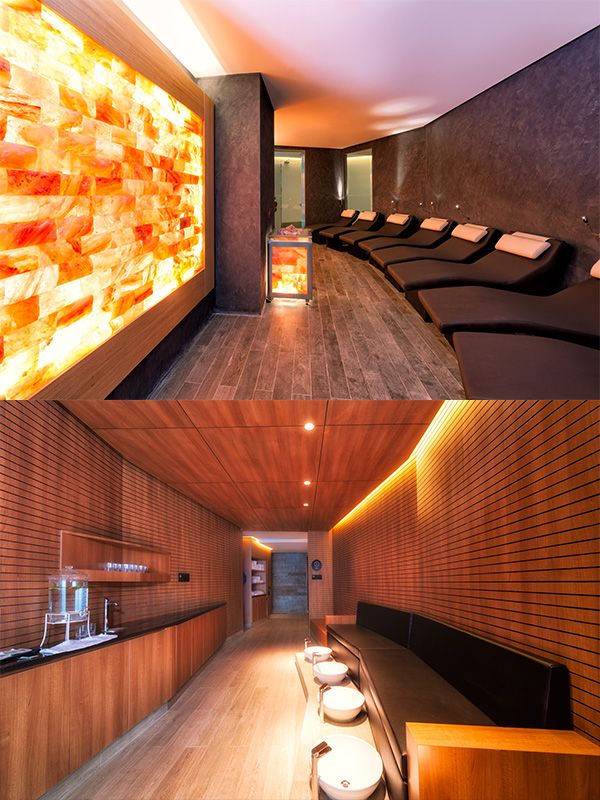 ❥ Footbaths
There is a special area where you can just chill out, and have your feet soaked as long as you want. So relaxing.
❥ Experience Showers
I love playing with water. Like seriously love it. I love light rains and heavy rains, cold water and warm water. The experience showers at Virgin Active has a bucket which you can activate by pulling a rope and have a bucket of cold water gush down on you, you can walk in a light rain path where the temperature of the water will alternate between hot and cold and then there's this aromatic shower that has nice scents as you shower too!
❥ Ice & Steam Rooms
At the ice room, I played with ice and a light rain of cold water and when I got too cold, I popped over to the steam room and got heated up.
POW WOW. I think I just had the best time playing with water!
#3: Changing Room & Shower Facilities are amazing
Here's the lowdown:
❥ Shower rooms are all fitted with a rain showers
❥ Complimentary Molton Brown amenities are provided, and they smell heavenly! No more crappy gym shampoos!
❥ Charge your mobile phone if it's running out of battery
❥ LARGE locker space
❥ Hair dryers and hair straighteners are provided at the dressing area, along with cotton pads, cotton buds and spray-on deodorant
❥ Towel and workout attire (shirt, shorts, socks) are provided – omg no more laundry plus heavy gym bags! Ladies do have to bring their own sports bra
❥ Ironing board, iron and steam irons are all provided too
#4: Never be bored!

Virgin Active is well equipped (pun intended) with all the latest gym must-have equipments. Here are some that Peter and I especially enjoyed!
The first ever machine in Singapore that simulates what it's like to surf. So funn!!!!
The things people in MMA train with. The husband had heaps of fun with this.
Gyming is so much more fun when they introduce gaming. Peter and I both took turns to have a go on it. It was so tiring and so fun!
#5: Sleep Pods
Feeling tired during lunch time or before going out for dinner, you can just rock up from work and steal a little snooze on these very private and very comfortable sleep pods. These sleep pods recline for optimum napping, promote blood flow and reduce pressure on the lower back.
#6: Flexi-Membership Scheme
Never be forced to sign on 1 or 2 year memberships! God knows how much money I have wasted!
Virgin Active Fitness Club Singapore's membership consists of a one-time activation fee of S$199 and a weekly fee of S$42.50. The fee for the 1st month of your membership will S$369. Subsequently, you will only need to pay S$42.50 per week, payable every 2 weeks ($170 per month) and you can choose to cancel your membership on three days' notice prior to the next direct debit date.
It may be more expensive than other gyms but have you read points 1-5 above yet?! Virgin Active is a gym come true!
I can't wait to be back to try out their very very popular Anti-Gravity Yoga Classes & ZUU! 
**
Virgin Active Fitness Club is located at 1 Raffles Place Tower 2, Level 6, Singapore 048616. You can get more updates on their Facebook page or website.