I am super excited to share this new piece of information with you! Huggies Singapore is launching the new Huggies® Ultra Pants in Singapore on 1st April! Daniel had the privilege of trying them before it's launched and we are both already super fans of it.
Psssttt, read on to find out how you can get FREE HUGGIES SAMPLES :)
Currently most mummies upgrade their babies to the "pants" version of diapers when they are 9 months old because that's usually when they get really active. But really, as soon as your child is active, you can try out the pants version already! My little sweetheart is 3 months old now and he's already super active. He hasn't crawled yet but he's definitely doing a lot of kicking and twisting!
He kicks a lot when I play catchy tunes like Gangnam Style (by PSY), Bubble Pop (by Hyuna) and Bar Bar Bar (by Crayon Girls) songs to him! Oh and he loves his cot mobile music too.
And many a times, I put him in a position at night and the next morning I find him in another position! The little boy is sooo active even in his sleep. And I'm not complaining! It makes me happy to see him grow and be an active child.
And so I tried the new Huggies® Ultra Pants on him. Just to see how it fares and whether he likes it you know. He is curently 6kg at 3 months old and he wears the M size (they didn't used to have M size and now they do so younger babies can wear them too!) perfectly. Being the active boy he is, pants diapers are a better fit because they give my son the flexibility and comfort to move.
There are 3 things I LOVE about the new Huggies® Ultra Pants:
1) Stretchy Waistband & Easy Open Sides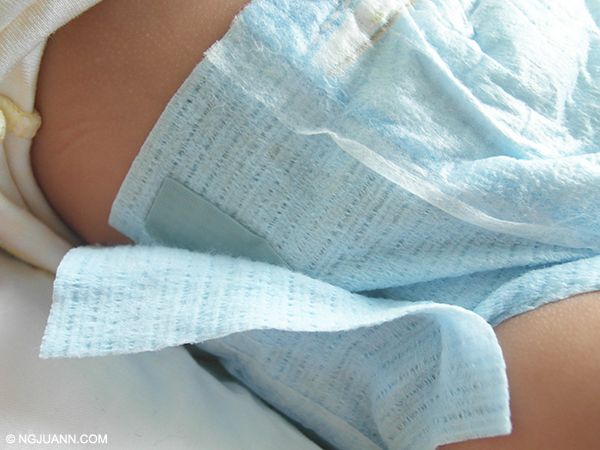 This hugs Daniel's waist snugly and securely so that the diaper stays in place even with the most active movements. Sometimes he wriggles so much that he manages to get pee / poo (GASP!) leaking out from his sides / back. Not the prettiest of sights. You can wear the new Huggies® Ultra Pants by pulling it up like a pair of pants or use the easy open sides that comes with it too.
Even the tape is stretchy and made of very comfy material that does not bite in your baby's skin. It is specially designed to have a low peel strength and high sheer strength to prevent pop opens which makes it easy for moms to open and not easily ripped off by babies.
2) Wetness indicator
THANK YOU for whoever that invented this. EVERY DIAPER NEEDS THIS (The faint yellow stars as seen above indicate dryness. They'll turn blue when wet)! Smelling / touching the diaper can't be the only way to tell if the diaper's soiled! So this wetness indicator is yellow by default and turns blue once it's soiled. Amazing technology and sooooo important to have in any diaper. I am surprised there are still brands out there with no wetness indicator. The new Huggies® Ultra Pants and Diapers comes with it.
3) New Slim Absorbent Core Technology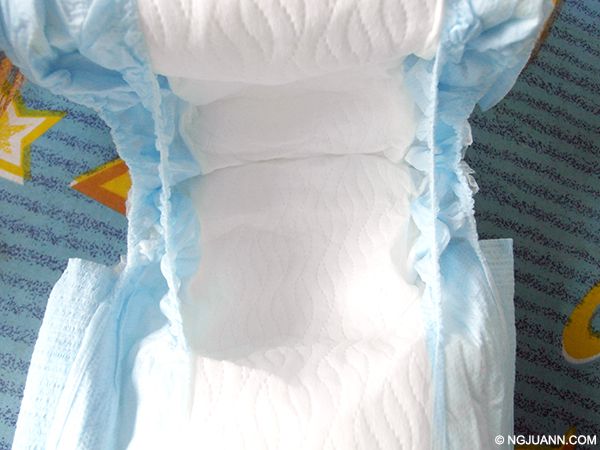 This is why the new Huggies® Ultra Pants can absorb and lock away fluid even for the whole night without the bulk and without leaking! I put Daniel on it overnight from 11.30pm to 8am once and my bed survived from his pee! When I removed the diaper, his butt was also still dry even though the diaper is really full already, thanks to the Circulation Liner that creates channels for air circulation to keep wetness away from baby's skin.
I think my baby and I are ready to move up to Huggies Pants! Size fits him well, he wears them comfortably and the stretchy pants moves when he moves, thereby giving him the freedom to move as much as he wants to. It's a great fit for him.
Here comes the SUPERB news!
These are actually Huggies' best version among their entire pants and diaper range and you, my awesome readers, get to try the new Huggies® Ultra Pants!

Each sample includes 3pcs of samples, and also a S$5 discount voucher to redeem at all FairPrice, Major super/hypermarkets (NTUC, Cold Storage and Giant) for every 2 packs of purchases of Huggies® Ultra Pants or Diapers.
See sizing chart below to help make your decision.
**