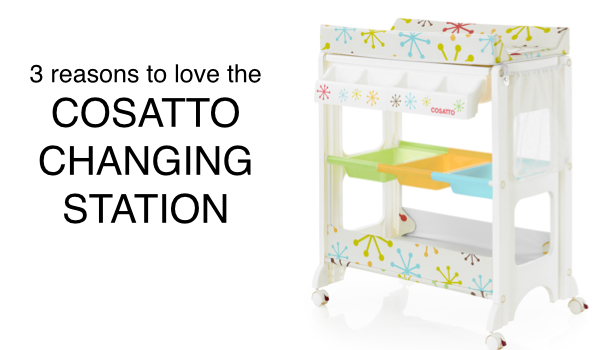 In my humble opinion, one of the MUST-BUYS for a nursery is a changing station for your baby. My newborn needed to change diapers, change clothes, etc, like 10-15 times a day. That's a lot of time spent!
One of the best investments you can make is definitely a changing station. I am super lucky to have found a super good one! I have the Cosatto Changing Station. I first discovered the Cosatto brand because of their pushchairs which are superb in design (more about the one I bought another time).
I went online and tried to find out where I can buy Cosatto in Singapore and then I found www.poshbaby.sg and that led me to their changing station. I raved about it once it was delivered to my house – and that was a superficial "review".
After 2 months of using the Cosatto Changing Station many times EVERY DAY without fail, I am back to give you an honest review about it.
Honestly? I LOVE IT. Here are 3 top reasons WHY I love my Cosatto Changing Station:
I am HUGE on compact designs with multi-functions. The house is small, so I need everything to be multi-functional. The Cosatto Changing Station does 3 big things a mother needs:
♥ Storage Space
You won't believe how much random stuff Daniel has (and needs)! Diapers, wipes, cotton balls, bath essentials, creams/lotions/oils, thermometer, nail clipper, the list goes on.
Daniel's nursery is neat because this changing station is able to hold all that is baby-related! And I love that it has these slots & tubs which help me organise his stuff to make it super easy to reach (especially when he's crying and needs me to change his diaper chop chop!).
And come mon, I can even store our diaper bag in this!!! Clutter free to the maximum!!
♥ Bath Tub
To be honest, this is the feature that was most attractive to me initially. I detested the idea of buying a huge bathtub because where would I put it when I am not using it?! The toilet is very very small! There is simply no space for storing something like that! The inflatable tubs & foldable tubs in the market just can't quite cut it when it comes to comfort and safety.
The Cosatto Changing Table has a removable bathtub hidden under the changing table. It's also positioned at the appropriate height for mothers who prefer to bath babies without bending over and it's removable for those who prefer to bath baby elsewhere. HOW AWESOME IS THAT?!
I would have bought the Cosatto Changing Station just for this very one feature – I do have a pet peeve for having as little bulky things in the house as possible.
What's even more awesome is if you don't use this tub anymore, it serves as a hideaway storage for more stuff! THREE THUMBS UP!
♥ Changing Table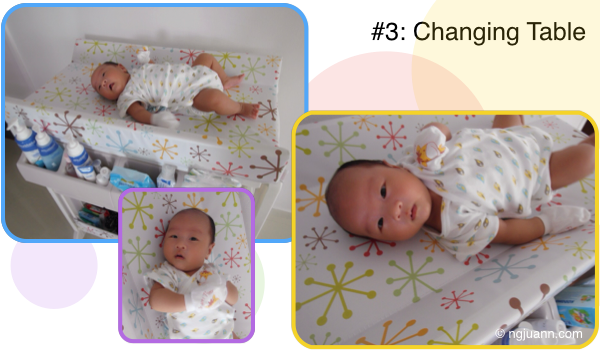 I considered many options when searching for a changing table. Ikea has a basic changing table which is pretty popular but it looks quite uncomfortable for my baby to lie on which meant I needed a changing pad on top of it, and I still needed a bathtub and the storage is pretty basic.
Cosatto's Changing Station addressed all my concerns. It has a soft, pretty and very comfortable padded top that's sturdy and spacious. Daniel fits on it perfectly with space to move his arms and legs wildly (like he loves to). It's safe because the table's wheels can be locked to one position, however I imagine as he grows bigger and knows how to crawl/flip over, I would have to keep an eye (and a hand) on him.
It's amazing too that Daniel will be crying and crying but once I put him on the changing table, he knows it's time for changing and he'll quiet down and wait patiently. Haha! Super love this little man that changed our entire lives. :)
**
There are many other small things to love about the Cosatto Changing Station too like:
♥ It has 4 wheels (Allows me to roll the station to any room I want it to)
♥ Everything is waterproof and can be wiped (Daniel has shot pee and poo all over and it's so easy to clean)
♥ It's BEAUTIFUL. All of Cosatto products are excellent in designs that stand out! It's colourful and really attractive.
There is only 1 small thing which I don't really like about the Changing Station. The bathtub has a drainage hole which allows you to drain the water from the tub out without having to carry the huge tub up to pour it out – PLUS POINT! But the thing is, my baby loves kicking and sometimes he'll accidentally kick the plug out of the drainage hole and water starts flowing out. Small problem. I like why it's there but perhaps the plug can be smaller.
I hope this review is useful for you. The Cosatto Changing Table is not cheap (compared to other changing tables) but it is worth every cent and one of my best buys because of it's good quality, excellent product features and beautiful designs.
**
I contacted PoshBaby and they are happy to give my readers a sweet 15% discount off Cosatto products if you quote my name & blog and email your order to sales@poshbaby.sg. :)
The Cosatto Changing Station goes for $330.65 (UP $389) and the Cosatto PushChair goes for $449.65 (UP $529). Super good deal! :)
T&C: Not valid with any other discounts/promotions. This 15% discount is valid only through emailing sales@poshbaby.sg and not through any other point of sale. Discount valid until 4th March 2014.
PoshBaby
Website | Facebook
Email: sales@poshbaby.sg