We have looked through, literally, HUNDREDS of wall decals for Bean's Baby Room. We knew we wanted a safari theme to it and although that helped to narrow down our options by a fair bit, you wouldn't believe how many different types, prices, and styles of "safari themed" decals out there in the internet!
We looked through Qoo10, Etsy, all the local and international wall decal companies but we finally, finally found one that is truly original.
In fact I am almost surprised I could find any wall decal that is truly unique to a company since copying is so easy now with the world wide web.
Just want to share with you this great company I found. They have a very distinct style to their decals. They aren't cheap but they are definitely worth your dollar.
Introducing, E-GLUE. They are a wall decal company based in Lyon, France and if you take a quick look through their site, you will find that their decals are highly detailed, have a distinct personality and are truly unique.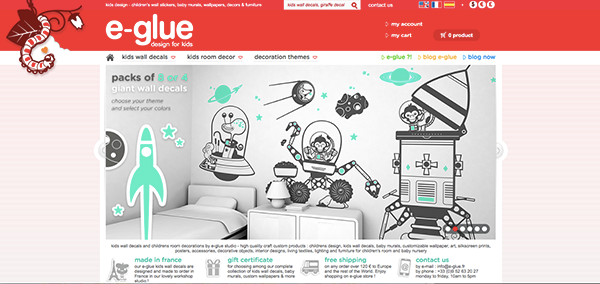 They aim to create original & high quality designs for some of kid-friendly themes such as savanna, jungle, pirates, dinosaurs, underwater world, robots, racing cars, princesses, dragon, outer space, etc… Their wide range of oversized wall decals for kids offers full packs, half-packs or single giant stickers to adapt to your needs.
Check out their beautiful collections! There's way more here.
Being in tiny Singapore, where we live in tiny houses, we did our homework by measuring and concluded that we can only fit a half pack onto 1 wall. That's cool too because E-Glue allows us to mix and match! :)
Here's my CHOICE for #ProjectNursery!!!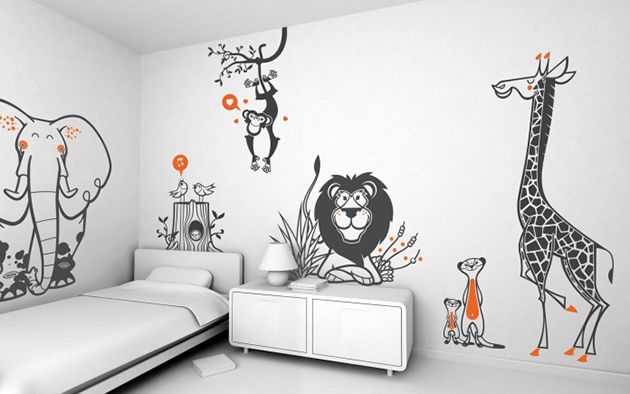 Omg Baby Bean is going to love it so much! :) And I super love the fact that they allow customisations! See all the colour combinations we can choose to have on our decals!
Just select your primary & secondary colour to see a preview RIGHT AWAY! To match our blue-brown-white theme, we chose to go with dark brown as the primary colour and blue as the secondary colour. :)
We also ordered a half pack which entitles to us to create our very own half-pack by selecting 4 wall decals (1(X)XL+1L+2 M), as shown above. We went for a Giraffe, a Monkey, a Suricate and the Birds Family.
Whatever you choose, make sure to measure your own room, measure the decal and plan to ensure it all fits before ordering. :) I can't wait to share with you how it turns out when I get it up in the room! :) Stay tuned to #ProjectNursery k!
**
All e-glue products are made to order, according to options selected by you (sizes, colours, pack content) and sent worldwide within 2-5 working days. The delivery to Singapore takes 5-7 working days by standard shipping service. Shipping costs are free on any order over 120 euros.
All the wall decals are handmade in their workshop and are made from solid colour matte vinyl film that is laser cut into shapes. Colours are much richer and purer than what can be achieved through a printed process but it requires a long time to cut separately then hand-assemble each coloured parts. Moreover, no solvent, ink or other chemical is applied to their surface.
Do be sure to choose good quality wall decals to ensure:
– Ease of installation
– LONG LASTING (E-Glue decals can last for 10 years)
– Ease of removal so that no stickiness/residue is left behind when you remove it
**
E-GLUE // design studio for kids
28 montée des Carmélites 69001 Lyon – FR
+33 (0)9 52 63 20 27 // info@e-glue.fr
Website | Blog | Facebook