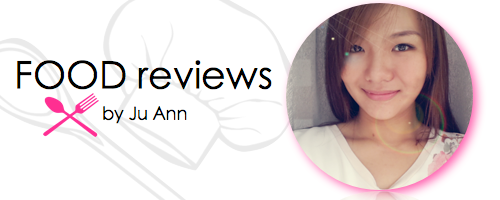 Vietnamese food doesn't rank high my list of favourite cuisines but I do think they have one of the more healthier style of cooking, that's if you don't order the pho soup!
I always like the dry vermicelli with chicken and less sauce, but note I also forget most times to ask them to go easy on the sauce. I also am a fan of the baguettes! Damn yummy. The one I love MOST is from Nam Nam Noodle Bar (at Raffles City basement & Wheelock basement).
So anyway, one dinner when I picked up Mom from the First Coach bus (she came from KL) at Novena Square 2, I discovered this little "new" Viet place practically hidden near the entrance of Waraku at ground floor. It's called Viet Cafe.
I ordered the dry vermicelli with chicken and found it to be quite refreshing. I wished it had more vegetables in it (but then I am a vege freak). I added some chilli padi into it and made the dish quite spicy and really nice. Not the best I've had though. The best I had is at Sugar & Spice at Alexandra Retail Centre. :P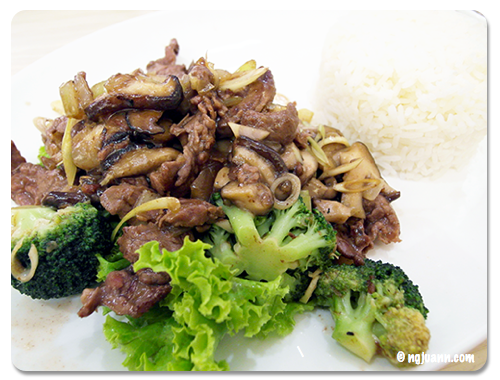 This fried beef with broccoli was served with rice that was rather HARD! Was not happy with the rice at all. The beef and broccoli was very nice though. They added lemongrass into the dish which made it very refreshing. Very tasty really. The beef was tender and cooked to perfection.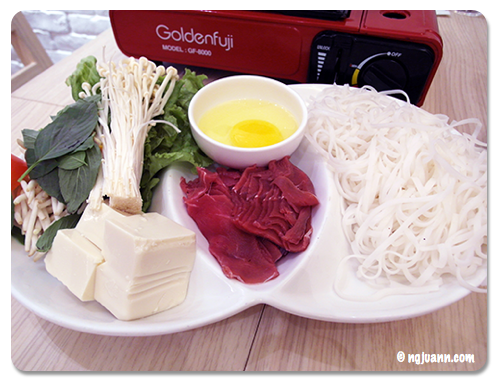 This last one was the best! They call it hot pot but really, it's more like DIY Pho, and in our case, DIY Beef Pho. The soup was very flavourful (a little too strong for me but ok for those with me) and it came with very thinly sliced beef that went very well with the soup. The noodle given was just the way I liked it. Soft, not too big, not too small and very smooth.
They were also very generous with the beef slices, definitely more than what you get at Japanese restaurants that serve similar dishes. The soup base was that of the usual Pho.
Service was excellent. It was really quiet though for a Friday dinner service.
In all, Viet Cafe serves up quite authentic Vietnamese food. The flavors were strong, as Viet cuisine usually is but those who ate with me found it alright. I personally found it a little too salty.not too overpowering. The portions are reasonable and it's quite cheap too! 3 of us ordering all of the above which is good enough for 4 people costed only $45++.
**
Viet Cafe
10 Sinaran Drive #01-07, Square 2 Singapore 307506
+65 6397 7162
www.vietcafe.com.sg