My V Day today was a simple one spent with the BF. Just a nice dinner (that he took the effort to plan) at this nice restaurant that I'll definitely like to go back to and some gift-exchange. 🙂

Fantastic Roast Chicken at The Royal Mail

I declare my BF the world's MOST difficult person to buy a gift for. If you think your other half can beat this, then tell me all about it in the comments!
1) He has a super strong opinion about all the things he own.
He loves things that are unique, and loud. And quite frankly, things that I don't find attractive at first (second, third, fourth… etc) glances till maybe the 100th glance I take. Although, by then I think it might be more appropriate to categorise it under "getting used to" instead of "liking it".
2) He is quite a contented guy.
He really doesn't need or want much material things. He is also very good at taking care of his belongings, which means he can really use 1 wallet and use it for a very long time. If something that he needs does break down, he will usually find a suitable replacement for it within 1 month. That means absolutely no window for me to get for him as a gift for a special occasion.
So I thought ok fine, I'm sick of all this. So I am just going to get him whatever I FEEL LIKE. So on my recent trip to the US, I got him a Coach wallet. One that was really really slim – just the way he loves it.
He even hates most branded stuff cos he thinks it's too mainstream and ugly, but this one I got him did not carry the usual Coach colour and pattern. So he seemed pretty alright with it.
And then when it got nearer to Valentine's Day, as luck would have it, his watch broke. WAHAHAHAHA! Then he brought me into this Casio store and started saying how this particular watch "OOZES manliness" and totally represents him and when I got this as a gift for him (as a surprise), he didn't really like it. OMGGGGG
But I already did the necessary precautions of ensuring there is an exchange policy. So he exchanged for another limited edition one and he is super pleased with it.
V Day turned out not too bad then. 🙂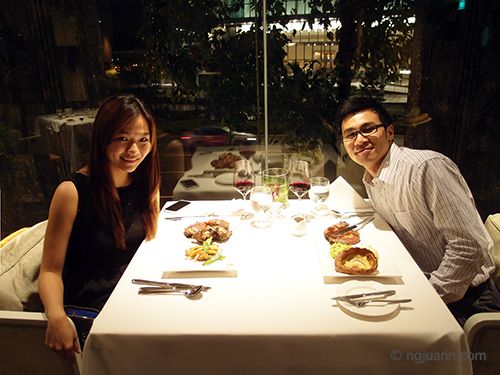 **
On the same note, here are 10 articles on the topic of Love from MFP that I think is worth a read! Check it out!
The World's 3 Best & Worst Men to Date
Rental Boyfriends a Big Hit During Chinese New Year
Should a Summer Fling Stay a Summer Fling?
Do You Attract Men with Issues? Are you an… Asshole Magnet?
How to Survive Valentine's Day after a Break up
10 Common Relationship Problems Couples Face