Have you read my previous post on my results after 10 sessions with BottomSlim? Through those 10 sessions and the subsequent 10 other treatments I had with them, there were a variety of treatments that were done on me. Joanne, my consultant & therapist, was the one who monitored my progress and recommended my treatment plan accordingly.
See the thing is, like most women who has given birth, I put on quite a fair bit of inches on my lower body. :( My thighs, my butt and my tummy. The FLAB is horrendous. :(
The treatment machines used at BottomSlim allows my specialist to target areas where I want to slim down. Here are some of them!
Let's focus on the treatments that are the highlights!
First up is the 3D Lipo Fat Loss Treatment. Fondly termed as the peanut treatment by my specialist because the device looked like peanuts. I always remember this treatment because of her.
There will be 8 peanut heads to this machine. These will be attached to your areas of concern. For me it was 4 on my tummy and the other 4 on my upper thighs.
When switched on, the peanut heads will vibrate and emit a little heat. Nothing uncomfortable. In fact, this is one of the more comfortable treatments at BottomSlim! :) Joanne, my specialist told me that this machine costs a lot of money but it is very very effective in helping to break down, crush and melt stubborn and excess formed fats. I always feel lighter and refreshed after just one treatment.
The 3D Lipo Fat Loss Treatment is an advanced combination of 4 technologies working hand in hand to give you results.
a) Far infrared light Fat-Burner: Uses heat energy to boost circulation significantly to soften, shrink and burn stubborn fats.
b) Biological wave Fat Melting:
Accelerates metabolism through biological currents to melt fat while tightening skin to improve elasticity
Aids in detoxification and removing of acidity in body which causes fatigue and backaches
c) Magnetic Resonance Lipo Breakdown: Use of magnetic waves to create consistent rhythms that aids in crushing of stubborn fats for easy expulsion
d) Phototherapy Fat Zapper: Advanced light technology to penetrate into deeper layers of skin to dissolve fat
Next is the Slender Lite Therapy with Cellulite and Fat Burn Masque. BottomSlim has this special fat burn masque which will aid in breaking down cellulite and fats. To help this mask better penetrate into deeper layers of your skin and achieve better results, the Slender Lite Therapy is used.
Joanne applied the cool gel-like fat burning masque and then switched on this device which emits infra red heat. All you do is just lie back and relax. The red light will be a warm after awhile and it was really very soothing. This treatment lasted about 15mins.
If I rate the comfort level of the 3D Lipo treatment (above) as 9/10, I would rate this one 10/10. You really just lie down there and wait for the treatment to take effect! After this treatment, I
This treatment will help to:
Improves tone, appearance and texture of skin
Boosts fat burning for easier expulsion
Reduces development of cellulite that cause sagging skin
Shapes, tightens and firms your lower body
Reduces stretch marks and restores skin elasticity
Advance lymphatic drainage and improves bloody circulation
Aids in detoxification
Makes body more sculpted and proportionate
Since I was quite awake that day, all I could do was play with my phone furiously and take too many selfies!
BottomSlim really makes slimming such a breeze. I just had to somehow crave time out to visit regularly and during the 1-2 hours that I am at their outlet, my fats are broken down, I'm getting slimmer, and still, outside of treatments, I eat whatever I want! On hindsight, I should have watched what I eat and I probably could have lost even more. :)
The next treatment to take note of is the BottomTrim Therapy. A fat burning gel was rubbed all over my thigh area first then the BottomTrim device would be glided all over my thighs to help
Breaks down accumulated stubborn fats in areas difficult to lose
Improves overall blood circulation
Eliminates toxins
Liquefy fats
Firms up and shapes lower body for better definition
Smooth lumpy areas
Reduces cellulite appearance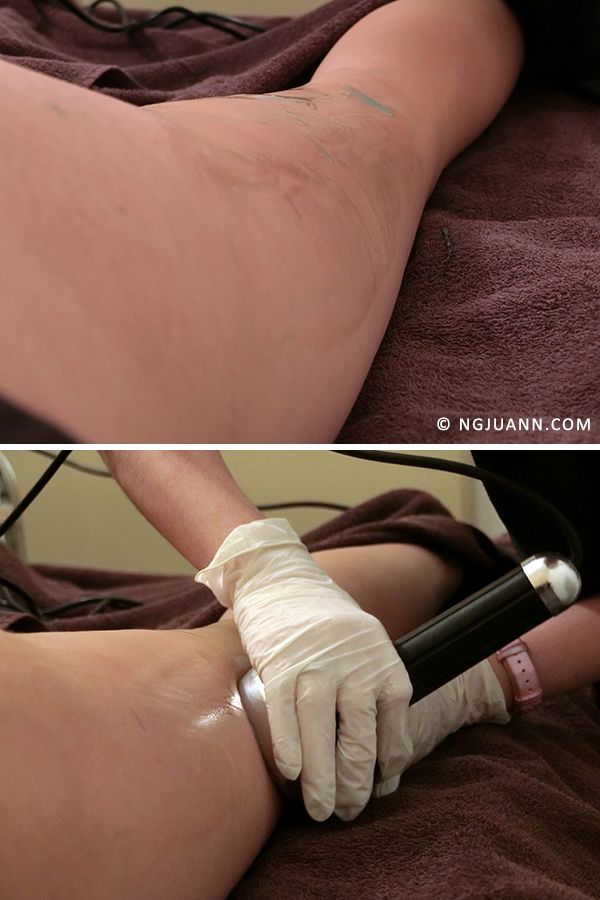 The treatment is remarkable. Joanne really worked the device onto my thighs and butt. It was no walk in the park. It was a little painful but strength and technique is necessary in order to break the fats down properly, especially the very hard and stubborn ones. The next day I had blue black marks all over my thighs but that's a sign that fat has been broken down! See the before & after:
The pain is all worth it!
Joanne was very very meticulous and such a joy to chat with too. After this treatment I could REALLY see the difference! Well, it's a little too revealing to show it here but she did one side of my butt and took a picture for me to see. The side that was worked on really looked firmer and lifted. o.O
Super super impressive.
This BottomTrim Treatment is great for ladies who seldom exercise / walk , spend long hours sitting, have stubborn bulges around lower body and have cellulite appearance. Hello that's me!
With Daniel now, I really don't do much after work or weekends. I guess my way of dealing with working-mom-guilt is to go straight home after work as much as possible and spend the weekends with Daniel. :(
BottomSlim treatments are customised according to each individual's problems. Do trust that they will use the right mix of machines/treatments to help you achieve your slimming objectives. :)
Stay tuned to my next post to see how much more did I lost after another 10 sessions at BottomSlim :)
**
BottomSlim
Website | Facebook
Contact: 6363 2525
Ngee Ann City 391B Orchard Road #05-18 Ngee Ann City, Singapore 238873
Square 2 (Novena) 10 Sinaran Drive #03-11/19 Novena Square 2, Singapore 307506
Parkway Parade 80 Marine Parade Road #02-67, Singapore 449269
Nex Mall 23 Serangoon Central #03-31, Singapore 556083
Jurong East Blk 134 Jurong gateway road #01-311 unit 3, Singapore 600134