I've been going to Shunji Matsuo (and my stylist, Caely Tham) since 2012. I've been there countless of times, tried all kinds of treatments and hair colours, and still loving it.
4 Years Of Visits To Shunji Matsuo @ 313Somerset all documented here!
I made a recent overdue trip to Shunji Matsuo @ 313 Somerset for soft rebonding (cosme cream treatment) again. This isn't the first time I've done this treatment with Caely and it has given me superb results time after time.
Read my reviews from before:
• May 2012
• Dec 2012
• Nov 2013
• Feb 2015
Experience Does It
If I didn't know better, I would have done rebonding and perming and maybe even colouring, and bleaching my hair at my own wimp and fancy, without knowing what all these chemical treatments is doing to my hair.
I love myself with curls but it's a delicate balance that Caely does for me all the time. I have naturally wavy hair (see picture below, yikes!) so while I love having curls at my hair ends, the top needs to be straight! I'll probably end up looking like a crazy woman if it wasn't.
I've also been wanting to have my hair bleached and looking like the KPOP star, CL from the popular girl band 2NE1 again. I really loveeee that colour she did for me before.
So anyway, much of 2015 saw me going through several colour treatments and many hair treatments to let my hair rest from the previous bleach that I did.
The top of my hair usually grows and becomes wavy after 6 months, so I usually need a rebonding update done every 6 months. It's a routine already!
I'm pretty excited la. After this rebonding, I'll grow my hair out more, keep the colour updated and early next year, I think we can totally go for crazy colours again! ☺
Without Caely's experience and advice on what I do to my hair, I think my hair will be fried by now. So that's why they say, make sure you choose the right hair stylist!
From Wavy Hair To Smoothness & Beyond
Here's a photo from the recent visit to Caely.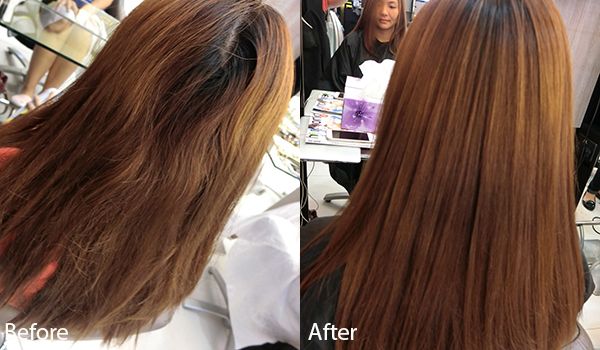 Ignore the horrid washed out hair colour! Caely's been asking me to get it dyed but not in this same treatment session. Check out the smoothness!!!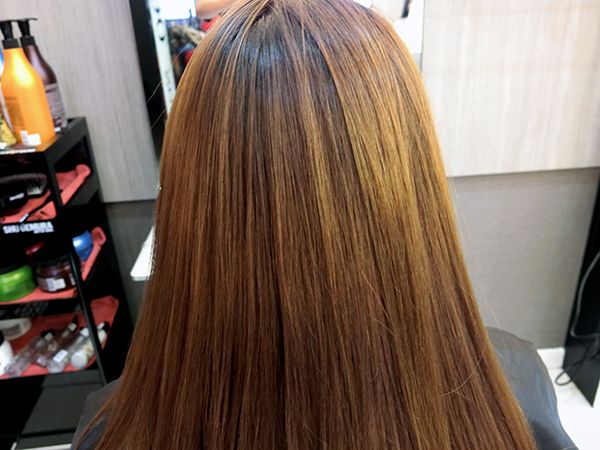 It took about 3-4 hours to do this plus the Shu Uemura Master Treatment (prices start from $120), a made-to-measure hair treatment that addresses 3 key hair woes:
– Damaged hair
– Dull hair
– Dry hair
Depending on what your hair condition is, they will mix the various Shu Uemura serums in to the customised hair treatment that this is. :)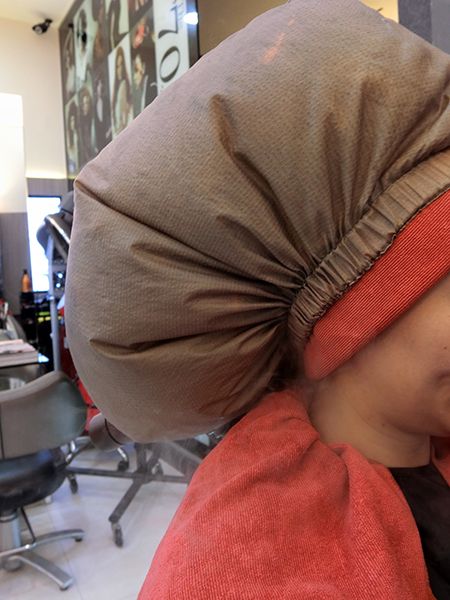 Detailed review here.
Walked out feeling like a million dollars la. ☺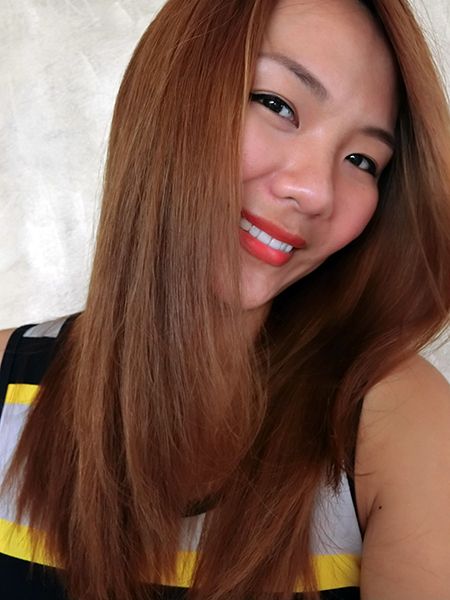 <3<3
I'm going to return to have my hair coloured very very soon. Gotta cover the black roots and washed out brown.
Like all other chemical treatments at Shunji Matsuo, the Cosme Cream Soft Rebonding Treatment and the Shu Uemura Master Treatment that I did are all on 10% off if you quote my name "Ju Ann – Blogger". :)
**
Shunji Matsuo Hair Salon @ 313 Somerset
313@Somerset, #03-26, just beside Uniqlo
Open from 10.30am – 10pm daily
Call for appointments at 62380226 / 62380227 (they're very packed on Saturdays!)
Specially for my readers: Get 10% off all colour, treatment, perm, straightening services at Shunji Matsuo Hair Salon when you quote "Ju Ann Blogger". Haircut excluded!
My stylist is Caely (only at 313@Somerset branch), and she's very good at what she does. Just go to her with an open mind and let her tell you what's suitable for you.
**
Disclaimer: I received the products/services featured in this article FOC and was NOT financially compensated for this review. Opinions here are of my own, and based on my own consumption experiences. I am under no obligation to review these products/services in a positive light or to review them at all.