Erabelle has been my go-to, trusted place for eyebrow embroidery for a couple of years now. I have been back for eyebrow embroidery for so many times. Each time I'm there, I just close my eyes and trust their experts to do what they do best.
This time around, I have finally decided to try their eyeliner tattoo service called Eraliner. I have always wanted to wake up looking fabulous (and that means I need to have some eyeliner on) but I was kinda always scared of doing any sort of "tattoo" on my delicate eyelids!
But we women always endured pain for beauty.
I've asked around my friends who have done it before and also did some reading up online to understand the procedure, longevity of treatment and level of pain.
It seemed that many found it bearable. So at my next appointment with Erabelle, I slotted in an Eraliner treatment as well!
Eraliner is a unique semi-permanent cosmetic artistry service that customises the thickness and colour of your eyeliner according to the shape, size and colour of your eyes. Have precise, smudge-proof eyeliner that enhances your eyes. The effect is expected to last from 2 to 3 years with the full course of treatment and proper care.

Here's sharing my experience for others who may be interested!
Here's all the tools they use!
Firstly I started off with the touch up for my brows. I love Erabelle therapists for their attention to detail. They respect that we are all different and the shape of our eyebrows should be tailored to our face shape. My therapist drew my eyebrow and asked if it was okay before we proceeded with inking it in.
She cleaned my brow areas thoroughly and put on some numbing cream.
After awhile, she came back, unpacked a new needle, and started the procedure! Read my previous post to see how it went.
I could even, erm, take a selfie. HAHA!
After my brows were beautiful again, we started numbing cream on my eyes. I told her I was a bit nervous and she assured me that it would be okay and she could put the numbing cream on longer if I was scared.
I kept my eyes closed throughout the period when I had the numbing cream on my lids.
She explained the whole procedure to me and even showed me some samples of her previous work so that we could discuss the shape and thickness of the line that she's going to tattoo on. We agreed on something more natural but good enough to see the difference. She advised against a line that's too thick or fancy like with a flick tail (like how I usually draw my eyeliner) because thicker lines might change to reddish and not be so nice over time and fancy ones are usually avoided because you would want the flexibility to choose whether to rock your eyeliner for the day or not.
Here's some pictures that I took on my own while she was doing the procedure!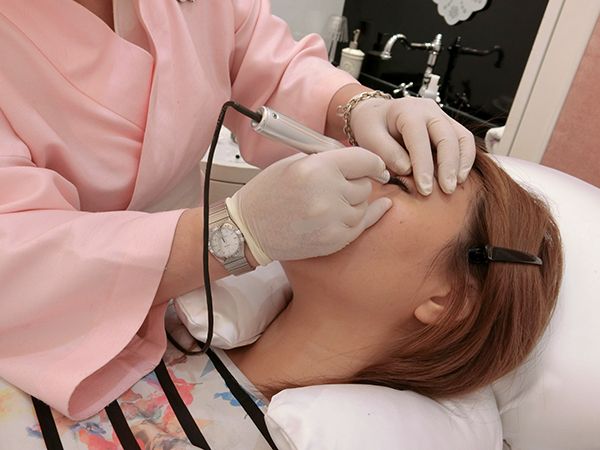 And a close up!
Adding on eyeliner to your eraliner'ed eyes are super easy and you can't tell whether you have semi permanent eyeliner on or not. See here's a before and after:
I love the effect! I wake up looking fabulous!
**
Check out the prices & outlets! Do check out their Facebook page for offers that they may have from time to time :)
**
Disclaimer: I received the featured services in this blogpost from Erabelle Singapore without payment. This is not an advertorial. However, opinions here are of my own and I am under no obligation to review these products in a positive light or to review them at all.