Have you heard of Bioderma's Crealine H20? I think I found the Holy Grail of Makeup Removers!! It is like the makeup remover of choice by makeup artists, and celebrities (Gwyneth Paltrow, Kylie Minogue, etc.).
And it has snagged so many awards locally too:
– Sebium H20 was awarded as the winner for BEST CLEANSER for acne-prone skin in Cleo Beauty Hall of Fame 2014
– Sensibio H20 Micelle solution was awarded Guardian Health & Beauty BEST SELLING derma-cosmetic CLEANSER and MAKEUP REMOVER in 2014
It's super gentle on the skin, won't sting the eyes, is fantastic on sensitive skin, removes your makeup in a jiffy, and really refreshes your skin after using it.
Here's the range of Bioderma Make Up removers available in Singapore: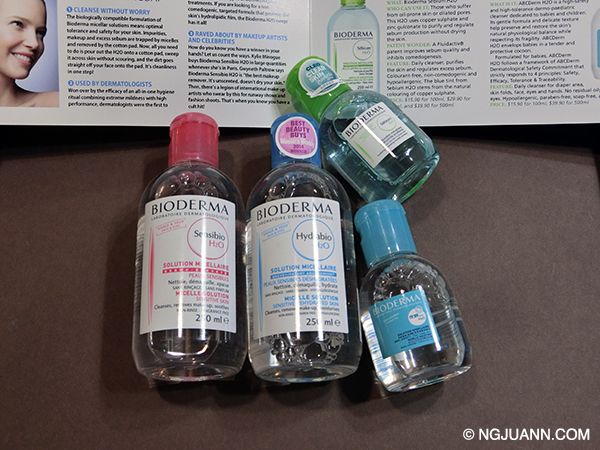 – PINK: Bioderma Sensibio H2O (Suitable for all skin types including sensitive skin – their best seller!)
– GREEN: Bioderma Sebium H2O (Suitable for oil-prone/acne-prone skin. Contains Fluidactiv® patent improves sebum quality and inhibits comedogenesis.)
– BIG BLUE: Bioderma Hydrabio H2O (For hydration. Contains an Aquaporin® Patent that stimulates skin's natural hydrating capabilities and locks in water within theskin layers.)
– SMALL BLUE: Bioderma ABCDerm H2O (For babies! Hypoallergenic, paraben-free, soap-free, and alcohol-free. Extremely gentle and delicate that is suitable as a daily cleanser for babies diaper area, skin folds, face, hands etc.)
I got interested in this product because of the use of Micellar water in it. It has long been a go-to source for light, yet effective, cleansing and makeup removal. I tried to do a little research on it and in essence, Micellar water is made of "micelles," which are tiny oil molecules suspended in water, which means they offer the effectiveness of an oil-based makeup remover with the gentleness of water.
It's fascinating. The Bioderma range of make up removers are clear as water is in a bottle. Oil-based makeup removers are known to be more effective in dissolving stubborn makeup, but the downside of it is that the texture might be too heavy for oily skin types. I have combination skin and the Bioderma is perfect for me.
I having been using the Bioderma Sensibio H2O and Bioderma Hydrabio H2O on a regular basis and I love it. It's very very good!! Check it out here.
I put on some waterproof eyeliners and mascara, that I personally often use, on my hand and gently used a cotton bud that's soaked in the Bioderma Hydrabio H2O. A quick swipe through and there you go, all the eyeliners are removed, the mascara area needed 2x swipe and it was all removed*!! In fact, it removes so well that I dare say this is one of the best removers I've ever tried. Needless to say, it removes foundation and other base makeup easily.
*Do note that this is tried on my own usually used cosmetics, you may use cosmetics that are harder to remove.

Just to show you as well, I used the oil control Bioderma Sebium H2O and did a test too.
Same formulation, different ingredients to suit different needs. The way it removes the make up is still as effective so choose the product that's suitable for your skin.
Although this doesn't require another step to cleanse but I do it anyway and use this as the first step to my daily double cleansing routine.
After cleaning, it left my skin feeling clean and refreshed. Most importantly, my skin did not feel dry. I love how easy it is to remove my make up quickly, thoroughly and gently. If you were to ask me if I'd buy another bottle once this finishes, the answer will be a resounding YES!
Oh yes, this is a great product and it has a proud shelf space on my dressing table for sure. Totally worth your money.
P.s.: If you're wondering how to use this, use soak remover in a cotton pad and wipe gently. :)
**
The Bioderma H2O Micelle Solution is priced at: S$15.90 for 100ml, S$29.90 for 250ml and S$39.90 for 500ml and is available from all Guardian and Nishino stores, Robinsons Orchard, Raffles City and JEM, and John Little Marina Square and Plaza Singapura. For more information, visit www.bioderma.com and Bioderma Facebook Page.