I pondered long and hard. What on earth should I get for Peter's birthday?! It is SO HARD to buy a gift for him. He has everything he needs and he needs very little things. The past few presents I gave him were always a flop :(
There was once I bought him a watch because he said he LOVED it when we were window shopping. When I passed him the gift, he said that's NOT the one he wanted and it's not a very nice design (in his opinion)! Thank goodness I anticipated this and we went back to exchange it for a model he preferred instead.
And then another recent time when I got him a pair of BEATS earphones, only to have him tell me that the fake ones on Qoo10 are good enough.
Just wanted to stab myself.
Then recently, when we were at Clarke Quay area in the evening taking a stroll after dinner, a few guys on what looked like an electric unicycle passed us by and he later went online to search for that product. Well, what he saw was an electric unicycle.
What's an electric unicycle? Check it out:
It's not exactly cheap so he was pondering about whether to buy it for awhile. I was telling him no no no don't on the side in hope that he wouldn't buy it for himself. Well that worked. I searched online for where to buy an electric unicycle, there were a few options ranging from sellers on Qoo10, Taobao, Airwheel, Solowheel and The Wheelies. The prices differed a little here and there and I did a lot of research and comparison before finally deciding on buying from The Wheelies (Website | Facebook).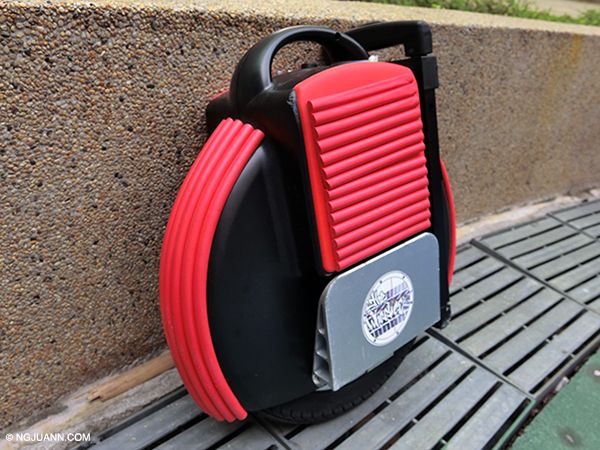 Across all brands, there are generally 2 types of electric unicycles: A Single and A Dual Wheeled. So what is the difference between the two products? Below is a breakdown of the specifications (as per the website here):
| | | |
| --- | --- | --- |
| | Single Wheel | Dual Wheel |
| Maximum Speed | 18 km /h | 18km/h |
| Climbing Angle | 15° | 15° |
| Weight Limit of Rider | 120 Kg | 120 Kg |
| Weight of Wheel | 9.8 kg | 13.7kg |
| Maximum Range | 15 km | 18 – 60 Km (depends on model) |
| Warranty | 1 year for gyroscope & battery | 1 year for gyroscope & battery |
| Accessories | Training Wheels, Training Strap, Rear safety lights | Training Strap, Rear safety lights |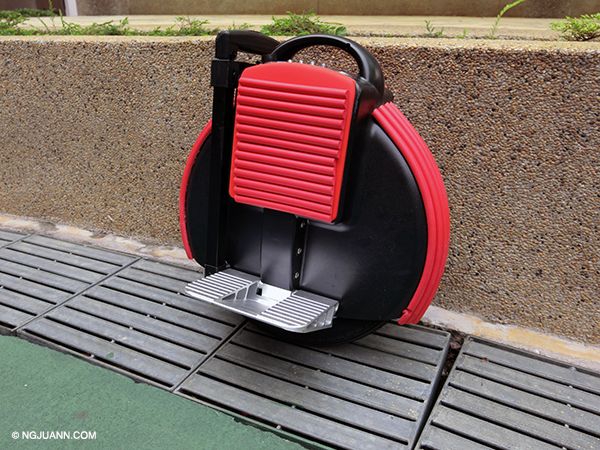 I was so tempted to splurge and just get Peter the Dual Wheel but I watched all of The Wheelies' videos and noticed that most men use the Single Wheel, so I suppose that would be most suitable for Peter. Thomas, the owner of The Wheelies, is a super friendly guy who also said that you can do more tricks with the single wheel as compared to the dual wheel.
The biggest issue with the electric unicycle (across all brands) would be how heavy it is. Thomas from The Wheelies proposed that he include a handle bar to the one I bought from him so that Peter can pull the unicycle along when he's not using it. What a brilliant idea.
When the gift arrive in a huge box, Peter opened it up excitedly like a little boy and brought it downstairs for a spin immediately. It wasn't easy to learn it on our own. Thomas provides a 1-to-1 training for every purchase which came in SUPER useful. He's a smart guy. Without the training, people might get frustrated learning it and the chances of them enjoying the Wheelie would diminish. Peter didn't manage to learn it within the 1 hour with Thomas but after another 2 days of trying out himself by holding on to some walls, he mastered it.
He's so good at it now and having so much fun with it. Check him out:
Everywhere Peter goes with his Wheelie, he always turns heads and people do go up to him and ask him where did he buy this from, how much and some even sat down and watched him play. :)
I chose to purchase from The Wheelies instead of the other vendors which could be cheaper is because:
– Local Warranty
– Very BIG community of like-minded people who have the electric unicycle (more people to enjoy it with!)
– Very good customer service (he replied my emails and many questions very promptly)
– 1 hour of 1-to-1 training (so very important! Peter might have never taken off the training wheels without the training)
The Wheelie cost me $650 (excluding the handlebar). And IMHO, it's worth every cent to see Peter enjoying his gift so much. :)
Oh and if you are interested to buy as well, do email Thomas at thewheeliesasia@gmail.com and tell him you're a friend of mine. I'm sure he'll have a good package for you.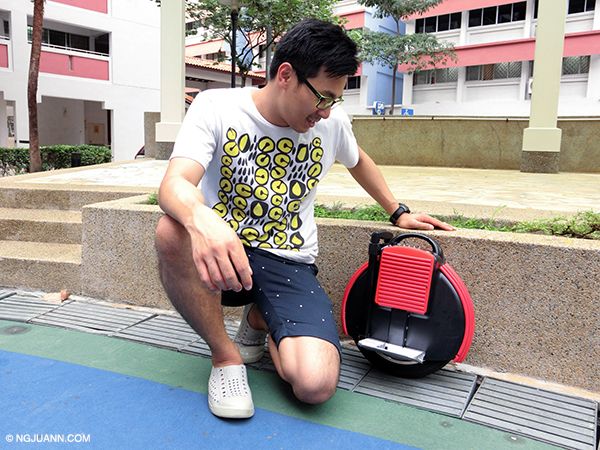 So happy that he's happy with his present!!
As for dinner, I had a very special surprise planned for him for dinner. I did some research and found this restaurant, NOX – Dine in the Dark! It's perfect! I joked that he'll enjoy it because he doesn't have to see me while having dinner. LOL
NOX has an interesting concept to it and I'm sure Peter will enjoy telling his friends about it the next day. I didn't tell him where we were going for dinner and even at the restaurant, level 1 was the waiting area where it was brightly lit with small cocktail tables and some lockers. He was puzzled at the setup and at the lockers and wondered what's for dinner. He thought maybe we were waiting for a bus to come take us somewhere for dinner, well until the friendly waitress came and explained the whole dining concept to us.
The food at NOX was pretty good to my surprise. It was a three course meal, each course consists of 4 mini dishes which will challenge your taste buds.
Dining in pitch black was such an awesome new experience for the both of us. We couldn't see a thing. Not even if I put my hand right in front of my face. We had to pour water and feed ourselves in the dark – even that wasn't easy when you can't see. Peter lost his fork halfway through the meal, and I ate lamb thinking it's beef. We had fun guessing every single dish we tried and boy there were many alright.
It was a simple day but best of all, he enjoyed the surprise gift and dinner I planned for him. :) To many more birthdays together baby! :)