Time to gear up my hair for ‪Chinese New Year‬! I do A LOT of chemical stuff to my hair so this time around in January, I decided to get an "ATAS" hair treatment done at Shunji Matsuo Hair Salon at 313 Somerset. I needed something that is suitable for VERY DRY HAIR and hair that has been dyed many times over.
The new Shu Uemura Deep Conditioning hair treatment at the salon was quite popular and came highly recommended by Caely. It was quite the perfect treatment!
Let me share with you the process of it so you know what to expect! :)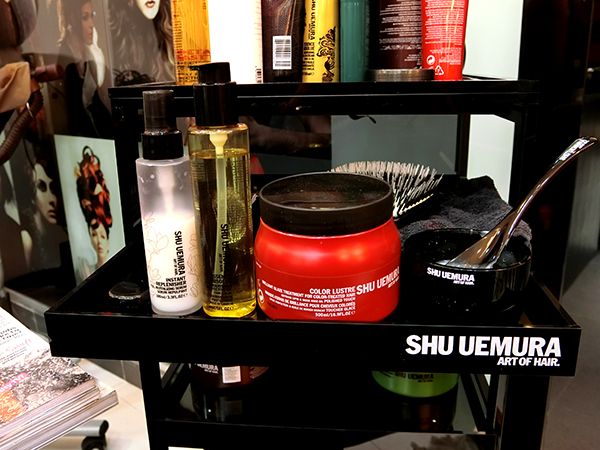 The first step of this treatment is to put the Shu Uemura Essence Absolue Nourishing Protective Oil onto my dry, unwashed hair. This helps to moisturise and protect with intense nutrition. This was massaged into my hair ends before we went for a wash with the Shu Uemura colour shampoo.
Next step, the Shu Uemura Instant Replenisher Full Revitalising Serum was applied on my hair with a cool steamer blowing at it, helping my hair absorb this product better. Created with a unique blend of magnolia oil, putting serum on my hair will help smoothen, and make my hair more radiant.
Next step before the final wash & blow was to apply the Shu Uemura Brilliant Glaze Treatment from the Colour Lustre range. It's key ingredient is the Musk Rose Oil which is rich in fatty acids and Vitamin A. The Musk Rose Oil helps to restore vibrancy to colour-treated hair, providing the shine that it needs.
This rich cream masque instantly restores the hair's protective varnish to preserve hair colour and deeply nourishes the hair fiber.
All of that felt super luxurious and it completely changed the texture of my hair! I love how soft my hair was after the treatment! After this, I went for a photoshoot and my hair looked amazing in that shoot!! I can't wait to share with you the photos! So stay tuned here!
Price for this starts from $120 but you get 10% off all chemical services when you quote my name/blog (only at 313 Somerset outlet)! Be sure to book your appt early!
**
Specially for my readers: Get 10% off all color, treatment, perm, straightening services at Shunji Matsuo Hair Salon at 313 when you quote "Ju Ann Blogger". Haircut excluded!
My stylist is Caely, and she's very good at what she does.
Shunji Matsuo Hair Salon @ 313 Somerset
313@Somerset, #03-26, just beside Uniqlo
Open from 10.30am – 10pm daily
Call for appointments at 62380226 / 62380227 (they're very packed on Saturdays!)
LIKE Shunji Matsuo Hair Salon @313 Facebook Page