The credit card market in Singapore is a fierce one. There are so many different types of credit cards from every bank. I have like 30 credit cards but I'm loyal to only 2 cards.
It's very confusing for a customer. Everyone promises rebates, miles, discounts, and every flyer shouts EXCLUSIVE EXCLUSIVE. Really, who can keep track of what's what?
Just to share with you the two cards which I'm loyal to for now:
1) DBS Altitude Signature Visa Card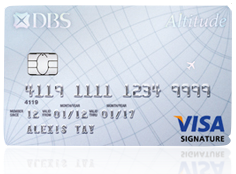 I do this for the miles. I have one singular goal and that is to fly to New York on miles. Haha!! To do so, I will combine expenditure with the BF and spend every penny on this card.
Highlights of the card (to me):
♥ For the first S$2,000 spent, you earn 1.2 miles per S$1. For every additional dollar spent in the month, you earn 1.6 miles!
That's 2,400 + 3,000 miles that you get for every $4,000 you charge to your monthly bill! 2 way SQ air ticket to New York is 56,000 miles. Just use the card about 11~12 months and you get to go New York!!
♥ Points don't expire
♥ S$1 Million Travel Insurance (must charge full travel fare to your DBS Altitude Visa Signature Card)
♥ You can choose to redeem your air miles with any one of 48 participating airlines.
More details on their website.
If your goal is to earn miles, check out these other cards:
♥ Citibank PremierMiles
♥ UOB PRVI Miles Platinum
♥ American Express Singapore Airlines Krisflyer Gold
♥ OCBC Titanium
2) Frank OCBC Visa Card
I just realised how awesome this card is. Especially if you do a lot of online shopping. Hear this, 6% rebate (in yoru next bill) off your online shopping!!! I spend $100 at ASOS.com, I get $6 off!
And I only just realised this. I got this card previously cos I love the fact that I could customise it!
Highlights of the card (to me):
♥ Spend at least S$500 a month on your card (online/offline) and get up 6$ rebate on all your online purchases & 0.5% on all your other purchases! That includes GROUPON sites!!! And my favourite Q100! Omg!
E.g.: Spend $1,000 and get $50 rebate (up to a cap of $60 and 0.5% rebate thereafter)
♥ Spend less than S$500 a month on your card (online/offline), you get unlimited rebates of 0.5% off all your expenditure on your card!
E.g.: Spend $400 and get $2 rebate!
♥ 5% off at Deals.com.sg (total savings of up to 80%) from now till 31 Mar 2013
♥ Choose from over 120 card designs with fees ranging from S$0 – S$50. Yeh no more boring card designs! View card gallery
♥ Works as a NETS FlashPay card for all your transport payments too.
More details on their website.
This post is by no way saying these are the best credit cards in Singapore. :) Just sharing what I'm using.