As part of omy.sg's Singapore Blog Awards where I am a finalist in Singapore's Best Shopping Blog category, we are tasked to find the best shopping deals on a popular local shopping website, Qoo10.com.sg, previously known as gmarket.com.sg.
First of all, I want to say how much I love Qoo10. I shop there for everything! Sometimes when I travel, I see stuff I want to buy, and I tell myself, I can get that at Qoo10 for cheaper!! This was exactly the case when the BF and I were shopping in Bangkok for iPad and iPhone cases. Seriously. Don't know why they sell more expensive than Qoo10!
Ok I digress, anyway, today I scooped a good deal. Like… literally.
See, Qoo10 has this "TIME SALE" thing whereby certain good deals go on a special price discount for X number of hours. See what I foundddddd!!
I found Maggi Moo's ice cream on offer! This is like a Groupon/Coupark/Deal website too! See 1 pint of ice cream was $7.90 but because of the time sale which is from now till 30 June, and only from 9pm to 6am, you get $2 off!
How awesomeeee! I never tried Maggi Moo's before but they have good reviews as seen above so I decided to give it a go! :) Will let you know how it tastes like!!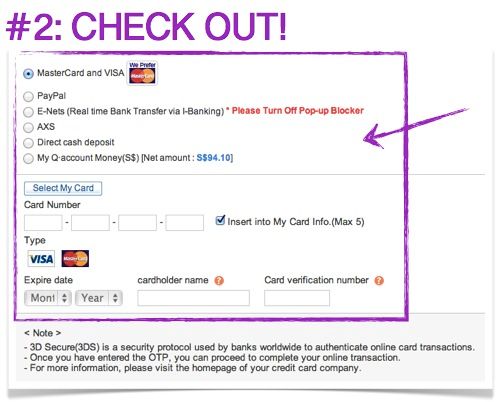 When you have made up your mind, there are HEAPS of payment methods and all of them very safe. I have made super many purchases back when Qoo10 was gmarket and up till now. I never had any problems with the payment system. So I usually choose credit card (and because I have an account with them, my credit card details are stored) cos it's just a very simple click ok to pay! Too easy to spend money nowadays!!
I have tried paying via e-NETS too. It's real simple. Just click on it then they'll ask you to login to your ibanking.
I've also tried direct cash deposit which you can make your purchase, then go to your preferred bank and deposit cash into it. So easyyyy to buy la.
And step#3 is the best! So after you have made your payment and it's confirmed, you will get an email from Qoo10 notifying you of your confirmed purchase. Then go to My Qoo10 and you'll see the above.
Since this is a coupon that I bought and can be downloaded immediately to use, I clicked on "Confirm Delivery" to confirm that I have received it and then I clicked on "Write a Review".
There are 2 types of reviews (prepare to be sucked into this whole… review thing like I was!!):
1) Normal Review: If the purchase price is over $3, one Q-stamp is issued.
2) Premium Review: There are more details to fill up but if the purchase price is over $1, one Q-stamp and 0.5 discount coupon is issued.
The discount coupon can be used to offset future purchases! So that's pretty valuable! :) Here's how you can use it.
The Q-stamps are really for fun but you can also can great discounts from it. Here's how you get Q-stamps and how you can earn them!
So anyhoo, I enjoy every transaction at Qoo10 cos they make it so simple for me to make a purchase. Things just keep getting sent to my house after my clicks haha! The BF is in love with buying from the gadget section and I'm in love with the food & beauty section. I have my eye on something else already so stay tuned, I'll let you know what makes me click BUY NOW again! :)
CHECK OUT QOO10.COM.SG HERE! | Facebook Page
**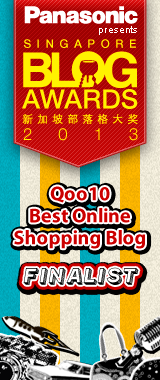 This post is part of the omy.sg Singapore Blog Awards feature as a finalist in the Best Shopping Blog Category. :) Please vote for me everyday kk :)
This blog is also a finalist in 2 other exciting categories:
♥ Singapore's Best Cooking Blog Category
♥ Singapore's Best Beauty Blog Category