Remember I blogged about buying like heaps of stuff from Qoo10.com.sg? I bought Maggi Moo Ice Cream vouchers, a bunch of awesome combs, a box of facial ampoules and some foldable fabric storage boxes!
Anyhoo! The fun part is receiving all these parcels! It's unbelievable sometimes, how fast these parcels arrive! Ok here's all that has arrived:
#1: My Cushy Magic Massage Comb
I bought this once long ago on Q0010 and it has since worn out. I saw it on offer again and decided to get like 7 of it for my best friends! :) You should check it out here.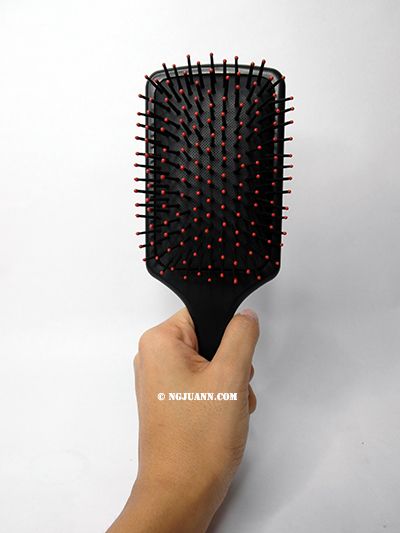 The size of the comb bristles makes it a breeze to comb through hair and the comb through is super comfy. This healthy air cushion comb can help to eliminate tangles quickly and painlessly as well as avoid static. :)
Paid $1.90 per comb! :) YAY!
#2: Collagen Facial Ampoules
I got 10 ampoules at $13,30 nett. What a steal!! Read more here.
Oh yes, now that the items have arrived, I am always sure to give a premium review so that I can earn more discount coupons! :) Here's how I did it:
a) I went to my shopping list.
b) I click on "Confirm Delivery"
c) You'll be prompted to give feedback.
#5: Click "Continue" and fill up the form and ta-dah! You'll get the below. Here's my completed review! Very happy customer! :)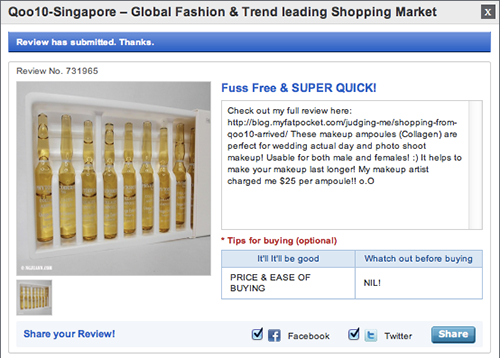 #3: Foldable New Prime Storage Box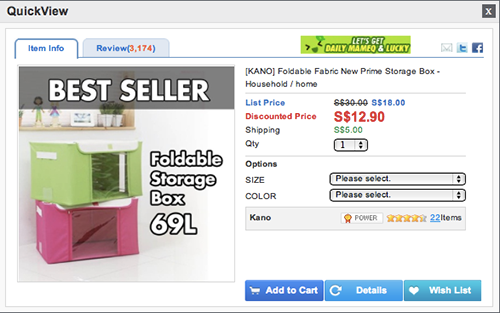 Going to arrive! Can't wait to use this to pack up all the excess clothes I have!! I love Qoo10!! :)
CHECK OUT QOO10.COM.SG HERE! | Facebook Page
**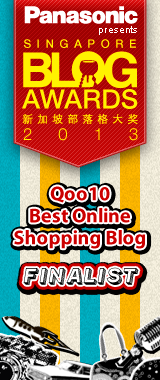 This post is part of the omy.sg Singapore Blog Awards feature as a finalist in the Best Shopping Blog Category. :) Please vote for me everyday kk :)
This blog is also a finalist in 2 other exciting categories:
♥ Singapore's Best Cooking Blog Category
♥ Singapore's Best Beauty Blog Category