It's odd to some perhaps but for me, making a pot of tea on a lovely chilldown weekday evening or a weekend afternoon is my definition of having the luxury of time. It's been quite a hectic few months for me with many changes in my life (good ones! :) ) and then there's my blog revamp too.
Last week, I finally found time to unpack this bright cheery yellow teapot to make myself a nice pot of tea. I was missing special tea-teacups or it would have completed the entire experience.
What's a relaxing thing for you that you hardly find time to do? I felt almost guilty for taking the time to enjoy my cup of Gryphon Tea (which you'll get if you purchase this Salam Teapot now, while stocks last of course).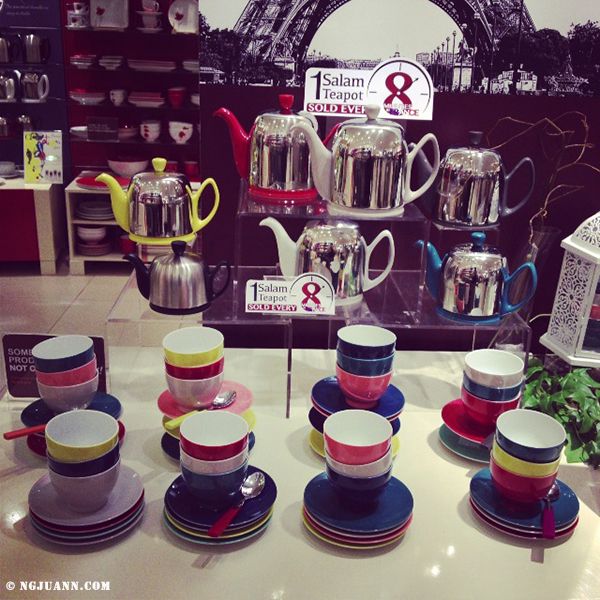 Ahh.. it's enjoyment I tell you. My special teapot from Degrenne Paris is in a perfect cheery yellow. What makes the Salam Teapot special is that it has a stainless steel dome with an inner-felt lining that keeps the tea warm for twice as long as a typical teapot, for up to 2 hours. Mine only lasted up to an hour, and that's longer than I expected already.
What I love most about it is the simple classic design, retains heat well, the design makes pouring tea at any height safe (no spillage) and has a removable aluminum strainer that holds loose tea leaves. The strainer makes consuming all the chinese tea I intend to make with this a breeze.
To more lovely afternoons & relaxing evenings.
**
Salam Teapot is Made in France by Guy Degrenne and is available exclusively at iwannegohome! outlets in Singapore (Great World City, Tanglin Mall and Parkway Parade)