I can't believe I took so long to discover the beauty of lasers but it's never too late I suppose. If you have always wanted beautiful skin that looks fresh, rejuvenated and super smooth, the quick way to achieve that (although not permanent) is by going for lasers! One such laser I did lately is the RevLite Laser Treatment at Celevenus.
What is RevLite Laser Treatment:
Revlite laser is ideal for the treatment of skin pigmentation, wrinkles, fine lines, aging skin, enlarged pores (as pore minimizer), and sun damage, and is effective to rejuvenate and refresh skin in the treatment area, firming skin and minimizing pores while offering a smoother texture and more even tone overall. More info here.
If you remember, I did a Sculptra treatment at Celevenus and after that, I followed up with the RevLite Laser treatment, which is AH-MAZING in giving my skin a lovely, dewy glow.
The procedure took only 5 mins and Dr Dylan Chau used this silver device that directs a gentle beam of light which will pass through the upper layers of your skin. You will feel slight heat where the light goes. This heat stimulates collagen growth deep beneath the skin, filling fine lines with new collagen. RevLite Laser can also destroy pigment cells in the skin, thereby lightening or even eliminating the skin's pigmentation!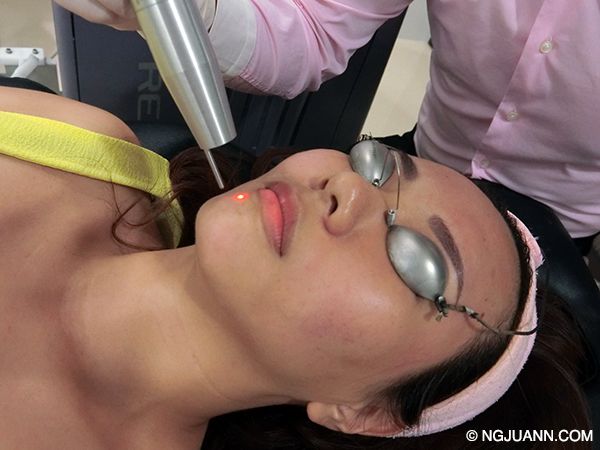 Completely painless :)
Over the next few days, my skin was almost FLAWLESS. My pores were minimised, and my skin was super smooth. It wasn't oily and make up stayed on miraculously! But more importantly, the glow, it was obvious even from afar! I just recommended this treatment to my friend who is getting married. I am so tempted to do this again!! Oh if you are wondering, there is no pain to this. Just lie down, relax and the whole thing will be over within 10 mins.
Check out my clear and very bright skin a week after the treatment!
To summarise, here are the main benefits of laser skin rejuvenation with Revlite!
1. No downtime
2. Relatively safer and more comfortable compare to other lasers as its heat pulses are very short and fast
3. Minimal discomfort (just a tingling sensation)
4. Fast procedure with great results
5. Suitable for most skin types, including tanned skin.
6. Improvement of skin texture and fine lines continue even after treatment
7. Can be easily combined with other cosmetic procedures for even better results
If you have an important event, your wedding, or perhaps even a special occasion you want to look ravishing for, I strongly recommend going for RevLite 5 days before the day. I wish I knew about this before my wedding day!! Then I don't even need to use whatever masks that my make up artist strongly recommended I use the night before, and whatever ampoules that they insisted I use so that my make up will stay on.
After doing the RevLite treatment, my make up stayed on beautifully for many weeks after! Haiyyaaa but nvm, I recommended my friend, Joyce, who's getting married to go and try this out 6 months before her big day, just so she feels assured that this treatment works well on her skin, and then go do it again just prior to her wedding. :)
**
Celevenus Aesthetic & Wellness Clinic
Website | Facebook

More on Dr Dylan Chau here
Ngee Ann City Tower B #16-03/04 (Orchard Road)
Tel: 6410 9621
Website: www.celevenus.com.sg