School holidays are here and once again, June is a month with heaps of events and activities for kids. You can try to attend all but you'll wear yourself out for sure! That's what Peter and I are learning the hard way!
Daniel is 2.5 years old now and he has started to appreciate indoor playgrounds and character live shows. We have now become those parents guys!! We go to mall after mall for their kids program!
This post is a review of the one we really enjoyed ourselves at. We are so lucky that City Square Mall is so near home. They always organise very good events (I remember catching Batman & Chugginton) and this time around, Barney and Friends are BACK with a Beach Party (all the details you need is here).
The Barney's Beach Party 'Live' On Stage is taking place from 4 to 19 June 2016 at City Square Mall, Level 1 Atrium. The show runs at 2pm & 7pm from Tuesday to Friday and 1pm, 4pm & 7pm on Saturday and Sunday.
Who's a big fan of the friendly purple dinosaur? Yes. Daniel, AND THE WHOLE OF SINGAPORE, I reckon! The crowd for Barney was huge! It was really popular. We went for the 7pm Saturday show and we had to start "chopping" space like kiasu parents at 6.15pm. The family in front of us even brought food to have their dinner while waiting – PROS.
Was it worth the wait? YES! Barney, BJ and Baby Bop sang and danced to quite a number of songs (I remember Mr Sun, If I Lived Under The Sea, I Love You and more). Meet & Greet passes are available and can be redeemed 1 hr before each show with a minimum of $50 spent.
The "Beach Party" theme continues with a carnival outside of City Square Mall where kids can enjoy a variety of games and activities. I love that they make the effort to keep families entertained beyond just the stage show!
There's bumper boats, bowling, sand play, surfing, a huge sandcastle display and also an inflatable rock climbing structure!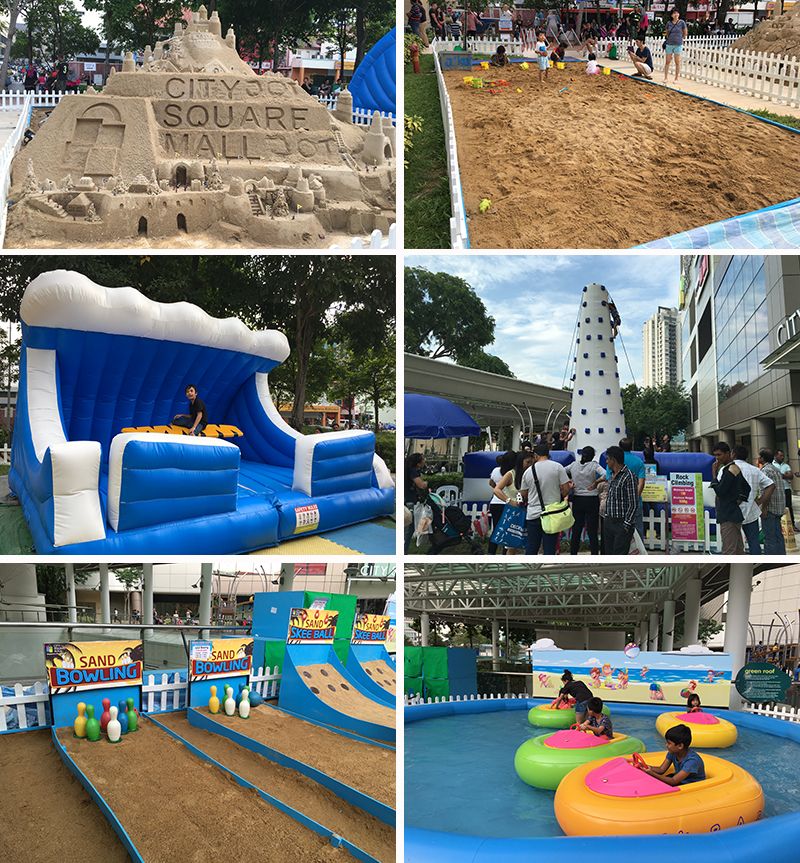 The carnival opens from 1pm to 10pm daily and ends on 26 June 2016. Tickets can be purchased at the ticket booth right outside the shopping mall. It's $2 per ticket or $10 for 6 tickets.
With $200 (or $300* NTUC Fairprice receipts) spent, shoppers will receive a Beach Survival Set consisting of a 12-can cooler bag for their beverages as well as a beach mat which comes along with an inflatable pillow.
In addition, shoppers get to receive a complimentary $5 voucher with the purchase of $50 worth of City Square Mall vouchers.
Be sure to head on down to City Square Mall by 26 June 2016! :) Check out www.citysquaremall.com.sg or City Square Mall Facebook for more details.