Teo Chew style of cooking features a lot of healthy steamed, stir-fried and braised dishes. What I love most from Teo Chew fanfare would be their steamed fish.
I'm not Teo Chew but this dish is so healthy and so easy to cook! :)
Today I'll share with you how I get it done. :) These are all the ingredients you need:
Ingredients:
[Main Ingredients] 1 medium-sized sea bass (about 400g), or you may use a white pomfret too
2-3 small tomatoes, sliced into approximately 6 slices per tomato
1/2 cup worth of pickled mustard salty vegetables (rinsed and soaked for about 20 minutes), sliced into thin strips
2-3 salted plums, rinsed and cut open
8 slices of ginger for steaming
2 stalks of Chinese parsley
1 tub of white tofu
Half pack of glass noodles
2 small chilli padi (optional) [Liquid Ingredients] 6 tbsps water
1/2 tbsp light soy sauce
1 tsp Chinese rice wine
1 tsp Sesame oil [Garnishing] 2 stalks of Chinese Parsley (I love these!), cut into small stalks and scattered over the dish
1 stalk of Spring Onion, cut into small stalks and scattered over the dish
Directions: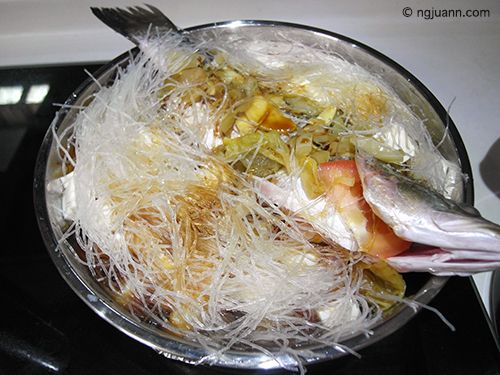 Rub some salt over the fish and place the fish nicely onto the steaming plate. Arrange all the main ingredients nicely around and on the fish. Place ginger slices inside the fish's tummy.
After you place all the main ingredients neatly onto the steaming plate, add the liquid ingredients in. Steam for 20mins :)
After 20mins, the fish is ready to be served! So easy and fuss-free really!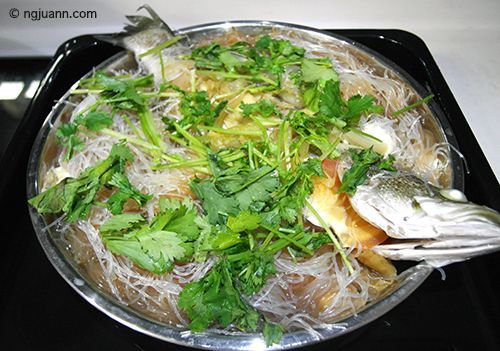 If you have time, do try out this recipe and lemme know if you like it! <3