Are you a ramen lover? My husband is! I took him to a food tasting even the other day at Ramen Kagetsu Arashi. If you haven't heard of them, they are ranked 3rd most popular ramen chain in Japan, and they are one of the largest ramen chain in Japan with more than 290 outlets worldwide.
In Singapore alone, they have 3 outlets (B1 at The Cathay, Lvl 2 at Tampines 1 and Lvl 1 at Star Vista). We went to the one at The Cathay to try out 2 of their new dishes: Ginjiro Ramen and Dry Curry Rice.
Dish #1: Ginjiro Ramen
Ramen Kagetsu Arashi is well known for their Garlic Tonkotsu broth in Japan. The Ginjiro Ramen takes hours to prepare. Pork bones are simmered over long hours and dried bonito, kelp and other ingredients are then tossed in for a flavourful broth. This dish is rich in collagen too!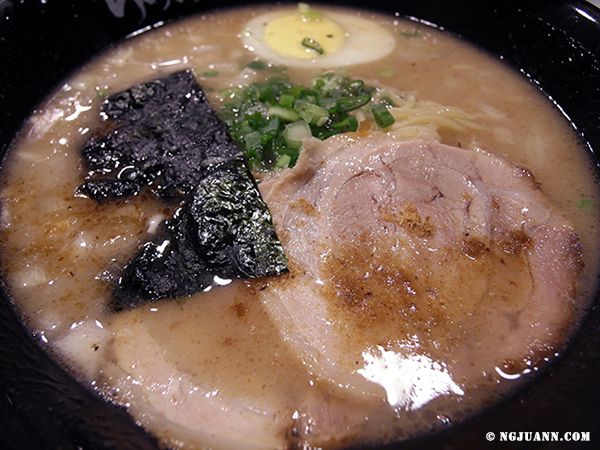 This bowl of ramen is very photogenic. WYSIWYG. We give it a try.
What makes this ramen store a little but more fun than the others is the presence of all these add-ons that you can add to your ramen to add oomph to your dish, as you wish.
The key ones to check out are:
– freshly crushed garlic
– specially in-house seasoned chives that are prepared fresh daily
– specially imported black pepper
– soy sauce made form Kagetsu Ramen
I added black pepper to my dish and it really MADE a huge difference. The husband added freshly crushed garlic to his and he said it really makes the whole soup a lot tastier too. To each his own, so add as you wish! :)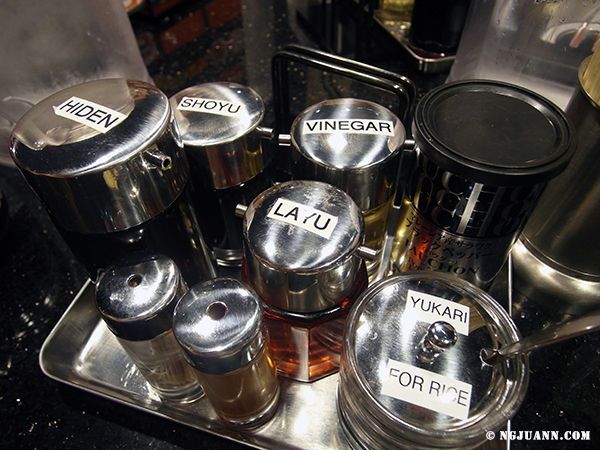 The broth is very good – I would come back for this. Ramen broths are usually very salty (which is why I am not a fan most times) but this is isn't too salty and has a very strong pork flavour which is the result of simmering done right, imho. The noodle is quite Q too.
I wonder why they serve fully boiled egg instead of the usual yummy soft boiled egg in most ramens (though you can pay $1.50 to add a soft boiled egg to your ramen). I think that would have been nicer. :)
Dish #2: Dry Curry Rice
This is a brand new offering by Kagetsu Ramen. The rice is slightly scorched to achieve the cripsy texture and smokey aroma like claypot chicken rice. It's like pepper lunch's curry rice. It's served sizzling hot and you have to stir it to mix everything together before eating.
I love the taste but it can do with more sauce. I guess you can probably ask for more sauce but we didn't. :) It's ok on it's own too.
P.s.: I love that they have a BIG jug of ice water on the table! :)
**
Ramen Kagetsu Arashi
Facebook
The Cathay
Address: 2 Handy Rd, #B1-01
Tel: 6736 3055
The Star Vista
Address: 1 Vista Exchange Green, #01-41
Tel: 6339 0335
Tampines 1
Address: 10 Tampines Central 1, #02-09/10
Tel: 6854 0335