Oh we've had and are still having some magnificent times on our Puku Baby Walker and High Chair. I want to share them with you! :)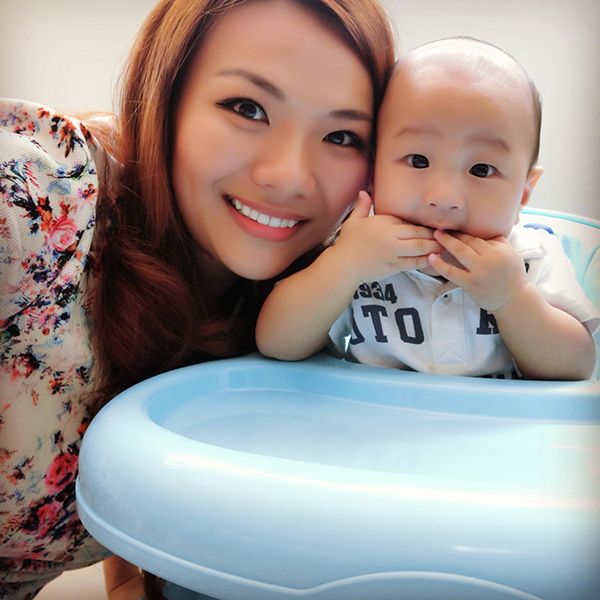 On the Puku Walker & Rocker
At first I was hesitant as to whether we should get Daniel a walker due to many safety concerns or perhaps I should get a jumperoo. After asking a few experienced mummies, they advised against jumperoo because he'll grow to out of it very soon and a walker has a longer life span as compared to jumperoo. And these experienced mummy friends of mine doesn't seem to have much concerns about getting a walker, but I was asked to be careful to ensure Daniel doesn't get to go into the kitchen or have any dangerous objects within his reach.
So there we have it, our Puku Baby Walker.
– Adjustable to 3 different heights to suit your baby as he/she grows
– Wheels are silent and made of soft material (gentle on your floors)
– Comes with a mat that can be affixed to the bottom of the walker for stationary use
– Machine washable seat cushion
– Convertible between being a rocker and walker
– Removable activity toy tray to reveal a snack tray
– Suitable for 7 to 15 months old
I don't know how the other baby walkers fare but we are pretty happy with what the Puku Walker. Daniel uses it regularly every day. It gave us so much sanity and handsfree time ever since it arrived at our home. Daniel loves bouncing on the walker (yes it allows for some bouncing too) especially when he is excited. We started him off with the mat under his feet for a month before we took it off and let him start moving around in it on his own.
It comes with this cute activity toy tray that has lights and sounds but we don't really use that because Daniel will just hit it and suck it. Maybe when he is a little older, he'll play the toys the way it's meant to be played.
We have washed the seat 2 times since we used this because there was poo and some spilt food on it. Thank goodness we can wash this, though it did take about 2 days to dry it. Each time that we have to wait for it to dry, we really really miss using the walker. Without the walker, Daniel's either on his play mat, cot or we'll have to carry! T_T
On the Puku High Chair
Oh yes, and together with the Baby Walker, we also got ourselves a High Chair as it's time for Daniel to start on solids soon. We got the chair when he was 5 months old, our plan was to start weaning him at 6 months. He's 7 months now, so it's been a good 1 month since we've had the chair in our home. I haven't tried any other Baby High Chair before other than the Ikea High Chair that my friend gave me. The Ikea High Chair is very popular because it's very cheap and easy to clean. But after using that for a few days (we just let Daniel sit on that when we eat), we decided it's not ideal. It is made of very hard material which I imagine must be quite uncomfortable for Daniel. It is also very bulky to store because it is not foldable.
Anyway so that's what prompted us to search for another high chair. We are now currently using the Puku High Chair and it's been serving us very well. Daniel has all his meals there. It is definitely a lot more comfortable than the Ikea High Chair as it has well cushioned paddings on the seats. I love that the whole chair can be washed and dried easily. Daniel is not at the playing food stage yet but he will be soon. I can only imagine the mess and the importance of being able to clean the chair easily and quickly.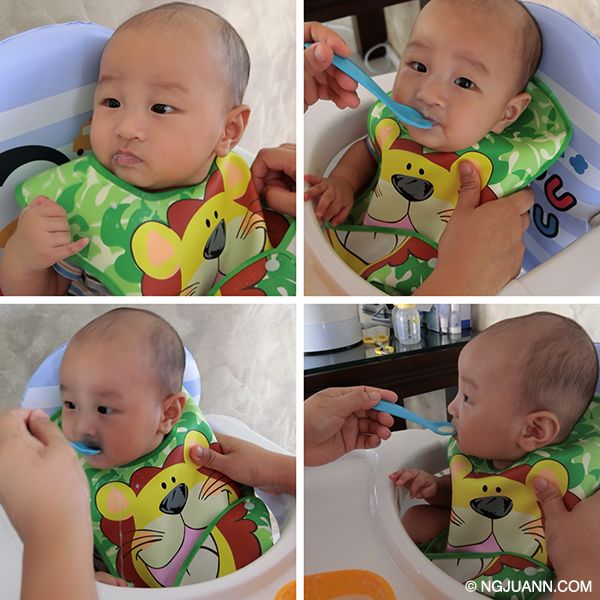 Oh and I like having a lot of space in the house, so when the chair is not in use, I really appreciate the fact that it folds very flat. Super good for storage! This is a basic and very value for money high chair. It does the job and is easy to maintain. So if you're looking for something like this, you'll know which to choose!
Do note that this doesn't have the typical 5 point harness. This comes with a strap that secures only the waist area so we use this under strict supervision.
**
Puku products can all be purchased at all outlets of Spring Maternity in Singapore. The Walker & Rocker goes for $99 and the High Chair goes for $59. Very good value for money!
Puku is also on Facebook here.