Anglers' Paradise is a new prawning and patin fishing spot at Punggol – behind the Punggol Golf Driving Range. Nearest MRT is Riveria LRT station. It is kinda far and quite secluded! If you don't drive, this could be quite troublesome for you! There's a KFC at the driving range that you can have some food at, or there's always the option of ice cream/cup noodles that is sold at Anglers' Paradise itself.
Prices are as follows:
Prawn Fishing Rates
1 Hour – $18
3 Hours – $33
Salt Water Fishing Rates – $8 per rode
Fresh Water Patin Fishing Rates – $5 per rod
I think this is a great activity to do as a couple or with friends. You get to do a lot of sitting, and reflecting and just enjoy each other's company.
The most gross part is the baiting. I think it was chicken liver or gizzard that they gave us as bait. The last thing I wanted was to let myself be so girly that I didn't dare bait my own rod, so I got some tissue ready and grabbed the yucky slimey bait and fixed it on the hook properly.
After 30 mins of staring at other people pulling up pranws at a rate of 1 prawn every 2 mins, I finally got my first and second prawn.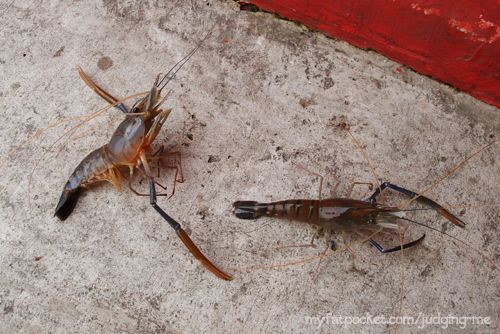 Big yah big yah!! Haha When I felt the prawn pulling my rod it was sooooo exciting!! It got even more exciting as I pulled the prawn closer to the surface and watch the rod bend like crazy – hoped that it was a huge one I caught! :P
And 2 short mins later, I caught prawn number 2! :)
I only spent 1 hour there and caught 2 prawns. :( So sad. Haha! But I'll definitely be back with more patience!
Dating couples, families with children, and friends should definitely give this activity a try. And come late at night (this place is opened 24 hours) cos that's when the prawns are more active! I was there around 1-2pm when they were sleeping mostly. -.-||
This is also a pretty good activity for corporate day-outs!
Kids will have so much fun at their Longkang Children Fishing where kids get into a small shallow pond with nets and try to catch little fishes.
I think it's between 6-10pm that you get to BBQ the prawns you catch on the spot! So that's when the place is probably also most active. :)
Address: Angler's Paradise at 60 Punggol East #01-11 Singapore 828825