We welcomed a new addition to our home just the other day and it has quickly become Daniel's BFF. With the crazy humid temperatures in Singapore, we have been cutting back a lot of outdoor play time and looking for fun alternatives indoors.
Anyhoo, meet happy bull, our new animal bouncer from Happy Hopperz. It's basically a bouncy animal shaped toy that your child can sit and bounce on.
We've seen this at many baby exhibitions and was even tempted to buy it when Daniel was at a tender age of 6 months! Obviously our house was cramped with heaps of other baby stuff then and Daniel was way too young to get on that animal bouncer we saw, so we resisted.
But now that he is 2 years +, we decided it was time. When it first arrived, Daniel thought it was a real animal. He was a bit apprehensive and poked it. But in no time, he was bouncing around on it like a pro. He didn't need any demonstration or coaching at all!
It's perfect for indoor-play.
Daniel spends a lot of time indoors so thankfully he loves the Happy Hopperz very much! It keeps him occupied at home and it's very cute when he points at it and asks for it.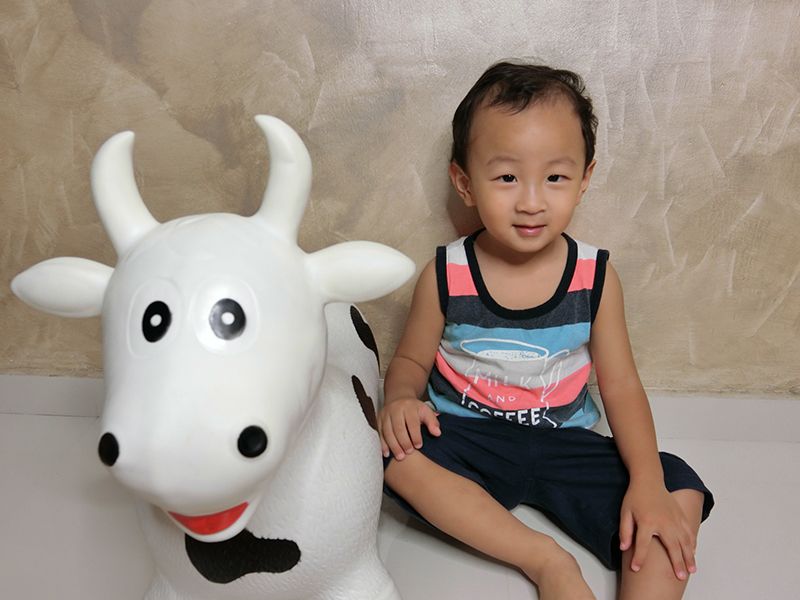 The leaflet that comes along with the packaging also has some game instructions that we can follow to play with Daniel or you can read it here. He simply lovessss bouncing around on it. Who would have thought "vehicles" without wheels are just as much fun!
It's safe for his little feet.
This boy of mine is super active. He does this ridiculously dangerous thing whereby he carries his toy/baby chair/funbug around and he sometimes unknowingly squashes his little feet under them. Silly boy. I like the material which the Happy Hopperz is made of – the PVC is easy to clean, heavy duty, and phthalate free. It's soft and jelly-like. Even if it lands on Daniel, it won't hurt him. :)
The white bull also has grippable ears and 4 wide steady feet that help to provide Daniel with stability.
It doubles as a foot stool?!
When Daniel isn't playing with it, I use it as a prop for my feet! So comfy. LOL!
Seeing him happy makes us happy. It's a great buy that you should consider for your child too! :) Retails at S$69.90 here (for 1 to 2.5 years) & here (for 2.5 to 5 yrs).