So you know I am not one of the lucky girls born with great skin and I am now undergoing a 6 weeks Obagi Toning Program. To know all about this program, read this.
This week has been all about getting used to the product and the routine. I have also convinced my mom to get on this program which will help her A LOT with her pigmentation (usually due to hormonal changes). I will be updating her progress too! :)
Ok here's mine:
Week #1 / Dec 1, 2012:
I did my first Laser Genesis and started the Obagi Nu Derm Skincare system on 24 Nov. This picture was taken exactly 7 days into the program, 1 Dec.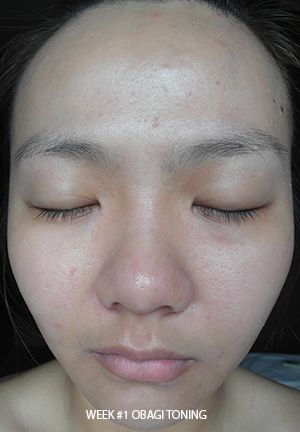 After my laser with Dr Wong, it was all good. I mean, I just felt like normal. I applied sunscreen and bb cream and left the building. After about 3 days, the effects of the Obagi products started to show. Here were what happened:
• As the old skin was getting pushed to the surface, my skin started appearing very dull and darker. It looked like I spent just a little too much time under the sun recently.
• Acne breakout! I had little whiteheads and pimples popping out on my forehead and on my cheeks. This made me worried as I was already missing my acne-free skin before I started Obagi. I had to RESIST from squeezing those nasty little buggers!
• Peeling started exactly after 6 days. It started slowly around my cheek and undereye area. And then extended to my nose. I was happy to have it peel. The more it peels, the faster my new skin will emerge.
And you can see all of the above in my not-so-impressive photo of my naked face above too.
I'm really excited to be sharing this with you on a week on week basis. I have never put myself through a new skincare routine as strictly as this. Stay tuned for next week's update k! It will be worth it cos I'll be going for my 2nd review with Dr KJ Wong from David Loh Surgery again! :)
♥ Obagi Nuderm System Set Product Feature: Cleanser: ♥
Obagi Nu-Derm Foaming Gel: For Normal/Oily Skin A gel-based cleanser that removes impurities, oil, and makeup to leave even the oiliest skin clean and fresh.
Review: You only need about a 20cent coin worth of gel, mix with water and spread all over your face. I avoid the eye area with this and remove eye makeup separately. Throughout my 6 weeks of Obagi Toning, I will only be using this facial cleanser. At first I was a little disappointed it's not the foamy type, but after a couple of days, I got used to it and didn't mind it. It has no smell so don't expect the fancy scents you get from mass market brands. As long as it does the job, I'm happy.
If you want to know more about the other 5 products I was given to use during this 6 weeks Obagi Toning program then be sure to keep coming back for my weekly updates! :)
**
For more information about Obagi, check out their informative website! If you have heaps of questions about this, you can either comment here, ask me on Facebook here, or check out Obagi's FAQ! This is also a great read I found written by my doctor, Dr KJ Wong on Obagi Toning.