So the day finally came for the Clear + Brilliant Laser & Liposonix treatments with Niks Maple Clinic. I was definite very excited to discover a new Aesthetic Clinic that I've never been to before, as well as to try out 2 new treatments that I've never tried before!
Niks Maple is an integrated medical skin care provider incorporating medical clinics, skin care products and facial treatment services under one roof. I went to the Orchard Central outlet that's just next to Ya Kun on Lvl 5.
The doctor assigned to me was Dr Lau Chin Hoh who was extremely patient with all the questions I had. These are treatments that I've never tried before so 1 million questions was probably what I had.
Dr Lau is one of the doctors under Niks Maple's roster. A graduate from Faculty of Medicine at the National University of Singapore (MBBS, 2000), he is an aesthetic and senior family physician offering services that include management of various medical skin condition and aesthetic problems. Dr Lau also specialises in the procedures such as Fractional laser resurfacing, Pigment Laser, Clear + Brilliant Laser, Liposonix and others.
After answering my million questions, we discussed my problem areas that required Liposonix.
Liposonix is now FDA-approved for use on tummy and butt areas only. How lucky it is that post-birth, my flabby tummy is stubborn and shall now succumb to Liposonix.
Off I went to the treatment room next!
#1: CLEAR + BRILLIANT LASER
Clear + Brilliant is a revolutionary, gentle laser skin care treatment, clinically proven to fight the effects of aging skin.
More about Clear + Brillant Laser here.
First, Dr Lau applied some numbing cream all over my face. I laughed about how funny I looked with numbing cream all over my face but I later appreciated having my face numbed so that the Clear + Brilliant Laser can work it's magic more effectively.
Dr Lau ran this device all over my face and because my face was numb, I felt little to no discomfort throughout the entire 15 min treatment. I was well informed by the clinic assistants to expect redness all over my face and a sandy texture over the next 2-3 days till the surface of dead skin cells falls off. 🙂
True enough, my skin was reddish (as seen above) and looked like I got sunburnt. This lasted one day. Over the next few days, my skin did feel sandy to the touch but once it all cleared (about 6 days later), my skin was positively glowing. It was very wow. It felt like I just resurfaced my face as it felt smooth to touch too! 🙂 <3
LIPOSONIX
Liposonix is a high-intensity focused ultrasound fat reduction machine. If you can pinch more than 1 inch of your fat out from your body, you are suitable for Liposonix. More about Liposonix here.
This is what my tummy is like now. 🙁 3.5 weeks post-natal.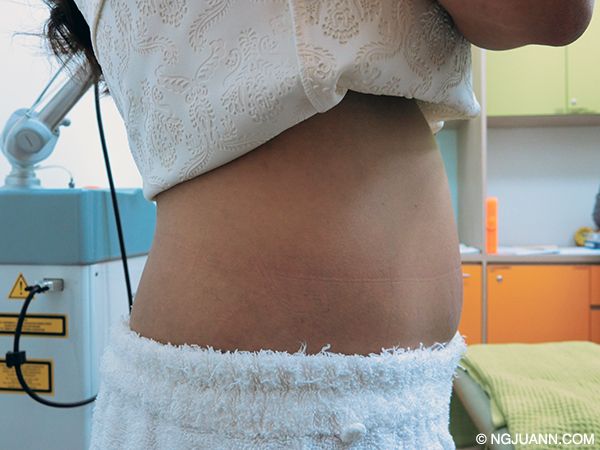 The whole process takes from 1 hour. I had 6 areas of my tummy targeted for fat loss – 4 on my mid section and 2 on my side as marked by the black dots. Liposonix is not  replaceable for a healthy diet and lifestyle but it is a quick and easy way to lose that 1 inch of stubborn fat you've been trying to lose.
Here's a closeup view of how the machine works. So Dr Lau placed this device on my 6 targeted areas, 4 times per spot, each lasting 1 minute.
With many other non-invasive fat reduction technologies, such as radiofrequency and lasers, energy is highly absorbed or scattered near the skin surface, thereby limiting penetration into subcutaneous fat tissue and delivering only temporary results.
Liponsonix uses ultrasound energy which can be used to penetrate through the skin layers and into the targeted fat tissue without harming skin or surrounding tissues.
Other ultrasound body contouring technologies often use low-intensity, low-frequency, or unfocused energy which can require multiple treatments and lead to unpredictable results. The Liposonix system uses high-intensity focused ultrasound energy to non-invasively destroy targeted subcutaneous fat and deliver uniform, predictable results after a single one-hour treatment.
It's no walk in the park. The pain level for this is 7/10. Each time the machine is on, I'd feel a tingly, uncomfortable sensation penetrating my abdominal area. It's bearable and the nurses and Dr Lau were really nice to keep talking to me to distract me from the pain.
Over the next 8 to 12 weeks, my body will naturally process and remove the destroyed fat tissue. Can't wait!! 🙂 Dr Lau told me that after the treatment, my tummy area may experience slight pain/ache and bruising which is natural and will fade away soon enough.
Personally, I only had the aching feeling for 2 days and no bruising. 🙂
**
Niks Maple Laser Clinic
Address: #05-34 Orchard Central
Tel: +65 6238 0398
Website