Is it just me or do you also feel like when you don't notice something, it doesn't seem to exist but once you notice it, it becomes like the biggest thing ever? So one day I was at a facial and then my facial lady commented that I have pigmentation spots. OMG? I am like super fearful of getting pigmentation spots because my mom and her sister and my grandma all have it!!
So I've been a little more than concerned about some small pigmentation spots (which has probably been there for a long time) that I just noticed.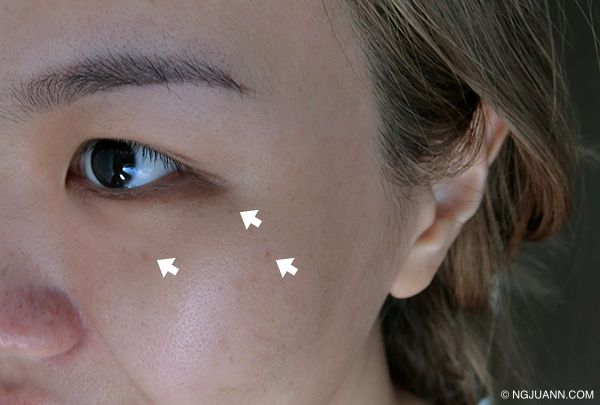 There SEE THOSE?! It's small but it's there alright.
At a recent appointment at The DRx Clinic with Dr Hui Yun, I asked if she could take a look at it. She said that everybody has tiny pigmentation spots. It's just how dark/big it is. I asked if I needed laser or any other special treatment and to my surprise, she mentioned that because my pigmentation spots are still quite light and very small, a topical cream may just do the trick!
So she prescribed me with a X Cream and Strong Lightener from The DRx Clinic to lighten them first, instead of going for relatively more aggressive way to treating it, aka Laser. Beyond the treatment creams, Dr Hui Yun also shared that "most women don't realise that they don't put on enough sunscreen. SPF50 only offers 6 to 7 hours protection."
o.O.
To be sufficiently protected throughout the day, Dr Hui Yun advised that mid-day maybe after lunch, I should use a loose/compact powder with SPF properties in it and put on a layer to keep my skin protected from harmful UV rays. What a useful tip! :)
Oh ya and just the other day, I was feeling quite happy with my skin (thanks to Dr Hui Yun and DermaRx products) and went to ask my husband if my skin's good. He said that it is but I have all these veins on the side of my cheek… which kinda makes my skin look not so good… And then out of nowhere, just like the pigmentation spots, I now have yet another flaw to obsess over.
I didn't think any skincare/facial treatment can do anything about it since the problem is the veins and not the skin itself. I also never mentioned it to Dr Hui Yun till recently, I just mentioned in passing as we were talking about my husband… then Dr Hui Yun said that those are spider veins and can actually be lightened with a round of treatment with the Combi Yellow Laser for rejuvenation and it will also help in getting rid of the spider veins!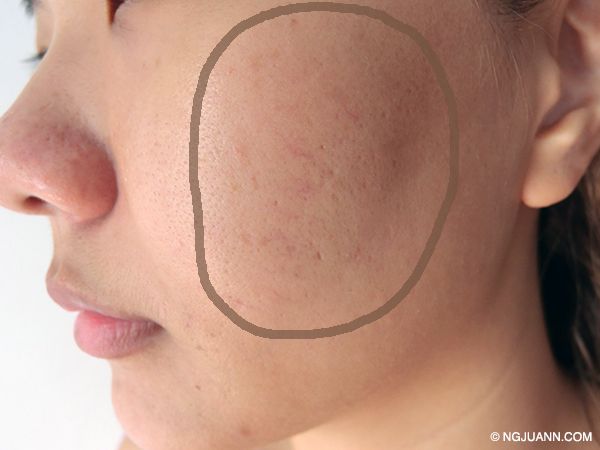 See those?
OMG. Cannot wait to get rid of them. Stay tuned ok. I have an appointment scheduled and will update real soon. :)
**
The DRx Clinic and Medispa
Address: 302 Orchard Road, 16th Floor
Tong Building (next to Paragon Shopping Centre)
Singapore 238862
Tel: +65 6733 1555
Facebook | Instagram (@TheDRxClinic)
Mon to Fri: 10am to 8pm | Sat: 10am to 5pm
Closed on Sun & PH