Want hair like this? I've received so many compliments on my curls and many of you have been requesting for a tutorial on how to achieve curls like this. Well, this is THE POST to read. I use the Repit Heating Brush to achieve big, bouncy, soft curls!
I have to tell you first that I AM A VERY LAZY person. I will do a lot for beauty but I cannot commit to it if it's troublesome in the long term.
I have tried all kinds of hair curlers and I never use them more than 1-2 times a year.
Ever since I discovered this new hair curler that I am currently using, I have been using it every 1-2 days for the past 1 month and I'm still going at it. My whole thick head of hair takes me 30mins to curl. The curls last 1-2 days WITHOUT any gel/hairspray/wax. That is pretty impressive I am telling you.
You know those round heating metal rods-kinda hair curlers? When I use those, I take an hour over to curl my whole head of hair + I have to spray a lot of hairspray to hold the curls for just 1 night. Can anyone blame me for using it 1-2 times a year?
Go from RIGHT to LEFT in just a few seconds!
I can't believe I took so long to discover my new favourite, MUST-HAVE tool for every female – the REPIT HEATING BRUSH from Korea. Yes my dear readers. It is so good that I almost didn't want to share! It is a all in one hair styling tool. Curl, dry, and straighten all with just one tool!
Ok here's sharing some tips on how to use it! :)
First, you must divide your hair into 4 bunches. I divide mine into 2 then divde it further into 2 parts. Take as little hair as your patience allows you to curl at one time. Too much hair will get your hair tangled in the comb ok! I know because I've been there. Now I am an expert in device and my hair doesn't get tangled anymore. Practice makes perfect!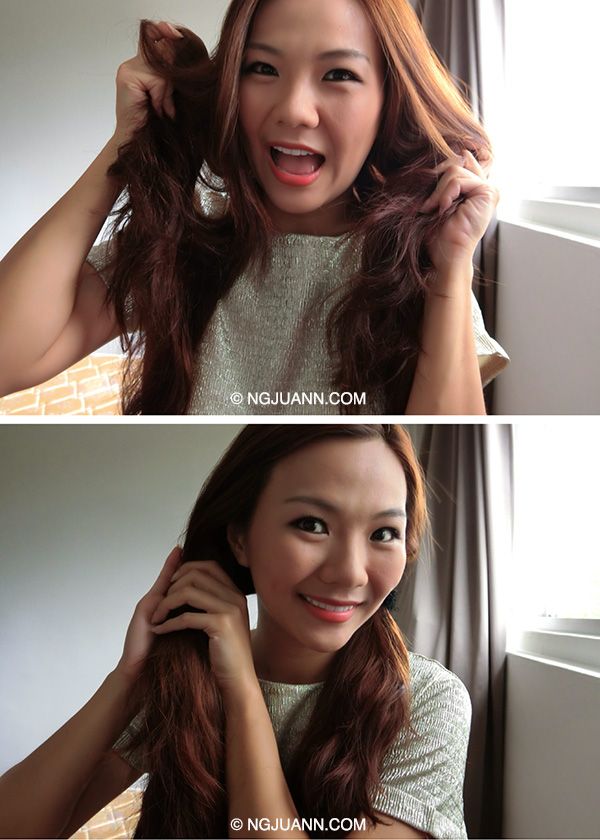 See the pictures below, I take a small bunch of hair from the root and brush it towards the hair ends where I will curl it inwards towards my face. This helps to straighten the top part of my hair and curl the ends.
The curl is very very efficient. Just 10 seconds and you will achieve curls like that! LIKE OMIGAWD.
IMPT TIP! :) After you hold for 10 seconds and then make sure you release the hair gently like this video below: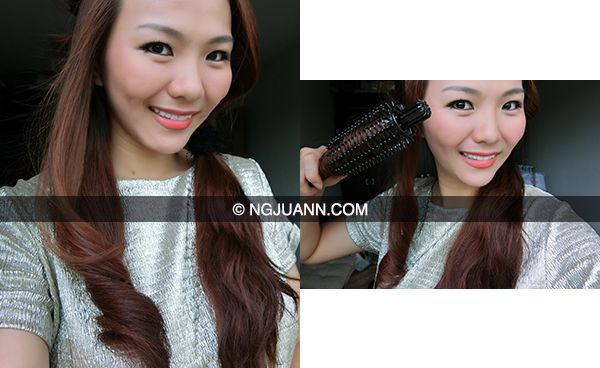 See right side is before, left side is after curling.
Since these curls are so long lasting on me + no need for wax/gel/hairspray, my hair remains SOFT and SMOOTH at all times. Do add a little oil to give it a little shine! :)
I can even comb my hair through these curls and it'll still be fine!!! I am just very amazed la. You can read more about the product here. Trust me ok! EVERY GIRL NEEDS THIS! PERIOD. 
Someone told me before that because my hair is already curled (great job done by my favourite people at Shunji Matsuo @ 313 Somerset), so that's why my hair is curls easily but I have other friends who own this same product and they use it on their straight hair without any problems :)
**
Update: 11 May 2017: A lot of people have PM'ed me asking me where to buy this so here you go: you can buy this Repit Heating Brush here]
The one I am using is the 32mm brush. At first I thought paying $200+ for this was expensive, but seriously, I would totally buy this all over again. NO REGRETS!! :)
If you have any questions, I'll be happy to help! :)