There's a new treatment regiment that I was invited to try (for free, thanks for Obagi) recently and it's perfect for Pigmentation / Sun damage / Melasma!
For myself, I have pimple scars to fade off, dull skin, enlarged pores, and uneven skin tone. I know you're going to think I have no problems from my pictures but really, I just cover them well. And besides I want to treat my skin problems early when it is more likely easier to resolve.
I'm just not that lucky girl who was born with great skin so… it is indeed with great hope that the Obagi Toning program can fix that. :)
♥ What is Obagi Toning ♥
Obagi Toning is a combination of the experience and efficacy of the Obagi Nuderm System with no-downtime Laser Genesis Skin Toning. This regime has been proven to have synergistic effects much more than the results of each alone.
Obagi, if you haven't heard of it, is one of the top Professional Skincare brands. In skin care there are 4 channels mainly:
• Prestige: (SK-II, Lancome, Estee Lauder)
• Mass: (OLAY, L'Oreal, Neutrogena)
• Professional: (Obagi, SkinCeuticals, Aveda)
• Direct: (Mary Kay, ProActiv, Avon)
So you see where Obagi Skincare belongs. The brands in the professional and prestige channels would obviously be more expensive & stronger but it's also more effective in some ways, when used with care. I have been using a lot of mass brands and some of the prestige brands, and this is the first professional brand that I am using. :)
I read a few forums online with people sharing their concerns and interest in the Obagi System. There are many good and bad reviews but I think I'm in good hands with Dr KJ Wong from David Loh Surgery who is monitoring my weekly progress.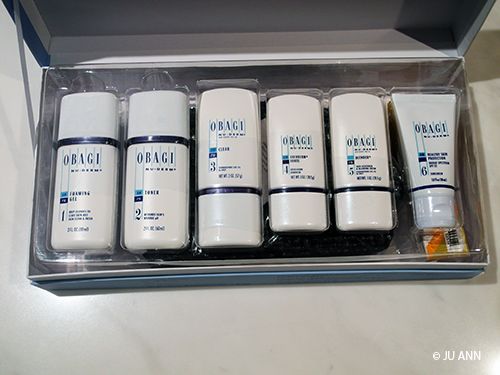 These are the 6 products I was given to use in this period of 6 weeks – the Obagi Nuderm System
From L to R:
• Cleanser: Obagi Nu-Derm Foaming Gel
• Toner: Obagi Nu-Derm Toner
• Obagi Nu-Derm Clear Fx
• Obagi Nu-Derm Exfoderm Forte
• Obagi Nu-Derm Blender®Fx (mixed with Renti-A Gel on alternate days)
• Obagi Nu-Derm Healthy Skin Protection SPF 35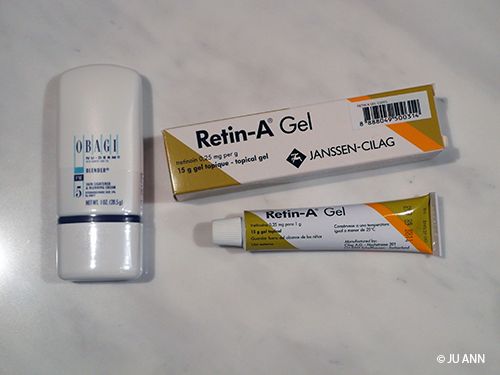 Read more about each of the above products here!
2) Laser Genesis Skin Toning
On top of using the products, I also to go for Laser Genesis – a no-downtime non-ablative laser (safe for all skin types). This is FDA-approved to treat fine lines by stimulating collagen synthesis and close up pores and tighten skin.
There's Dr Wong doing the Laser Genesis for me. I only had slight redness for like 20 mins. All throughout, it did not feel like I did anything to my face at all. Completely painless except you smell some hair burning. :) Do note that the nurse will remove all your base makeup before Dr Wong does the laser. So no need to put makeup before going to the doctor!
Besides stimulating collagen synthesis, closing up pores and refreshing one's complexion, Laser Genesis also stimulates the deeper skin cells to readily accept the penetration of the Nu-derm Set. Decrease in pigmentation will be noted within 2-3 weeks, with improvement of fine lines and open pores as well.
♥ I will be updating on my progress! Stay tuned for my weekly updates k! ♥
**
For more information about Obagi, check out their informative website! If you have heaps of questions about this, you can either comment here, ask me on Facebook here, or check out Obagi's FAQ! This is also a great read I found written by my doctor, Dr KJ Wong on Obagi Toning.