Update 2019: MaternityExchange is no longer operating in Singapore.
Short post to share my excitement over my recent loots.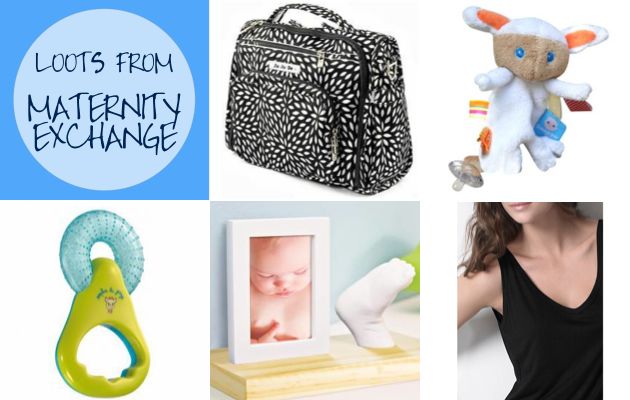 #1: JuJuBe Diaper Bag
I cannot wait to review this product. I have been waiting for this!! It's of super good quality and one of the most well designed diaper bags in the industry! It's built with a Mom's needs in mind! There's like small pockets for a mom's personal belongings, diaper changing pad (with memory foam somemore!), inbuilt insulated pockets for bottles (you don't need another bag to keep your liquid hot/cold), and the whole bag is even machine washable.
Sorry I am gushing but this bag is really DA BOMB. I will review this in detail after using it a few times!!
#2: Mak – The Pacifier Cuddle
So since I got myself a new BFF (the JuJuBe Diaper Bag), I got Baby Daniel a new BFF too and that's Mak! I am going to wash it before giving it to Daniel! It has these ribbon tags attached all over it. It's all made of different textures which are superb for babies – they are believed to enhance early childhood emotional well being, growth, and sense of security by providing tactile and visually stimulating features that both soothe and entertain. And it's tail even secures a pacifier on so that it's doesn't drop!
#3: Cool Teething Ring
This is a great one for babies 3 months on. This cute teething ring soothes and stimulates baby's inflamed gums with the presence of a purified refrigerant gel. Upon refrigeration, the cold anesthetizes gums from the pain of the growing teeth. With a textured surfaced ring for soft massaging of the gums and a handle to prevent baby's hands from getting cold, this teething ring is easy to grab and handle!
#4: 3D Babyprint
I think this makes a great gift for new parents! The husband is super excited about getting this done for Baby Daniel. This DIY kit is perfect. Super easy to do too. We're gonne find a good moment to get this done up!! :)
#5: Nursing Top
Baby Daniel is breastfed exclusively so my wardrobe is super limited to nursing tops only when I go out with him. Nursing tops have special access to the breast so that breastfeeding is made easy.
I got myself a simple black top that will go without anything! :)
**
Maternity Exchange
Featuring imported designer maternity clothes and stylish nursing wear from international brands like Japanese Weekend and Maternal America, Maternity Exchange carries a wide variety of casual, work and special occasion wear. Also available are maternity jeans, pregnancy dresses, nursing bras and maternity lingerie, swimwear, diaper bags, belly bands, maternity support belts, support stockings and postpartum shapewear.