Sharing my loots here!! The BF and I went crazy. No holds barred shopping. We spent about $800 to $1,000 (really not interested to remember) to for everything! Food, 1 night accommodation, transport from Hua Hin to Bangkok, Bangkok to Airport, and all the shopping you see here!
It was damn satisfying!
And we only roamed Platinum Mall, Pratunam Area and the Pratunam Morning Market. That itself was good enough to fill our luggages!
Check out all we bought on Day 1 (we covered ALL of Platinum Mall except ground floor in just 6 hours).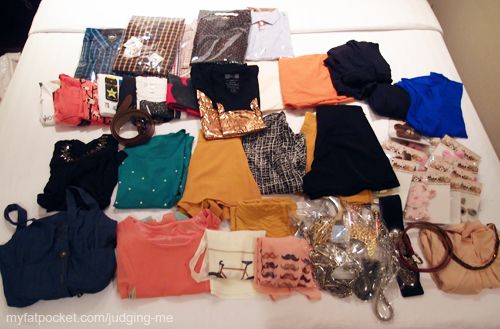 Not bad right? BF bought many shirts… I got heaps of shorts, tops, and I spent like S$40 on so much jewelery!! That was most satisfying to buy.
We didn't have much time the next day. Our flight was 8ish so we woke up real early and headed to the Pratunam Morning market, combed Pratunam and sweated heaps. WEnt back to hotel with delicious street food for lunch and checked out.
Next, we went to Platinum Mall and went through levels we didn't cover the day before and got ourselves ANOTHER Black Canyon Mocha Frapp. It is DAMN NICE. 80Baht and a WHOLE LOT better than Starbucks' Mocha Frapp which tastes like chocolate milk. UGH.
So when we got home, here's sharing all the goodies we got!!
First up, the BF! (Never thought a guy could buy that much in Bangkok but well, here you go)
He got very very nice 3/4 pants that came in all kinds of colours. And so cheap somemore! The shirts were nice and very comfortable. See the "toys" on the sides? Those are sovenirs we bought for our colleagues and friends. Hands up for those who are SICK of getting magnets and other shit as souvenirs?! Haha!
These"toys" were in fact key holders! You can tie your entire bunch of keys inside the "toy" head and have it protected. No more key scratches in your bag!
Needless to say, he went crazy on tee shirts cos they were so damn cheap and very nice too.
Wait wait, now is the most exciting part!! LOL. MY SHOPPING LOOT!!
Crazy righhttt!! I bought soooo many shorts and skirts!! And tops too!! There were all mostly about S$8 only!! Also managed to get to the supermarket and got myself some sunsilk goodness for my hair. Somehow my hair only responds to Pantene and Sunsilk products.
I loved the variety of shorts and shirts at Bangkok. They seemed to also get all the hot colours of the season right. Vibrant, bright and good material. It is no wonder this is a haven for Singapore Blogshop Owners to get their stocks from!
Well, I had fun! :D Can't wait for the next trip again yay!