Daniel is now 6 weeks old. I wanted to share the beddings that he has been using. They are all from this brand called Babysafe. I chose BabySafe because all their products are made of 100% natural latex which has these benefits:
Safe and natural
Breathable and self-ventilating, thereby reducing the risk of suffocation
Anti allergenic properties
Excellent support
Moisture resistance
100% Cotton encasing
Naturally mold and mildew resistant, inhibiting dust-mite infestation
Contains no toxic substance and unlike synthetic materials, does not emit fumes
Here's all that Daniel is using:
Great for babies aged 0-6 months, this dimpled pillow is specially molded to give an optimum round cavity and neck support to prevent Flat-Head Syndrome.
Daniel has been using this since birth and he sleeps really comfortably in it. His head fits nicely into the hole that supports his head. At 6 weeks old, he is really active and this pillow gives him the flexibility to struggle, to move his head left and right and to move a lot too.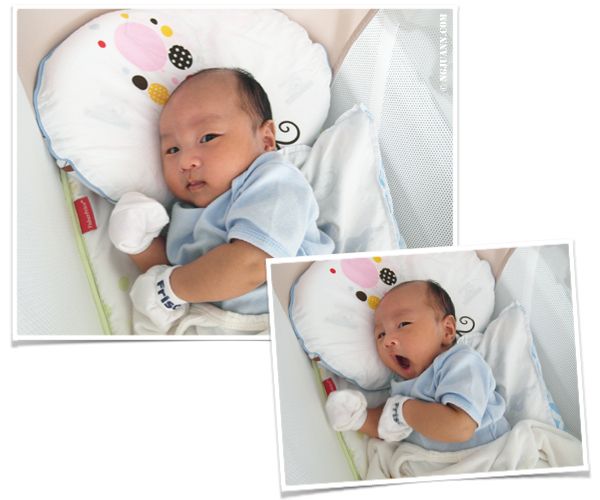 I use this mostly for his sleeps at night in the Fisherprice Bassinet (somehow the pillow fits perfectly in a corner). I would love for Daniel to sleep in his big cot but at the moment, I'm still breastfeeding (latch) at night and it's just more convenient if he sleeps in my room for the first few months before he moves into his nursery.
When I was pregnant, everyone told me "buy him a beansprout pillow for comfort"! And now that I am a mother, I would say the same too! It gives your baby the security comfort when he is asleep – as if he has his mother's reassuring hands on him.
However, instead of a bean sprout pillow, I would recommend checking out Babysafe's Bambeanie. It is made of molded 100% Natural Latex Pellets which, when compared to bean sprout kernels or other bean husks used in traditional beanie pillows, can withstand humidity, wetting and soiling, warmth of the body heat and still keep sterile and sanitary; it is washable too.
IMHO, everything that I buy for the baby should be washable because they always get dirty somehow (spit ups, sweat, pee, poo, etc, you never know).
I use this in several ways:
From top left clockwise:
♥ As a security pillow
♥ As a cuddle pillow (he loves having it between his thighs)
♥ As a back support to prevent him from rolling back onto his back
The third pillow he has is the Infant Pillow. This is a flat rectangular pillow that can be used right from birth. It is firm and flat to slightly elevate the head for better breathing and spinal alignment. I put this in Daniel's bigger cot as there's more space and for now, he sleeps on this mostly during the day.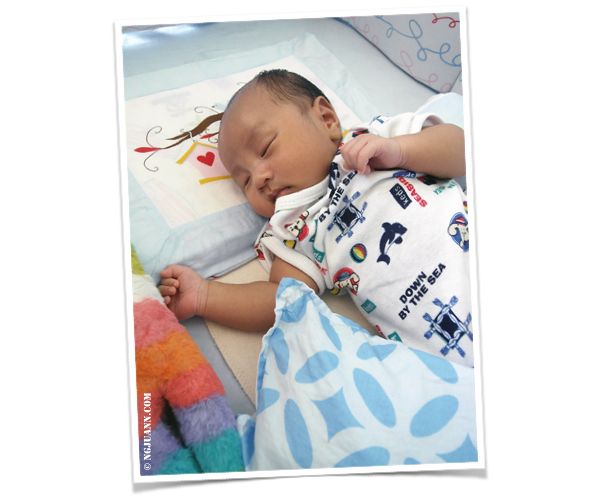 And whether it's the Babysafe Mattress or this pillow, he sleeps up to 4-5 hours at a stretch when we put him on this bed. THAT IS A LOT OF HOURS of good sleep for a newborn. I am also comparing it to his less comfortable Fisherprice Baby Bassinet which he sleeps for 2-3 hours before he wakes up again.
Related: Safety tips on how to use a pillow for a newborn
This is recommended for children 6 months and above but I have started using this as a back support for Daniel so that he doesn't roll back on this back. It also gives him comfort that there's something there.
It provides firm orthopaedic support for spinal alignment and adjusts comfortably to the contours of the baby's body. Made of firm, high density, breathable latex foam for excellent support and safety. I also really like that it comes with a removable and washable zipper cover which makes it easy to keep clean and hygienic.
My baby sleeps so well on this. :)
**
So there you go, I have the whole set of Babysafe beddings for my newborn. I believe in ensuring Daniel gets not only a pretty looking nursery but also a comfortable one. I find that Babysafe provides comfort that enhances his sleep and physical development. Two thumbs up!
When you're a first time mother like me, sleep deprived, stressed and all, sanity is restored when your newborn sleeps well and sleeps long.
**
BabySafe
Facebook | Website | Where to Buy