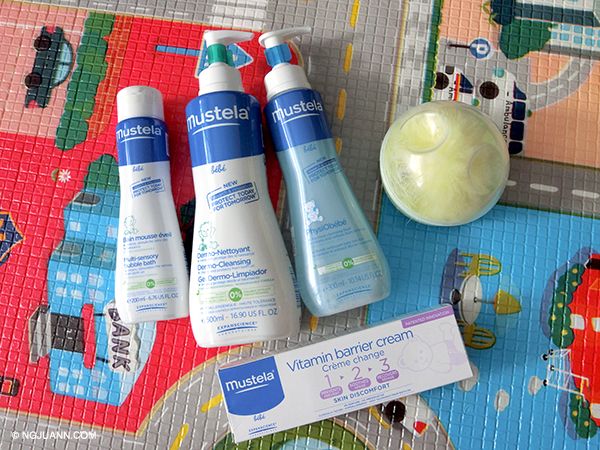 I'm a big fan of Mustela and they are the only brand of baby skincare that I have ever used on Daniel. Daniel hasn't had any diaper rash since birth and that's saying a lot.
Above is a picture of the products I usually use for Daniel's bath time, from L to R:
→ Mustela Multi-sensory bubble bath (here)
I just started Daniel on this. He gets really excited at all the bubbles I make. :) It smells HEAVENLY, with Mustela's signature light baby fragrance (just the way babies should smell really!). We always have a bubbly good time whenever we take a little more time playing with bubbles and water. :)
There was once I tried using another baby shower gel (one of those free ones you get) and it was really drying on Daniel's skin. I noticed his legs and forearms started feeling really rough, unlike the soft skin that babies should have. I immediately switched back to Mustela and all's well again. I now know how well Mustela has been treating his skin.
→ Mustela Dermo-cleansing Soap-free cleansing gel Hair and Body Wash (here)
I've used this on Daniel's since birth. We love everything about it – the Mustela fragrance, the ease of pumping, how well it keeps my baby's skin moisturised and also that it's a 2-in-1 hair and body cleanser. I have been recommending my friends to try Mustela if they want a trusted skincare brand and I would ask you to check them out too.
→ Mustela PhysiObébé No-rinse cleansing fluid Face and diaper area (here)
This is great for cleaning Daniel's butt between diaper changes. This is ESPECIALLY useful for the infant stage when they poop very frequently and it's always messy. Well, we really maximised this and are onto our 2nd bottle now. :)
→ Mustela's NEW Vitamin Barrier Cream 123 (here)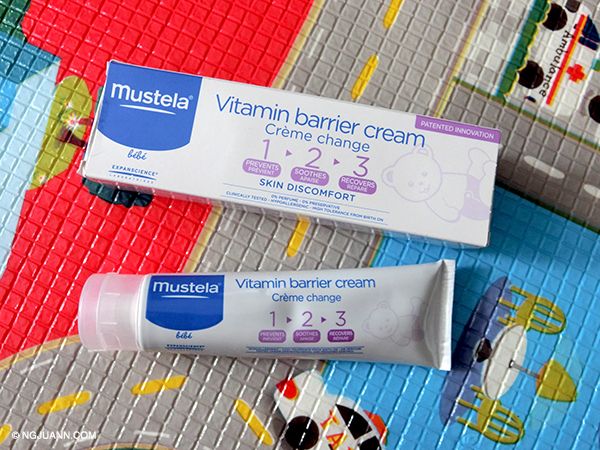 Ah, this is the exciting new product recently added to the Mustela suite of skincare products.
God knows how many diaper changes Daniel's been through and the poor boy has never stopped wearing diapers since the minute he was born. Imagine the kind of stress his buttocks are subjected on a daily basis (urine, stools, diaper rubbing).
Most diaper creams are not effective enough against diaper skin discomfort, while medical creams are often too strong for daily use.
We received the new Mustela Vitamin Barrier Cream 123 and naughty Daniel immediately grabbed it and tried to open it! And here is the new product!
The Vitamin Barrier Cream 123 is a breakthrough product developed after 11 years of research. They found that between 0 and 2 years of age, baby's skin is more prone to inflammation and that the inflammation can be caused in three different ways. Thus, 123 Vitamin Barrier Cream contains 3 natural active ingredients to target the three causes of inflammation and prevents diaper rash, soothes irritated skin and helps skin to recover.
– PREVENTS irritations and redness at each change
– SOOTHES from the 1st application
– REPAIRS continually
*Includes babies newly-discharged from neonatal care.
I have always only trusted Mustela for my baby's skincare, using all of Mustela's products (review here) since Daniel's birth.
The new Vitamin Barrier Cream 123 is a change in formula and we're loving it!
It has a soft texture that is easy to spread and the light scent doesn't stick on my hands (it comes off very easily with a light wash). The new cream is also easily washed off Daniel's butt during his bath times. :)
If you ask me, I'm one of them mothers who trust Mustela for superior skincare products that's gentle and effective. :)
**
Vitamin Barrier Cream 123:
1 > PREVENTS 100% of the pediatricians and dermatologists polled confirm that the product has preventive properties(1)
2 > RELIEVES Reduced irritation and redness in more than 80% of cases from the 1st day of use(2)
3 > REPAIRS 80% lower risk of recurrences(3)
Clinical tests on (1) 60 babies (clinical assessment) – (2) 60 babies (self-assessment) – (3) Recurrence rate calculated on the basis of studies (1) and (2).
IT IS A FORMULA THAT IS POPULAR WITH MOTHERS:
– Very easy to apply: 98%
– Product stays on between changes: 95%
– Can be completely rinsed off: 92%
– Pleasant fragrance: 93%
**
Mustela Bébé range of products can be purchased at selected pharmacies and appointed outlets in Singapore. Click here for the full list.
Join Mustela on Facebook.