Mustela's a great brand that I've been using while pregnant. They have a mother's range (in pink) and a baby's range (in blue).
Mustela Bébé products is the result of some 10 years of research. They include a special active ingredient called Avocado perseose, which has been shown to actively aid in the preservation of the skin's cellular resources and reinforce the skin barrier. Today I'll share with you the Mustela Baby products I like best and use on a daily basis!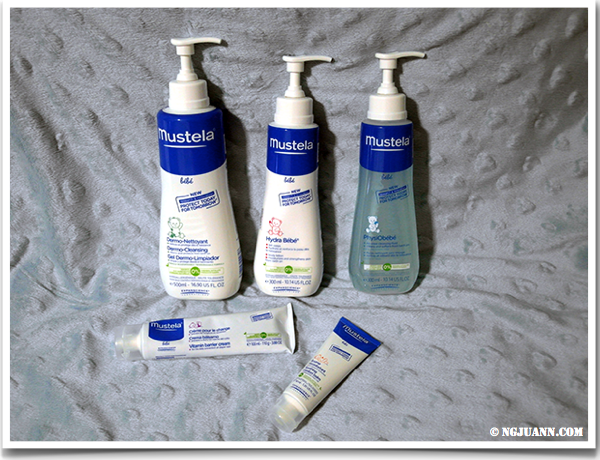 Mustela Hydra Bebe Body Lotion
My number #1 favourite has to be the Mustela Hydra Bebe Body Lotion (here). It is a body lotion that can be used on a newborn's body day and night. It helps to moisturise and strengthen skin.
I love applying this onto Daniel after his baths. And he enjoys it too. It's a lot of skin contact and I guess he is feeling loved every time I massage this lotion on him. And the scent is heavenly! Everyone agrees that he smells super nice once I put the lotion on him! :) This is a must-buy in my humble opinion.
Mustela PhysiObebe
Number #2 favourite is the Mustela PhysiObebe (here). This is a no-rinse cleansing fluid that is great for cleaning the face and diaper area. It's specially formulated to be gentle on the most delicate skin. I use this mostly for cleaning his butt when he poo poos. It's very good. I use a cotton pad, squirt some onto the pad (love the pump dispenser cos when you have a crying baby who wants his butt cleaned, you only really have 1 hand to clean), and wipe away.
I find that this saves cost & time, compared to using wet wipes. Mothers all know how quickly we go through packs and packs of wet wipes. This solution cleans well & helps me save money! <3
Mustela Dermo-Cleansing Gel

Number #3 must have is the Mustela Dermo-Cleansing Gel (here). Again, it comes in a pump dispenser style. Make sure your essential baby products are all in this dispenser style. Those which are bottled and you pour it out type would just make you more clumsy amidst the baby crying and everything else.
So this is a cleansing gel for baby's hair and body. I like this 2-in-1 formulation and it does leave my baby's skin soft and smelling fresh. It is very convenient for baby's bath time. 1 product to rule it all. Haha. It is important to note that this is formulated without soap & it's tear-free too (you know how they cry if something stings their eyes)! :) So there are no crazy bubbles or soapy water when you are using this – perfect for newborns.
We're worried Daniel might catch a cold when he takes a bath so we have to be real quick with everything. This is easy & fast to rinse off. This also soothes the skin and compensates for the drying effects of the bath. Perfect!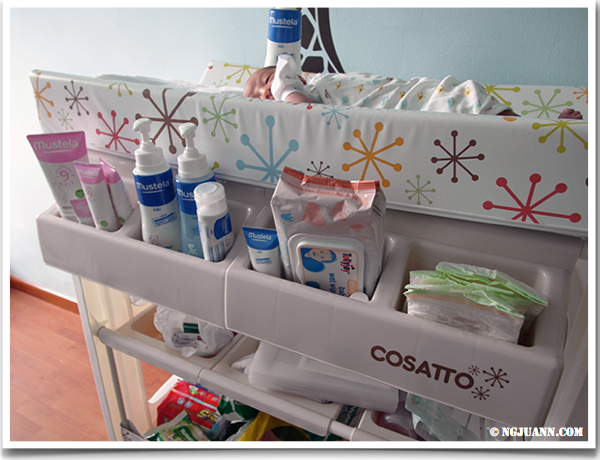 Mustela Vitamin Barrier Cream
There are other Mustela Bebe products that I am using now as well. There's the Mustela Vitamin Barrier Cream (here) which is a rather thick cream formula that I apply to my baby's bottom to prevent diaper rash. You'll need to apply a thick layer on baby's bottom at each diaper change. I really like it's protective ingredients:
Protects and insulates skin against irritation (urine, feces, chafing) thanks to its barrier effect.
Contains caprylyl glycol to reduce the development of bacteria.
Vitamin B5 and shea butter soothe the skin and leave it soft.
Vitamin F provides instant relief from diaper rash.
Mustela Soothing Comfort Balm
And there's also the Mustela Soothing Comfort Balm (here), a moisturising chest rub that is to be used before putting him to bed. I haven't tried this much yet since I'm so in love still with the body lotion above. But I will try this soon. It has purifying scents to ease breathing discomfort and soothe and relax baby to sleep thanks to the extracts of lime and camomile – plants which are known for their calming and soothing properties. Can't wait to see how well this works for Daniel.
Mustela is a brand that cares. Do check out their website for advice for both pregnant and new mothers. :) I've gained so much knowledge from checking out their website.
**
Mustela Bébé range of products can be purchased at selected pharmacies and appointed outlets in Singapore. Click here for the full list.
Join Mustela on Facebook.